6422 Views
Whoever says British food is unexciting has definitely been eating in all the wrong places.  Culinary experiences in Britain have grown in diversity and influence in recent years and food options in London are as diverse as the eight million people that live here.
London is a trendsetting, fashion-conscious devil of a city. So the most popular foods in London today will not necessarily be the most popular in a year, or even six months time. But there are also some enduring favourites and, with more eateries than you can ever possibly hope to dine at, you'll never go hungry.
Currying favour: Indian food
Advocates of traditional British grub may not want to believe it but of the most popular foods in London, nothing tops the curry. In fact curry has become Britain's national dish. Naturally it's as much of an import to London as the spices that make it taste so good. Brought to the country by Indian immigrants and popularised by the Bangladeshis of Brick Lane, the humble curry's popularity has spread from London to the rest of the country. And the most popular dish? One created right here in London of course – the chicken tikka masala.
Posh brew: Afternoon Tea
The British love of tea is as well documented as our obsession with the weather. But London is renowned for its love of a posh 'cuppa'. Forget your standard cup of English breakfast tea. Visitors to London, and Londoners themselves, love nothing more than to take high tea at one of the city's stylish hotels.
Afternoon tea consists of a flabbergasting choice of black, green, and herbal teas, finger sandwiches, homemade scones and some of the prettiest, fanciest pastries. It can even include a glass of champagne, all enjoyed within elegant surrounds.
It's rarely an everyday occurrence, but afternoon tea is one of the most popular things to do in London – the experience is deliciously extravagant.
A soupçon of Asia: Vietnamese Pho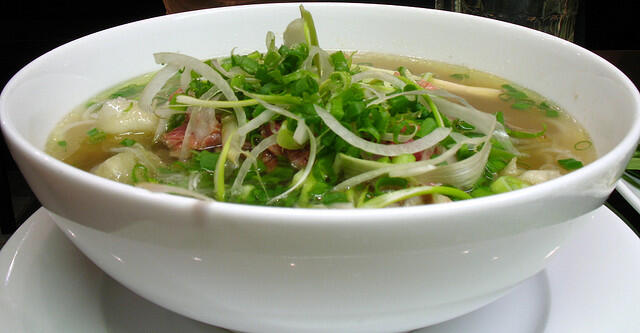 South East Asian food has long been popular in London. Though Chinese and Thai are long-term favourites, Vietnamese food has recently become one of the most popular foods in London.
Slurping on Vietnamese soup noodle dishes like pho has become de riguer with Londoners looking for a little lunchtime comfort food. Pho is available at chains like Pho, which has seven venues in the city, and also at Cay Tre's Soho where the clear rice noodle soup has herbs decorating the surface.
Salt with deadly caramel: Salted caramel tart
London's latest food lust is salted caramel. It barely matters what form it takes as long as saucily sweet caramel is locked in a tempestuous tango with a few grains of salt. Pizza East in Shoreditch has taken this obsession to another level by adding some cocoa to the mix to create its award-winning salted caramel chocolate tart (one of the many tasty dishes sampled on the Eating London East End food tour). If a tasty tart is not your thing, there are plenty of other ways to indulge in salted caramel, including heading to Italian gelateria Oddono's in South Kensington for a creamy decadent salted caramel ice-cream.
Fish food: Fish & chips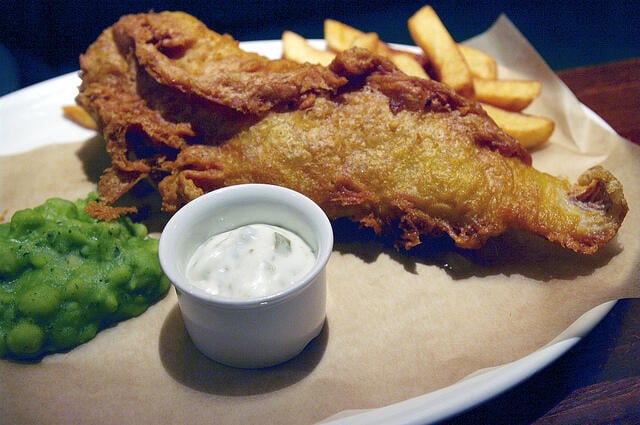 Another venue on Eating London's East End food tour is home to one of the most popular foods in London. Fish and chips has an enduring popularity with Londoners and visitors can't resist sampling this old favourite. Whether its served with a side of mushy peas or tartare sauce, on a plate or from paper, it is synonymous with London's East End and Britain as a whole.
Poppies, overseen by Pat 'Pop' Newland, is the fish and chip venue of choice on the tour, and for many a local hooked to its retro interiors and crispy fresh fish. Nearly every London high street has a fish and chips shop, so you'll be hard pressed to miss out on one of the London's most popular foods.
Have a truck with street food: Food trucks
Street food has grown in popularity in London over the years, with pop up joints and food trucks dishing up grab-and-go grub that's sometimes up to restaurant standards, at a fraction of the price.
Since their emergence in London in 2009, Vietnamese baguettes Ban Mi have become so mainstream you can buy them in chain cafes like EAT but you'll find the best ones at original Vietnamese-run market stalls. Banhmi11 has a stall at Berwick Street Market and Broadway Market in East London but it also has restaurant options in its Market Cafe in Shoreditch and a Market Kitchen in Clerkenwell.
Another of London's most popular fast foods is a Mexican import. Tacos generally come in one small size, but the fact that you can top them with any flavours has added to their popularity. Some of the best in the city are at Buen Provencho in Waterloo.
Tip: don't forget to load your taco with a healthy serving of salsa and guacamole.
Traditionally popular foods in London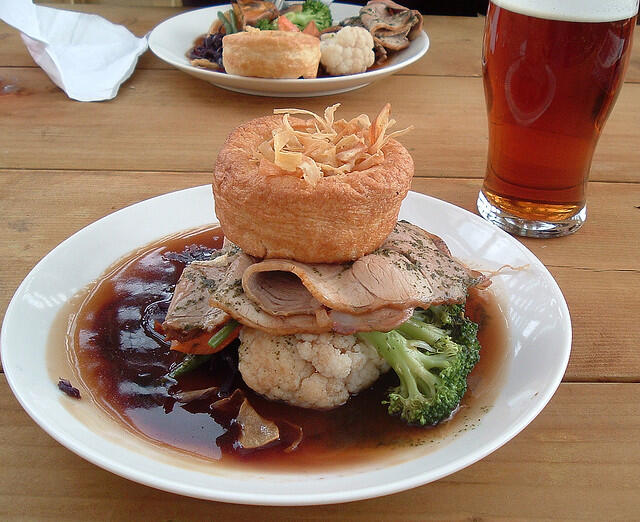 The young pretenders to the crown for the best foods in London may be strong candidates, but ask any Londoner, and you'll find there are two comforting traditional meals they couldn't live without. A Sunday roast dinner is something of a cornerstone of British life. It's a chance for families to come together and relax in the comfort of roasted meats, gravy, potatoes, and Yorkshire puddings alongside a healthy dose of vegetables.
Oddly one of the best Sunday roasts is found in one of London's French restaurants. Trinity, in Clapham, has a three-course meal with the likes of Aberdeen Angus sirloin beef, roasted vegetables, and fresh horseradish.
Next up is the English breakfast – a high fat, high carb affair – but no one said they were on a diet. You'll find a full English breakfast everywhere from cheap and cheerful high street cafes to modern British restaurants like Pollen Street Social, where it's becomes a haute cuisine treat of slow-cooked eggs sitting atop a thick, tomato purée speckled with morels, croûtons, and crispy bacon.
***
Have we tickled your taste buds? Be sure to join us for curry, fish and chips, salted caramel, and more on one of our delectable East End food tours!