3482 Views
School is out and summer is definitely on its way, so why not celebrate the sunny weather with a traditional English treat? The Eton mess – named after its inception point, Eton College – is a gorgeous snack that is dead easy to whip up and impress your family and friends with! Cricket fans will already be familiar with this creamy, fruity dessert as the Eton mess is traditionally served at the annual Eton versus Harrow match. You'll feel like you're wearing your fancy pants while enjoying this one, folks.
And, what's not to like? You've got strawberries (yum), whipping cream or double cream (double yum), and meringues (also known as light, fluffy pieces of heaven). If you've got some Father's Day or Memorial Day celebrations coming up, this is sure to be a hit! If you're crunched for time or hosting a few guests, you can prepare them a few hours ahead of time and pop them in the fridge until you're ready to enjoy.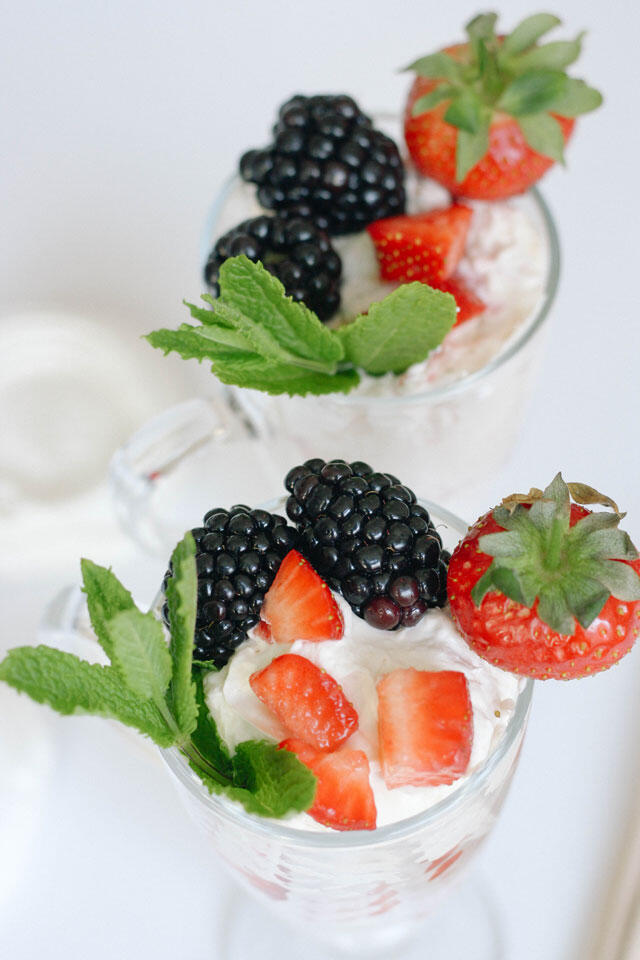 Here's what you'll need:
150ml/5oz whipping cream (or double cream)
1 tablespoon sugar
50g/3oz meringue (can be store bought)
200gm/7oz fresh strawberries
A few sprigs of mint and a few blackberries
(Optional) A pinch of sea salt
Here's how to prepare:
Whip the cream and sugar together till light and fluffy. It's best to do this with when the cream is very cold, so whip it up immediately after removing it from the fridge. Either whipping or double cream will work, but double cream will have a bit more body and flavor to it.
Add the salt in to your now whipped cream (just a pinch!) to add a bit of punch to the flavor of the dish.
Crush 100g of the strawberries, chop the other half and mix both with the cream. You can also reserve the chopped bits of strawberry to create layers if you're using transparentserving dishes and presentation is your thing.
Break bite-sized pieces of the meringue and fold it into the cream gently. Put the mixture into individual glasses or a large bowl. It took some 40 years from the introduction of the dish in the 1930s for meringue to become one of its staples, but trust us, this addition is one of the best parts. You'll thank us when the sweet and crunchy bits of meringue are melting in your mouth while you're spooning your way through dessert!
Decorate with fresh berries and sprigs of mint and pop your blackberries on top and you're done!
While Eton mess is traditionally (and deliciously) made with strawberries, you can substitute pineapple, bananas, or other berries to experiment.
Enjoy!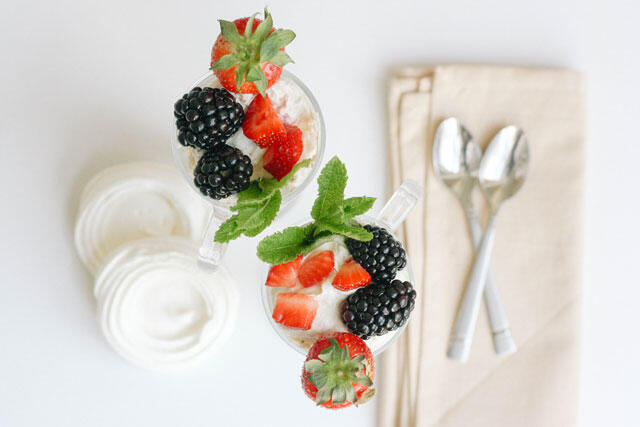 View more London food recipes on our blog or learn where to eat in London on our food tour.