5745 Views
How does an empty platform occupy such prominence in the heart of London and in the minds of the British people? In Trafalgar Square, arguably the most famous square in London, if not the world, lies the Fourth Plinth.
Now, a plinth in itself is not the most riveting of topics, unless you are the world's most boring man, in which case I'll give you a wide berth and avoid eye contact. However, the Fourth Plinth has become one of the city's best known contemporary art exhibits and epitomises creative London.
Trafalgar Square has a plinth, or platform, on each of its four corners. Three of them have sculptures of decorated military officers: Henry Havelock, Charles James Napier, and King George IV. The Fourth Plinth, built in 1841, remained unused for more than 150 years.
That was until the Royal Society of Arts developed the Fourth Plinth Project to celebrate all walks of modern life. In 1998 it commissioned three works for the Fourth Plinth. The first, a life-sized figure of Christ, went on display in 1999. The following year, a sculpture of a book and tree with a severed head appeared, and in 2001 a cast of the plinth in transparent resin was placed upside-down on top of the original.
Over the years these were followed by a succession of fascinating, often controversial, exhibits. Most of the new pieces being given 12-18 months on display.
A few of the unusual but truly unforgettable exhibits include Alison Lapper Pregnant, a marble sculpture of naked, pregnant, disabled artist Alison Lapper, by Marc Quinn.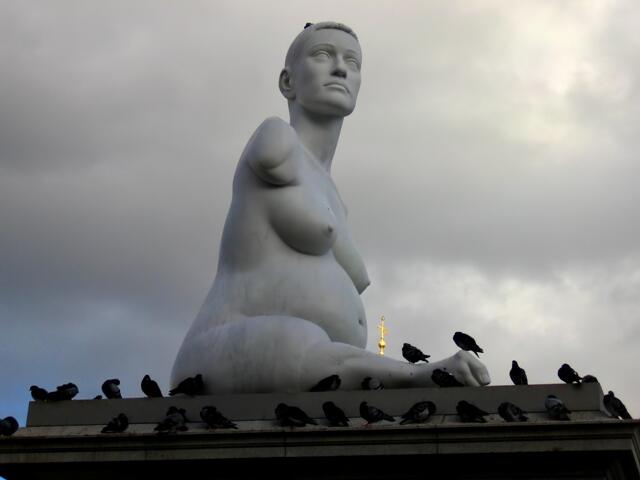 In 2009, over a period of approximately 100 days, 2,400 members of the public each spent one hour on the plinth as part of artist Anthony Gormley's concept One & Other. The youngest was 16 and the oldest 84-years-old. They were allowed to do anything they wished and could take anything with them they could carry unaided. There was even a live television feed of the exhibition.
Some of the people who stood atop the fourth plinth sang or performed, others campaigned for a political cause. Twelve of them stripped naked. It became a platform for great British eccentrics, and they didn't disappoint. People dressed as monkeys and cavemen, hit golf balls, blew bubbles, proposed marriage. A man placed a telephone on his head, another had a traffic light on his, a third stood in a paddling pool, while others dressed as aliens. The great, the extroverted, and the slightly crazy paraded proudly beneath the beady eye of Nelson on his column.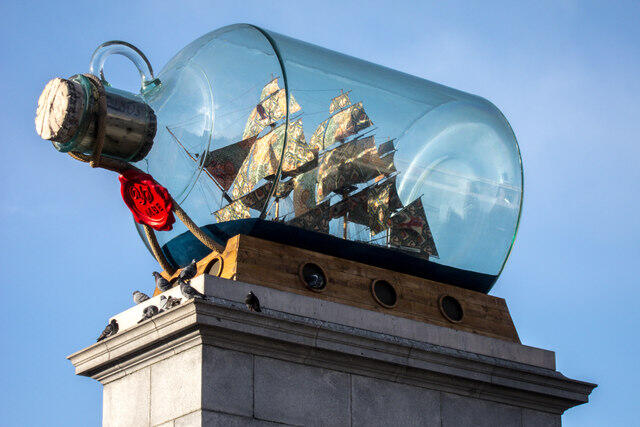 Another display was of Lord Nelson's ship, HMS Victory, inside a large glass bottle stopped with a cork. The bottle was over four metres long and the work is now on show at the National Maritime Museum.
There was a model of a 21-storey building made from coloured glass, and there was even a waxwork model of football star David Beckham up there for a while during 2002 World Cup.
Currently standing proudly on the fourth plinth is an almost five-metre high sculpture of a blue cockerel. Hahn/Cock, created by Katharina Fritsch, will stand atop the plinth for a further 16 months. Fritsch claims it represents the deeply ingrained British sense of humour, which is why she chose the double-entendre title (in German 'hahn' is the word for cock, and has the same double meaning as in English). The puffed up cockerel in front of the National Gallery, also pokes fun at male posturing and machismo.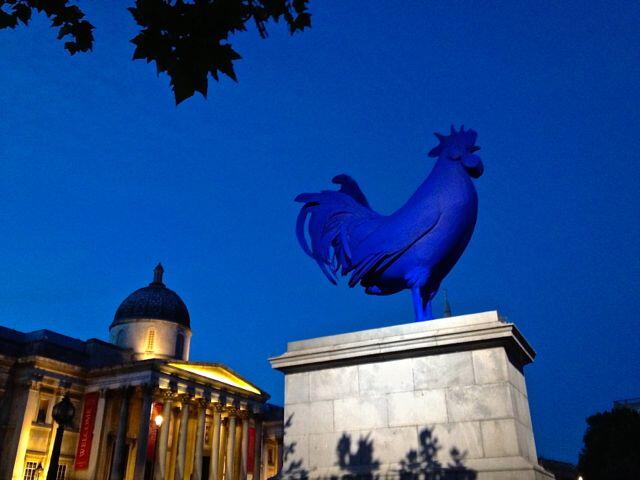 Interestingly, many commentators are negative about the exhibits, yet the crowds continue to throng Trafalgar Square.
There are proposals for a permanent statue to be placed on the Fourth Plinth. Larry Adler, the American harmonica player, jokingly proposed putting up a statue of Moby-Dick, and calling it the "Plinth of Whales." Wonder what Prince Charles thinks of that?
Another suggestion is for a statue of Air Chief Marshal Sir Keith Park who commanded the RAF's defence of London during the Battle of Britain to be celebrated on the plinth, or former Prime Minister Margaret Thatcher. However, it is widely speculated that the delay in choosing a permanent monument is that the plinth is being reserved for a statue of Her Majesty Queen Elizabeth II following her death.
Whatever the future holds for the Fourth Plinth, it will undoubtedly continue to draw plenty of crowds as a rather unusual London landmark. Proving that just like beauty, art is in the eye of the beholder.
***
Appreciating art takes a lot of energy. You must be famished! Care to join us for a delicious walk around the East End? Learn more about our tours here.