2140 Views
Although I love each and every one of the vendors on our Testaccio tour equally, I take a particular pride in bringing tourists to the Pisano family's fruttivendolo, or produce stand, in the neighborhood's local market. The rows and rows of vibrant fruits and vegetables, often locally sourced, are miles away from what most visitors to Rome experience back home at chain supermarkets: Italy may not be perfect, but when it comes to its relationship with fresh food and seasonal ingredients, it shines.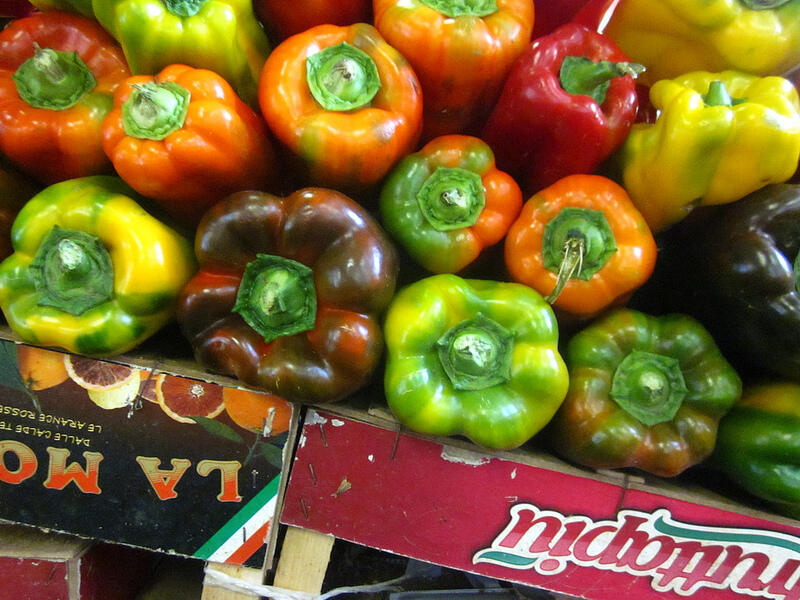 The origins of the Pisano's produce stand can be traced back four generations to Paola's (the current manager) great-grandmother who began the business by carting her fruits and vegetables around in a wooden cart and making door-to-door deliveries. In the 1960s, her daughter decided to follow in her mother's footsteps, but chose to invest instead in a stand at the Testaccio market. The business was then passed on to her daughter-in-law Linda, and eventually, her daughters Paola and Francesca who are the current managers.
Paola says as a girl she never set foot in the Testaccio market, for fear of being pushed into the family business, but gradually she fell in love with the stand and the spirit of the market itself. "Now, I couldn't imagine doing anything else. I never thought it was possible to fall in love with a job, but I'm in love with mine."
Paola, Francesca and their mother arrive Monday through Saturday at 6 am and set to work arranging their stand, a process that takes roughly three hours. The trio strives to create a new display every day—they say it's a bit like creating a new painting, and hope a dynamic stand will catch the eye of potential clients. Their produce comes mainly from Lazio, but occasionally nearby Sicily and Puglia. Lettuce and greens come from their cousins' farm outside the city.
"Every apple, every apricot, every pepper is handpicked by us, to make sure our clients get the best quality product," explains Paola.
While many stop by the stand with an idea of what they need to purchase, Paola and Francesca say that regulars often arrive and let them choose what to bring home. "The trust of our clients," says Paola, "is what makes this market so special."
See more photos and information about Paola & Francesca's Fruttivendolo stand at the Testaccio Market here.