6431 Views
As neighboring countries, the Czech Republic and Germany both share a mutual love for great beer, culture, sports, and most importantly, food. Czechs travel to Germany to give their taste buds a journey, and Germans take a weekend trip to Prague to indulge in cheap beer, street sausages, nightlife and the gothic, historic beauty that Prague has to offer. While the two countries are quite different in almost every aspect: currency, standard of living, histories, size, tourism, landmarks, fashions, art and language, there are two categories in which the Germans and Czechs can find similarities: food and drink.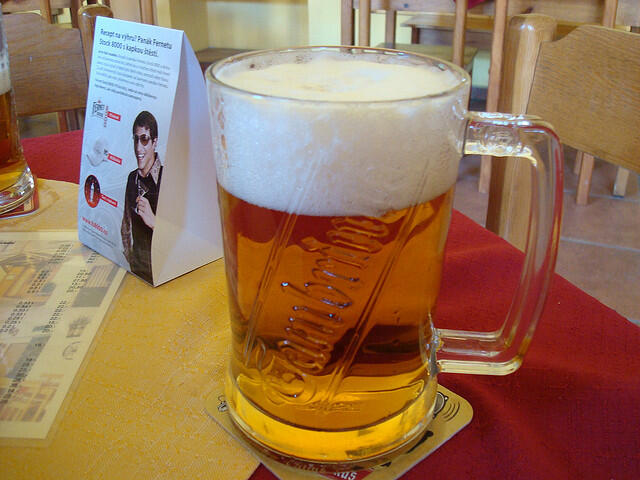 And so we bring you… the top 5 foods and drinks that Germans and Czechs can agree on!
1. Beer
Now, for those who haven't visited the Czech Republic, you should know that generally they hold the title for being the number one beer drinking country in the world. Czechs are known for going to the hospoda after a long day at work and slugging a few brews. It's not surprising as the beer has also brought beer fanatics from all over the world and it's unbelievably cheap. The country's most popular beers such as Kozel, Pilsner Urquell, Staropramen, Krušovice, Gambrinus, and Bernard are enjoyed by both Czechs and tourists for just under €2. The Germans also take pride in their beer drinking, and seeing as they host the world famous Oktoberfest, which brings in beer lovers from literally all over the world, it makes sense. Some of the famous German beers include Hefeweizen, Kölsch, Helles, Schwarzbier, Rauchbier and Altbier. While they may be a little more expensive per glass than Czech beer, it is nonetheless a popular drink among the Germans and visitors who just want to sit back and relax while soaking in the German culture. Two beers which the Czechs and Germans both enjoy is Pilsner and Budvar (or Budweiser in German) which originated in the Czech Republic and is exported throughout the world.
2. Sausages
In both countries, the sausage is an iconic street food which some find to be the perfect snack or an inexpensive and delicious meal. Klobásy, the Czech word for sausage, is typically found at the city center's food stands and restaurants, and is the perfect complement to a nice, cold beer at the summer beer gardens. It's typically served with ketchup or kremska horcice, which is a type of Czech mustard, and a slice or two of fresh sourdough bread. The sausages can also be served with sauerkraut but that is more common in Germany. Bockwurst or Bratwurst are popular sausages in Germany, the first being a combination of pork and veal while the second tends to usually just consist of pork. Whether the Germans eat their sausages whole or slice them up to use in a variety of traditional dishes, they are known for loving their sausages, especially when served with beer.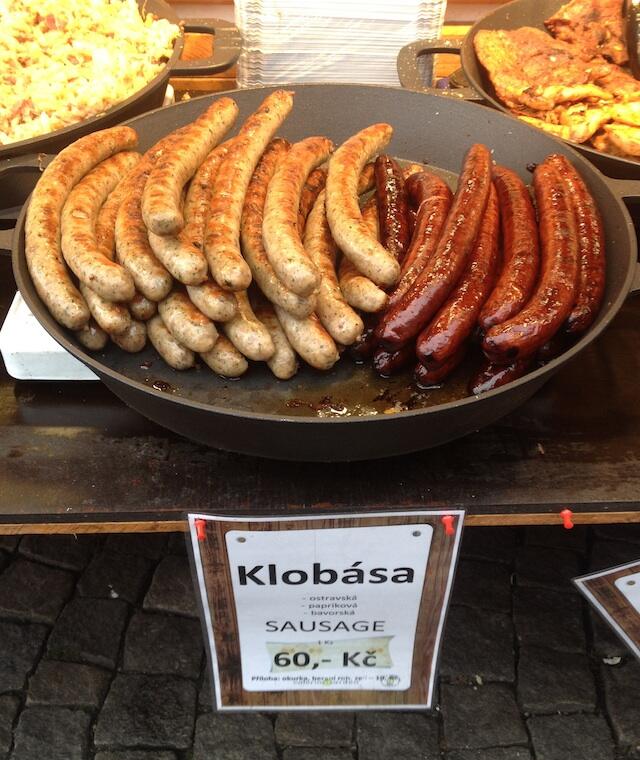 3. Sauerkraut
Sauerkraut – the famously pickled cabbage – is either the main ingredient or the perfect complement to many Czech and German dishes. Many foreigners shake their heads and turn away a dish if they know sauerkraut is in it, but for those who are unaware, they quickly discover why the Czechs and Germans appreciate sauerkraut in their dishes. Czechs are known for serving sauerkraut soup prior to bigger meals, and Germans love to eat their sausages with sauerkraut. Some Germans would argue that one of the best combinations is home-made spätzle- soft egg noodles or dumpling- and sauerkraut, which is a popular dish in the country. Czechs tend to pair sauerkraut with home-made potato dumplings, a traditional food which is a major part of almost every authentic Czech dish. While you may be intimidated by trying sauerkraut for the first time, rest assured that the Czechs and Germans know how to incorporate sauerkraut in specific dishes which in the end will leave you craving for more.
4. Schnitzel
Every young Czech person knows that schnitzel is always to be served whenever a visit to babička (grandma) is approaching. And that she will pack you two weeks' worth of schnitzel because for some reason she loves to make it. The German schnitzel is typically deep-fried pork or veal, while the Czech schnitzel is typically deep fried chicken breast or pork. The meat is thinned out, covered in flour, dipped into a bowl of beaten eggs, and then coated with breadcrumbs before being fried. It's a popular dish served in many restaurants in the Czech Republic, but arguably mostly made in family homes. The Czechs love to serve it on holidays, birthdays and at celebrations with either lemon or ketchup. It is usually accompanied with either a potato salad or mashed potatoes, and a cucumber salad. In Germany, schnitzel is also served with lemons but accompanied by either spätzle, French fries, the German potato salad called kartoffelsalat, or a simple green salad. This large, golden piece of fried meat is a delicious and traditional meal for those who love something a little heartier.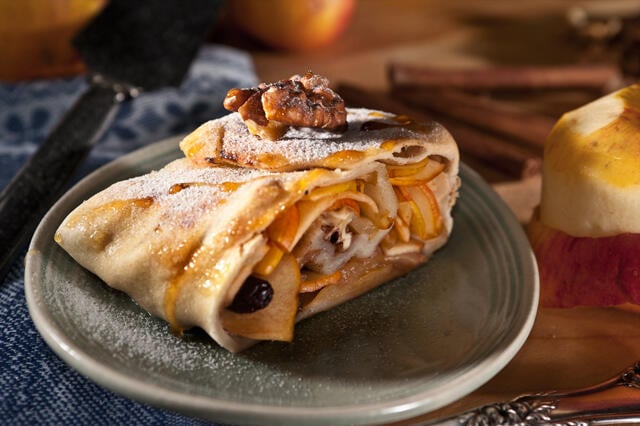 5. Strudel (specifically apple)
When people hear of strudel, they usually tend to think of Austria, especially the little cafes in Vienna which offer warm apple strudel and cream. But in fact, did you know that strudel originated in Czech Republic? Many people did not know this and are pleasantly surprised, especially if they happen to be in a Czech restaurant where apple strudel, or štrůdl, is served for dessert. Apple strudel, or apfelstrudel in German, is a very popular dessert or mid-day snack when having a coffee break. For apple strudel lovers, finding the perfect "German Apple Strudel" recipe is highly sought-after, but nothing compares to tasting the real thing in an authentic German restaurant. In Czech Republic, while the restaurants do a relatively good job preparing apple strudel (along with poppy seed and plum strudel) there's just something about babička's apple strudel that leaves you wanting more each and every time.
Tip! Try some of the best strudel in Prague on our Eating Prague Food Tour!