2735 Views
Prague's eccentricity is part of its charm. The Prague Castle may be medieval, but it shares a connection with a modern rock band. The Bohemian region has a long history as part of the Austro-Hungarian Empire, but the country itself is young, establishing independence from Communist rule in 1989 and separating from Slovakia in 1993. Prague's accommodation options are just as diverse, including historic touches, modern amenities, and a room to suit every budget.
Hotel U Prince
Travelers looking for luxury in the center of the city can spend the night in style right in Old Town Square. This historic building maintains an 18th-century baroque façade and 24 individually decorated rooms dripping with chandeliers, ornate bedspreads, and impeccable attention to detail. Turn off the alarm and use your view of Prague's famous Astronomical Clock to keep the time.
Old Town Square 29, Prague 1
+420 737 261 842
hoteluprince.com
Rooms from around €150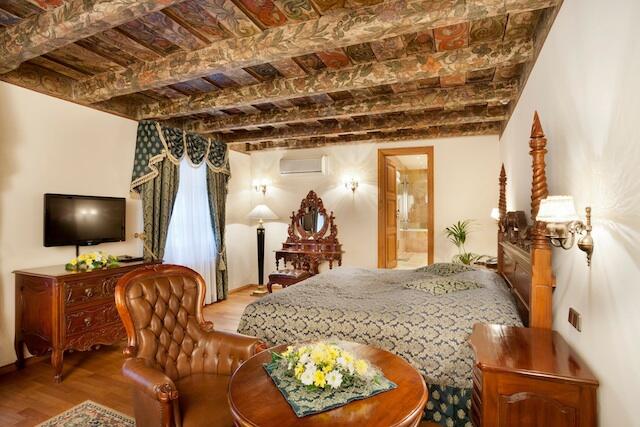 Lokál Inn
Lokál restaurants are well known among locals and visitors alike for their authentic Czech cuisine and excellent atmosphere. Their boutique hotel sits on the cobblestoned streets of Prague's Malá Strana district, just below the Prague Castle at one end of the Charles Bridge. The décor mixes modern touches with exposed wood and traditional parquet floors, with a great meal waiting just downstairs.
Míšenská 66/12, Prague 1
+420 257 014 800
lokalinn.cz
Rooms from around €120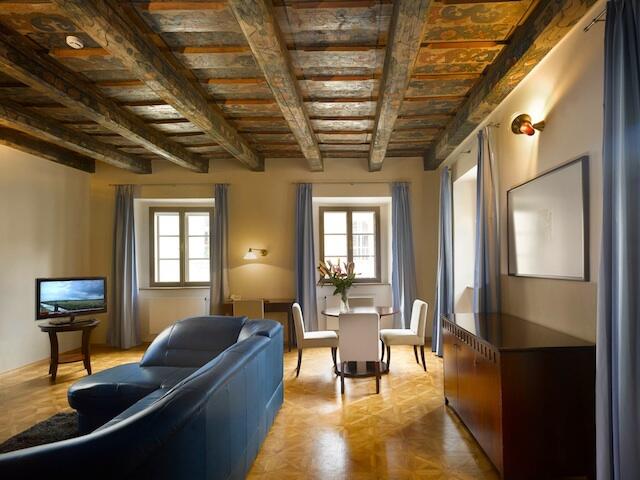 Mosaic House
Visitors looking for a pivo (Czech for beer) and a party usually congregate at Mosaic House. This 4-star, environmentally-friendly building houses everything from shared hostel beds to high-end private rooms, plus live music and DJs at La Loca Music Bar and Lounge. Start your morning slowly after a long night with a short walk to the Dancing House and continue along the Vltava River or relax in the park at nearby Karlovo Namesti, with easy access to public transportation.
Odborů 278/4, Prague 2
+420 221 595 350
mosaichouse.com
Rooms from around €75; beds from around €30
fusion hotel
Prague's fusion hotel rooms are designed to be as memorable as the monuments that surround them. The calming White Room offers a private rooftop patio. Kids can pile into bunk beds in the Family Room, while couples cuddle up in the Love Room stocked with erotic books and a mirror above the bed. The Xtensive Room is perfect for pajama parties and close friends, boasting "the largest bed in Central Europe" which can sleep up to 6 people.
Panska 9, Prague 1
+420 226 222 800
fusionhotels.com
Rooms from around €70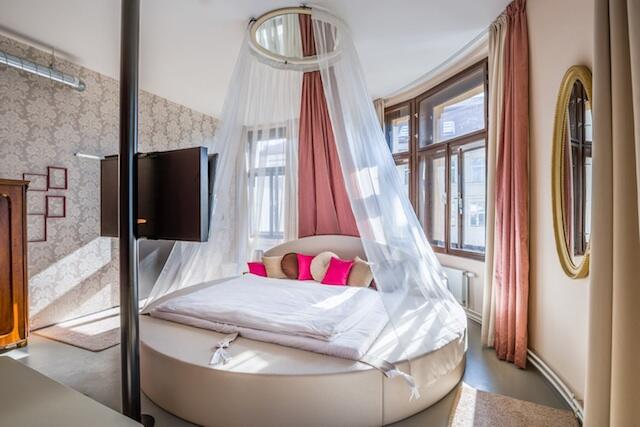 Hostel HOMEr
Traveling on a budget? This clean, friendly, affordable hostel boasts a prime location between Wenceslas Square and Old Town Square, right in the center of the action. The ornate ceilings and 16th-century building give this hostel experience a touch of class you don't usually find among the backpacking crowd.
Melantrichova 11, Prague 1
+420 722 661 922
hostelhomer.com
Beds from around €15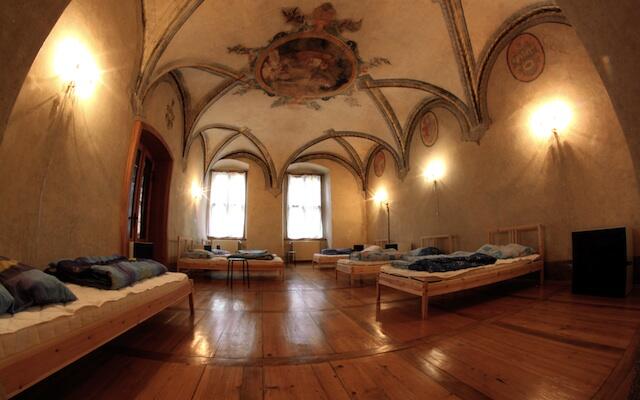 Hotel Anna
This boutique hotel in Prague's trendy Vinohrady neighborhood gives you a quiet glimpse of everyday life in the Czech capital. Compare the pictures of historical Prague that decorate your walls as you walk the city streets. Jump onto the metro at Namesti Miru, just one stop outside of the city center, for easy access to all the sights.
Budečská 17, Prague 2
+420 222 513 111
hotelanna.cz
Rooms from around €70