5228 Views
Here at Eating Prague, we are the first to say that we love Czech food, but sometimes the idea of eating more meat with dumplings just isn't that appetizing. For those times, here are some of the best international restaurants in Prague.
Korean: Bibimbap Korea
Whether you're new to Korean food or you've been eating kimchi since you were a kid, Bibimbap Korea is one of the all-round best international restaurants in the city. Come here when you're not in a hurry, because their small and extremely friendly staff takes its time to make everything perfect in both taste and presentation. The bibimbap, their signature dish, is gorgeous in both regards.
Chlumova 1, Prague 3
+420 737 917 956
bibimbap.cz
Open: Mon – Fri 11 am – 10 pm, Sat 12 noon – 10 pm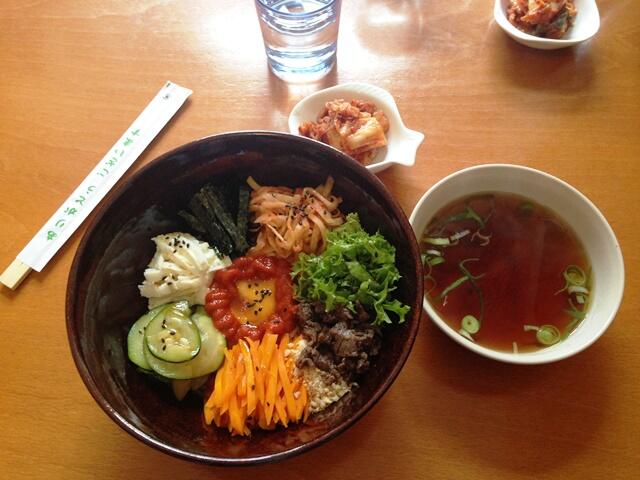 French: Le Caveau
You'll always find your spirits lifted at the perpetually bustling Le Caveau on Jiřího z Poděbrad Square. In addition to daily soups and specials all made according to classic French recipes, their pastries and desserts never fail to impress. If you really want to relax into the atmosphere, ask one of their friendly staff members for a wine recommendation.
Nam. J z Podebrad 1561/9, Prague 3
+420 775 294 864
broz-d.cz
Open: Mon – Wed & Fri 8 am – 10.30 pm; Thu 8 am – 11 pm; Sat 9 am – 10.30 pm; Sun 2 – 8.30 pm
Vietnamese: Pho Vietnam Tuan & Lan
Thanks to a sizable Vietnamese minority in the Czech Republic, you can find delicious and generally quite cheap pho all over the country. Pho Vietnam Tuan & Lan, however, are some of Prague's originals, and we haven't found better Vietnamese food in the city. The bistro location is perfect for a quick lunch, although there are often lines because it's such a local favorite. For more Vietnamese dining suggestions, check out our blog post.
Restaurant: Anglicka 15, Prague 2
Bistro: Slavikova 1, Prague 2
+ 420 775 465 678
photuanlan.com
Open: Mon – Sun 10 am – 10 pm
Italian: Aldente Trattoria e Vineria, Pizzeria Donna
Italian restaurants abound in Prague, but some are definitely better than others. If you'd like a slightly more formal affair, try Aldente Trattoria e Vineria in Old Town, where the delightfully kitschy decorations make the food even better. For a more relaxed night, there's no better choice than one of Pizzeria Donna's 3 locations – we highly recommend their fresh pasta dishes.
Aldente Trattoria e Vineria
Vezenska 991/4, Prague 1
+ 420 222 313 185
al-dente.cz
Open: Mon – Sun 11.30 am – 11.30 pm 
Pizzeria Donna
Veleslavinova 10, Prague 1; Karlovo nam 28, Prague 2
+420 222 321 937; +420 222 232 779
Pizzadonna.cz
Open: Mon – Sun 11 am – 11 pm; Mon – Sun 9 am – 11 am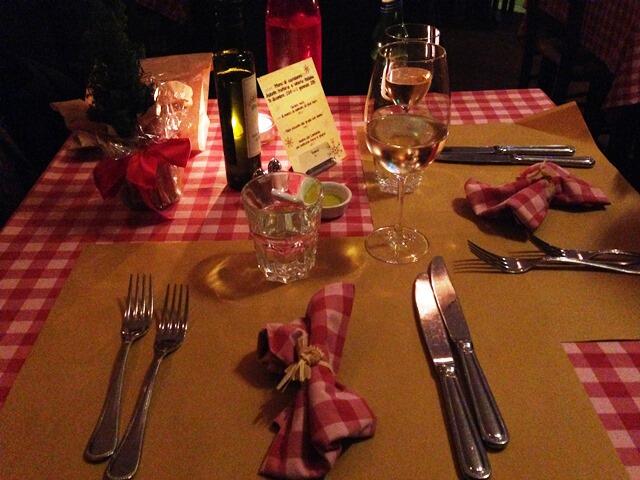 Balkan: Nenasyta
Slovenian and Mediterranean restaurant Nenasyta is slightly out of the center, but you certainly won't regret making the trek once you've found your way there. Their fresh seafood will make you forget how far you are from the ocean, and their flavorful Balkan classics like Pljeskavica (something like a traditional Balkan burger) always put you in mind of sunny places. Cured meat, flaky burek, and specialty cheese are just a few of the offerings that you'll find at Nenasyta's stands at the various farmers markets around town.
Eliasova 16, Prague 6
+420 721 099 781; +420 602 515 599
Foodadventure.eu
Open: Tue – Sat 12 noon – 10 pm
At Jiřího z Poděbrad farmers' market Fri 8 am – 6 pm, Sat 8 am – 2 pm; Náplavka Sat 8 am – 2 pm; Andel Fri 7 am – 7 pm
Sushi: Engawa, Mamy Sushi
High-quality sushi used to be difficult to find in Prague, capital of a landlocked country that it is. Several restaurants have popped up in recent years to satisfy all your sushi cravings, though. We particularly love newcomer Engawa and the adorably decorated Mamy, where you can find Korean and other Japanese food in addition to the fresh sushi.
Engawa
Petrske nam. 5, Prague 1
+420 775 383 999
Engawa.cz
Open: Mon – Sat 11 am – 11 pm, Sun 11 am – 10 pm
Mamy
Benediktska 3, Prague 1
+420 224 815 009
mamyfood.cz
Open: Mon – Sun 11.30 am – 10 pm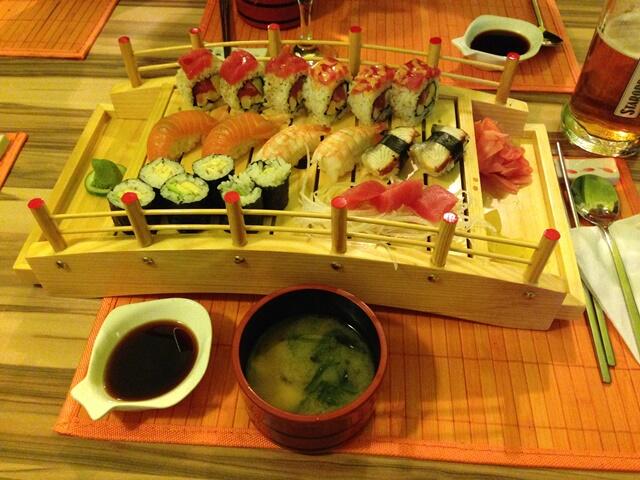 American: The Globe
We all know the feeling – sometimes when you're traveling, it's really nice to find something familiar amidst all the new sights, sounds, smells, and tastes. The Globe Bokstore & Café was one of the original expat joints that opened up in the early 1990s, and they've been serving American and British classics ever since then.
Pstrossova 6, Prague 1
+420 224 934 203
globebookstore.cz
Open: Mon – Fri 10 am – 12 midnight, Sat – Sun 9.30am – 1 am
Middle Eastern: Dinitz Kosher, Manni Kebabish
Dinitz Kosher and Manni Kebabish certainly occupy opposite ends of the Middle Eastern food spectrum, so maybe it's best to try both. What Dinitz Kosher lacks in atmosphere, they make up for in fresh and flavorful dishes. They have a small menu, and in order to get the full effect, we recommend that you get the tasting menu (for at least 2 people). Manni Kebabish is generally agreed to have the best kebab in Prague, which is really saying something.
Dinitz Kosher
Bilkova 12, Prague 1
+420 222 244 000
dinitz.cz
Open: Mon – Fri 11.30 am – 10 pm 
Manni Kebabish
Odboru 3, Prague 2
+420 222 540 989
mannikebabish.cz
Open: Mon – Thu 11 am – 12 midnight, Fri 11 am – 1 am, Sat 1 pm – 1 am, Sun 1 am – 10 pm
Georgian: Polévkárna
There are a number of fancy Georgian restaurants in Prague, mostly catering to the steady streams of Russian tourists coming through. The low-key Polévkárna, however, is a horse of a different color. The restaurant's name means "soup factory", and on any given day they'll have at least 5 soups, most of them Georgian recipes, for you to choose between. Don't miss this opportunity to get khachapuri, Georgian cheese bread, on the side.
Sokolovska 97, Prague 8
+420 603 298 619
Polévkárna on Facebook
Open: Mon – Fri 8 am – 6 pm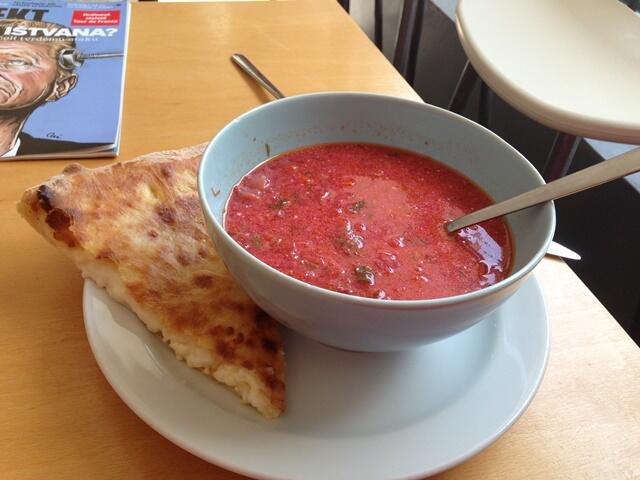 Thai: Lemon Leaf
Lemon Leaf, with its beautifully decorated interior and excellent Thai menu, is a true oasis right near the river. Their salads in particular are perfect if you want a break from the heavier Czech food. Given the number of things you'll want to try, this is a good place to order a number of starters and mains and have a family-style meal. It's always good to have a reservation here, as they often fill up.
Myslikova 14 Prague 2
+420 224 919 056
lemon.cz
Open: Mon – Thu 11 am – 11 pm, Fri 11 am – 12 midnight, Sat 12 noon – 12 midnight, Sun 12 noon – 11 pm
Mexican: Rancheros
Mexican restaurants have been appearing across the city lately to cater to a new fascination with the cuisine, but people who know it well and have had it at its best will generally find them lacking. If what you want is Mexican fast food in the style of the American chain Chipotle, Rancheros has you covered. They've managed to recreate the flavors the most accurately, including sauces that reach the appropriate level of spiciness for those who want a real kick. For more Mexican dining suggestions, check out our blog post.
Na Florenci 15, Prague 1; Karlova 21, Prague 1
+420 773 699 958; +420 773 699 958
rancheros.cz
Open: Mon – Fri 8 am – 8 pm, Sat – Sun 11 am – 8 pm; Mon – Fri 10 am – 10 pm