7584 Views
Italians are celebrating the Halloween holiday more and more.
Lots of events are being held in all major Italian cities and families making a point of heading out with their children to trick-or-treat after dark. For events in Rome to mark the holiday check out this post by Buzz in Rome.
The symbol of the Halloween holiday – the humble pumpkin – is in season here at the moment, so we thought we'd take this opportunity to share some of our favourite Italian food recipes featuring this delicious and versatile vegetable.
So if you're feeling a little Italian this Halloween and fancy a spot in the kitchen, we know you'll love these tasty and easy to follow Italian recipes.
From all the team here at Eating Italy Food Tours in Rome – happy cooking, happy eating and above all… Happy Halloween!
Bruschetta con Zucca e Buffala (Bruschetta with Roasted Pumpkin and Buffalo Mozzarella)
Serves 4
Ingredients
• 350 grams of pumpkin
• Fresh basil
• Extra Virgin Olive Oil
• 200 grams of buffalo mozzarella
• Bread for toasting (8 pieces)
• Salt and pepper to taste (prosciutto optional)
Directions
1. Cut pumpkin into small cubes (approx 2 cm wide) and place on a baking paper lined oven tray.
2. Season with salt and pepper and drizzle with olive oil.
3. Bake until soft enough that a fork cuts through.
4. Toast your bread and then assemble your sliced buffalo mozzarella, baked pumpkin and fresh basil leaves.  If you like, you can line the toasted bread with some prosciutto.  Season again with a sprinkle of salt and pepper and drizzle with that golden olive oil and voila!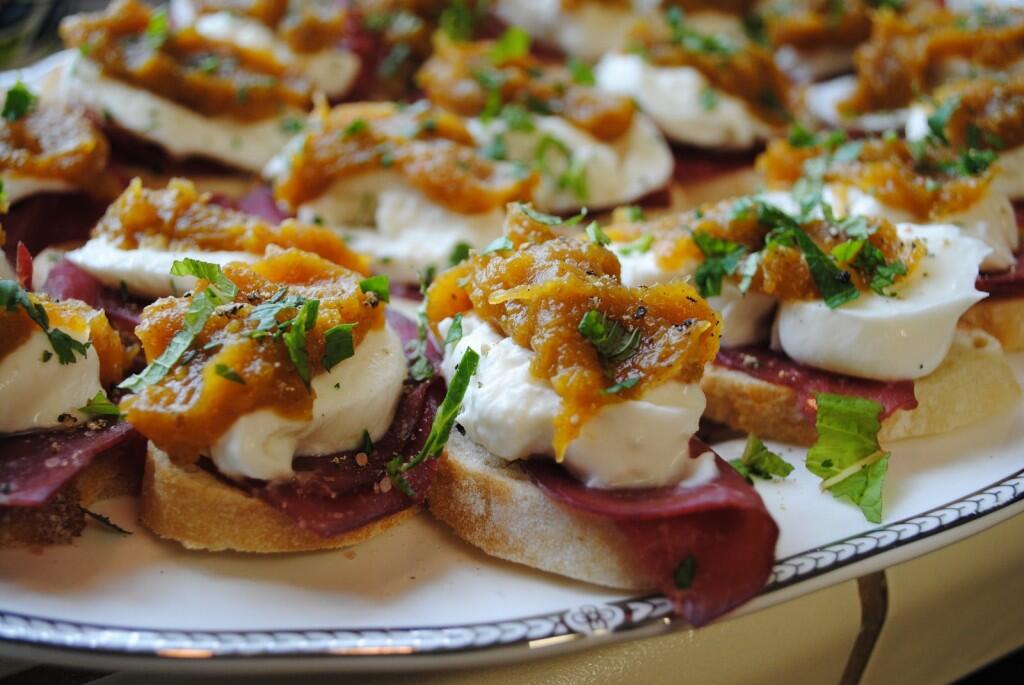 Fried Fiori di Zucca (Fried zucchini flowers)
Serves 4
Ingredients
• 12 zucchini flowers (fiori di zucca)
• 1/4 lb fresh cow's milk mozzarella or mozzarella di bufala, cut into 12 pieces
• 4 anchovy fillets, each cut into 3 pieces
• 3 cups all-purpose flour, plus more if needed
• 1 and 1/4 cups water
• 1/4 teaspoon salt
• 1 and 1/4 cups water
• 1/2 teaspoon white wine vinegar
• Extra virgin olive oil, for deep-frying
Directions
1. Cut off the stem of each flower, remove the sharp, protruding points of the calyx at its base, and then remove the pistils from inside, trying not to tear the flower.
2. Rinse the flowers and dry gently with a dish towel or paper towels.
3. Place 1 piece of anchovy and 1 piece of cheese in the cavity of each flower. If any flower is torn, just wrap its petals around the filling.   Gently lay the stuffed flowers in a single layer on a plate.
4. Sift 2 cups flour into a bowl.
5. Add 1 and 1/4 cups water and mix with a fork until a thick batter forms. Adjust the consistency by adding more flour or more water.
6. Stir in 1/4 teaspoon salt and the vinegar.
7. Sift the remaining 1 cup flour into shallow bowl.
8. Pour olive oil to a depth of 2 inches into a deep frying pan and heat to 325F on a deep-frying thermometer, or until a drop of batter dropped into the hot oil sizzles immediately on contact.
9. Holding  1 stuffed flower by its base, dip it first into dry flour then into the batter, coating generously.
10. Lay the flower gently in the olive oil. Repeat, adding 2 or 3 more flowers and being careful not to crowd the pan.
11. Deep-fry until golden brown on all sides, about 5 minutes, paying more attention to the color than to the clock.
12. Using a slotted spoon or tongs, transfer the flowers to paper towels to drain.
13. Keep warm on an electric hot tray or in a very low oven, uncovered.
14. Repeat with the remaining stuffed flowers.
15. Sprinkle the fried flowers lightly with salt and serve immediately.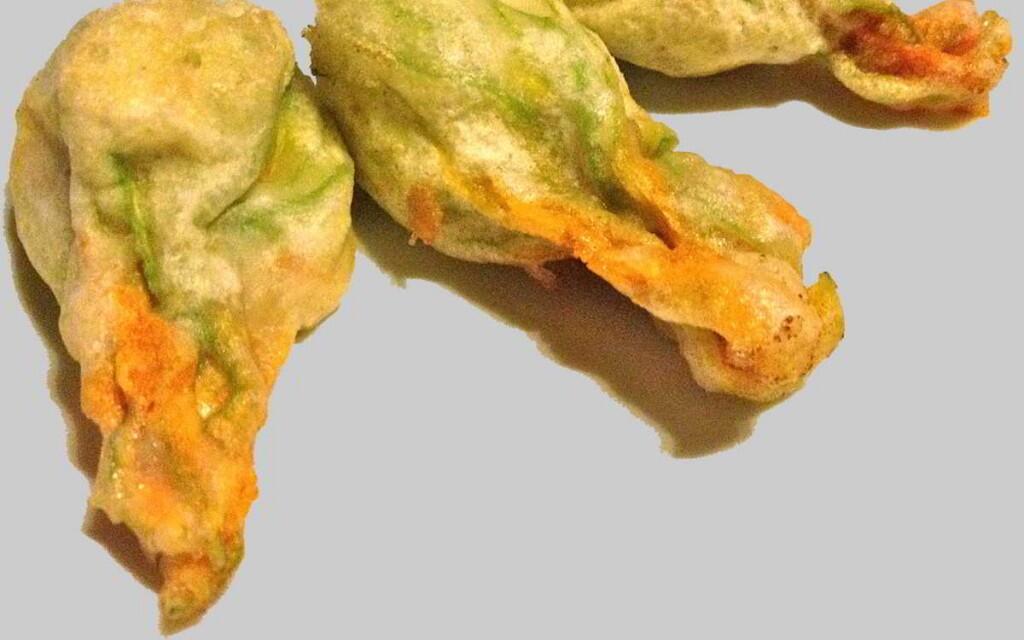 Risotto di Zucca (Pumpkin Risotto)
Serves 4
Ingredients
• 1/2 cup extra-virgin olive oil
• 1 cup finely chopped onion
• 1 tablespoon chopped garlic
• 2 cups arborio rice
• 1 cup dry white wine
• About 6 cups of hot chicken stock or vegetable stock
• 1 butternut squash, one half baked in the oven and then pureed; the other half, peeled, cut into small dice, and Sauteed in a little oil and butter until tender
• 1/2 cup grated Parmesan
• 4 tablespoons unsalted butter, cut into small pieces
Directions
1. In a medium-size heavy saucepan, heat the olive oil over medium-high heat. Add the onion and garlic and saute, stirring continuously, just until softened, 3 to 4 minutes. Add the rice and continue to stir, using a wooden spoon, to coat the rice with the oil.
2. Add the white wine and continue cooking, stirring often, until it has been absorbed by the rice. Pour in enough chicken stock to cover the rice completely, about 3 cups, and continue to cook, stirring often, until all the liquid is absorbed.
3. Pour in 1 cup more of the remaining stock and stir and cook until it has been absorbed. Repeat with 1 more cup. Add the remaining cup and cook, stirring, until the rice is al dente, tender but still very chewy, and most of the liquid has been absorbed.
4. Stir in the pumpkin puree and the diced pumpkin and reduce the heat to very low so that the risotto doesn't simmer anymore. Stir in the Parmesan and butter to give the risotto a nice, creamy finish. Spoon it immediately into heated shallow serving bowls.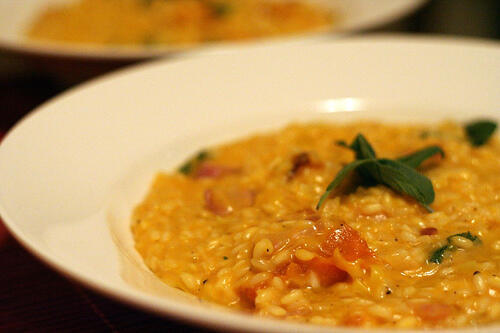 Crostata di Zucca e Ricotta
(Pumpkin and Ricotta Pie)
Serves 8 
Ingredients
Filling:
• 1/2 cup pumpkin or squash puree
• 1/2 cup (4 ounces) ricotta cheese, drained in a fine mesh colander to eliminate excess moisture
• 1/4 cup sugar
• 2 large egg yolks
• 1/8 teaspoon pure almond extract
• Confectioners' sugar
• 9 to 10 ounces Tender Tart Dough
Tender Tart Dough:
• 1/2 pound (2 sticks) cold unsalted butter
• 2 cups unbleached flour
• 1/4 cup sugar
• Pinch fine sea salt
• 1/4 cup plus 1 tablespoon ice water
Directions
1. Preheat oven to 450ºF.
2. Using rubber spatula, stir first 5 ingredients in large bowl until smooth.
3. Roll out dough on lightly floured work surface to 11-inch round (recipe for tart dough below). Transfer dough to rimmed baking sheet.  Spoon filling atop dough, leaving 2-inch border.  Fold dough border over filling to form 7-inch round, pleating loosely and pinching to seal any cracks in dough.
4. Bake until filling is just set and dough is golden, about 20 minutes. Cool on rack 10 minutes. Dust with confectioners' sugar. Serve while still warm and aromatic.
Tart Dough:
1. Cut the butter into 1/2-inch cubes. Set aside in the coldest part of the refrigerator for at least 10 minutes while you set up the food processor and gather together the dry ingredients.
2. Place the flour, sugar, and salt in the bowl of a food processor fitted with the steel blade. Pulse a few times to combine. Add the butter, tossing quickly with your fingers to coat each cube with flour, taking care not to touch the blade. This prevents the butter cubes from adhering together and helps them break apart and combine more evenly with the flour. Pulse 15-20 times, or until the butter particles are the size of small peas.
3. With the motor running, add the ice water all at once through the feed tube. Stop the motor immediately. Scrape down the bowl with a rubber spatula, then pulse on and off 3-4 times to distribute the moisture evenly. The dough will still be in particles, not a solid mass. Do not process further or the dough will be tough. It should just hold together when pressed between your thumb and forefinger.
4. Dump the contents of the bowl onto a large sheet of aluminum foil. With floured hands press the loose particles together forming a solid mass of dough roughly 7-inches in diameter. Cover the dough completely and refrigerate for at least 2 hours or overnight.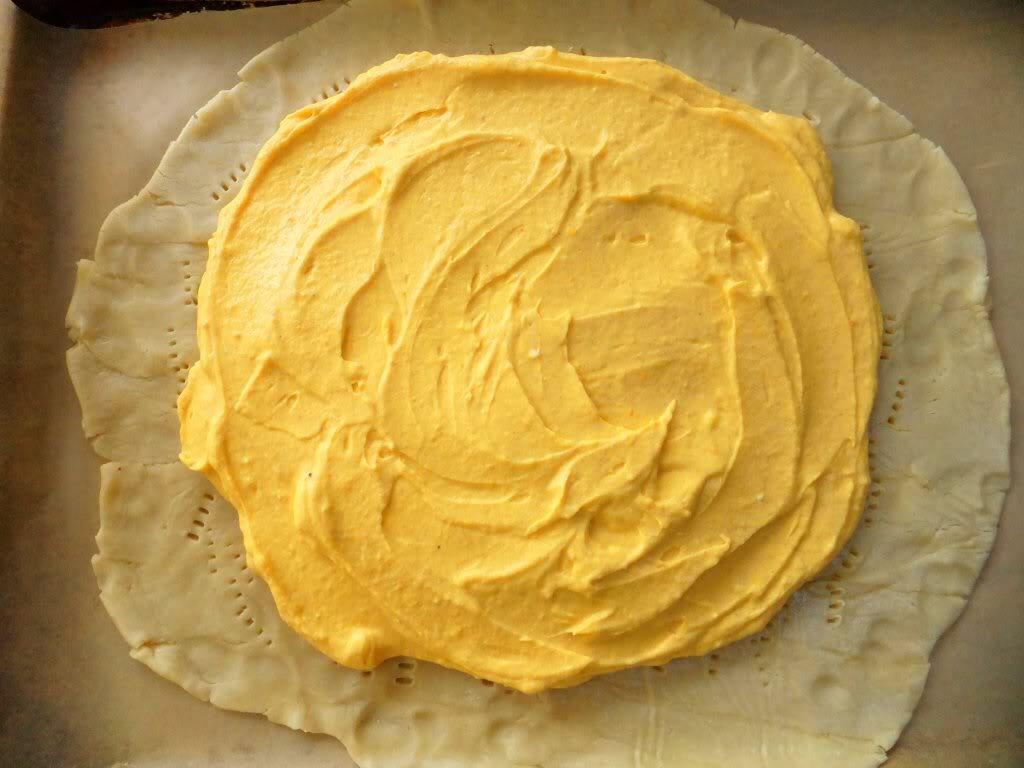 ——
Contact [email protected] with Blog Enquiry in the subject title for any feedback or requests for a topic you want us to cover. 
Voted one of the best things to do in Rome, Eating Italy Food Tours offer a Rome walking food tour through one of Rome's oldest and most characteristic neighborhoods, showing visitors some of the best places where to eat in Rome.