8960 Views
As enthusiastic as I was when I first got in to baking and cooking, there were a a few things that I never considered making at home. This list included gelato, bread and, the subject of today's post, pizza dough. I assumed that the storebought versions were probably just as good as what you could make at home and saved you time.
I did make quite a few homemade pizzas when I began to cook; I experimented with all sorts of toppings, like pesto and goat cheese, eggplant and sundried tomato, ricotta and fig. These toppings were however placed on top of a premade Pillsbury pizza crust, one that could be easily unfolded, placed on to a baking sheet and baked in about 25 minutes. The pizza was a quick and tasty dinner—it was fast, easy and tasty, and I saw no reason to change my pizza-making methods.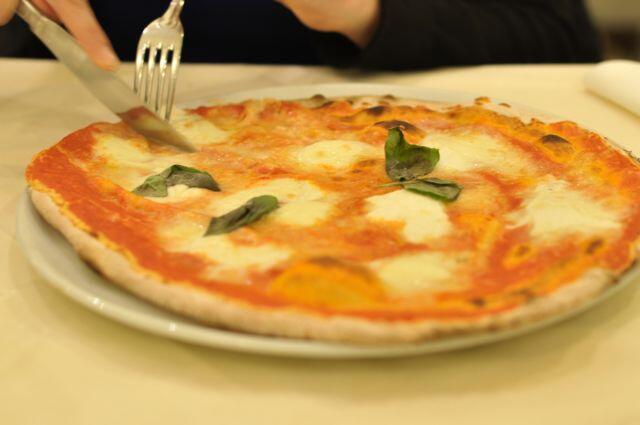 However, the pizza I ate during my first trip to Rome in 2003 told another story – it was unlike like any I had ever tried, far different from my Pillsbury dough and worlds away from anything that Pizza Hut or Dominos had ever offered me. Pizza in Rome was mindblowingly good; the crust was thin and crispy and flavorful, the perfect complement for its fresh, simple toppings—my favorite combination was (and remains to this day) a margherita con la bufala, or a pizza with tomato sauce, mozzarella di bufala and basil. Then there was the magnificent pizza al taglio, or pizza by the slice, with its fluffier, thicker crust and variety of toppings that could be quickly and efficiently cut and weighed for the customer—the Italian version of fast food, only so much better.
I knew when I got home that the first step towards recreating what I had tried in Rome was making my own pizza dough at home. After a bit of research I settled for a recipe that has since become my go-to recipe for Roman style pizza dough. This dough is very easy to work with, stretches very easily and holds its shape even after being rolled thin. While it of course does require more time than using premade dough, it really doesn't take much more effort—nothing more than a bit of mixing and kneading and waiting for the dough rise. Deliciousness aside, this is a great recipe if you have people over for dinner—you can use one batch of dough to make all different types of pizza and it's definitely a crowd pleaser (who doesn't love pizza?) Plus you have bragging rights for saying that you made it all yourself! Happy eating everyone!
And if you're in Rome with your kids, why not try our Pizza School for Kids where they will learn how to make Roman pizza dough while you can sit back with a glass of wine and snacks. Find out more about our pizza cooking class here.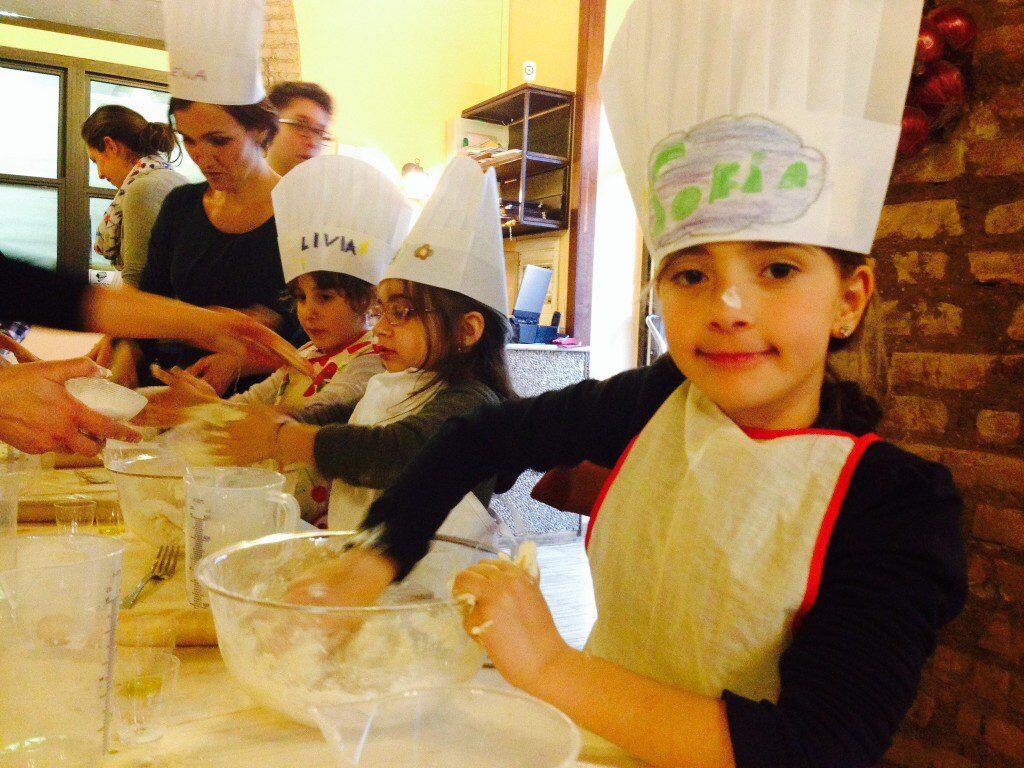 Roman-Style Pizza Crust
Adapted from Bon Appétit Magazine
Ingredients
2 tsp sugar
1½ tsp active dry yeast
2½ tbsp extra-virgin olive oil, divided
1 tsp kosher salt
2¼ cups (332 grams), plus more for dusting, all-purpose flour
Procedure
Combine ¾ cup warm water (about 100°–115°F), sugar and yeast in a large bowl and let sit until spongy, 4–5 minutes. Mix in 1½ tablespoon oil and 1 tsp salt. Stir in 2¼ cups flour. Turn out onto a work surface; knead until smooth and elastic, adding more flour when the dough sticks, for about 6 minutes. Grease a large bowl with 1 tablespoon olive oil. Add the dough, cover the bowl with a dishtowel; let rise 1½ hours.
Meanwhile, position one rack in top third of oven and another in bottom third; place a pizza stone on the top rack and preheat oven to 500°F, or 260˚C. Preheat for 45 to 60 minutes.
Divide the dough in half. Or, if you wish, at this point you can wrap the dough balls individually in plastic and store in the refrigerator for a couple of days, or store in a plastic storage bag in the freezer for 1 to 2 months.
Sprinkle a clean work surface with some flour. With a large rolling pin, roll out the dough very thinly in a large rectangle with rounded corners (it doesn't have to be perfect). The thinner you manage to roll the crust, the crispier it will be.
Cut out a piece of parchment paper big enough so it'll hold the pizza dough. Fold the dough in half and transfer to the parchment paper (the paper will make it easier to transfer the pizza to the oven, as the thinness of the crust would make it virtually impossible to slide the pizza off onto the stone). Cover the dough with a clean kitchen towel and let rest for 15 minutes. Brush dough generously with extra-virgin olive oil and top with your ingredients of choice. Using a large cutting board, carefully transfer the pizza (with the parchment paper) onto the preheated pizza stone in the oven. Top with a red sauce, mozzarella and any other toppings you may want. Bake until crust is browned and crisp, about 10-12 minutes. Remove from the oven and let cool slightly before cutting it in to pieces (the easiest way to do this is using a pizza wheel).