3214 Views
"I challenge you to a duel," says food to man
Fancy yourself as a seasoned eater then, hey? Are you ready to take on the big boys and bite, chomp, munch, rip, and tear your way through some serious London food? I'm talking BIG food, and in some cases incredibly hot food. Food that would give the mighty Adam Richman nightmares and leave him crying in a corner somewhere. Ah well then, we have just the thing for you – The London Eating Challenge.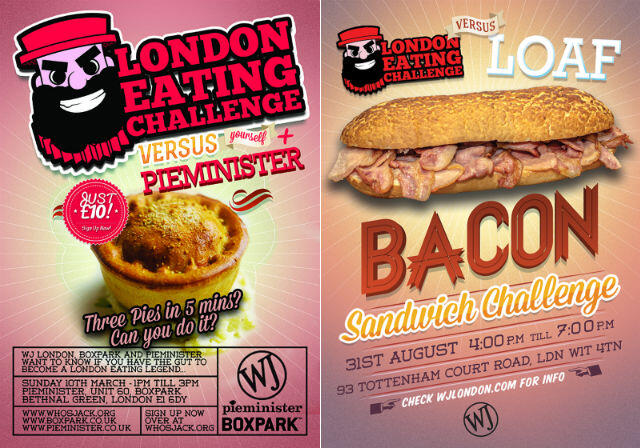 What's an Eating Challenge?
What is an eating challenge you ask? Well, an eating challenge will usually consist of eating a certain quantity or type of food within an allotted time frame. Quantity challenges usually revolve around meat, such as steak or burgers, but can extend to things like pizza, ice cream, and oysters. Food type challenges will usually involve small (ish) quantities of food that are very very difficult to stomach, e.g. curries, hot wings, and chilli. Such challenges are not to be taken lightly; remember that we live in a world where certain people make a living from competitive eating. Food, and consuming large quantities of it within a governed time frame, is no joke!
… and Who is Adam Richman?
Adam Richman is the host of popular Travel Channel TV show Man Vs Food. The premise of the food show is based around Adam's immense eating abilities. In each episode, a camera team follows his travels around the world in search of eating competitions and then film his efforts at scoring one for team 'MAN'. Sometimes he fails, but every now and then he prevails, much to the delight of watching crowds who, in willing him to succeed, scream in unison 'one more bite, one more bite'. It's an addictive watch, one that also leaves you feeling incredibly hungry come the end credits. The show looks like a sweet gig – getting paid to eat is easy, right? Yeah, but no, not really. If you've seen the show, you'll understand that Adam is serious about having Man come out on top in each contest.  He puts in all the hours necessary to conquer over-sized 'delights' such as 12 egg omelettes, 1 metre long bratwurst, 5 pound sandwiches, and my personal favourite, a 30-inch, 11-pound pizza, known as the Carnivore Challenge. For the Carnivore Challenge, Adam was elected an eating partner. Together they were tasked with becoming the first ever pair to finish the incredible 6 pounds of dough and sauce, along with the added 5 pounds of meat. They failed, and it wasn't pretty. Seconds anyone? …Nope, didn't think so.
The Official London Eating Challenge
So are you inspired? Do you think you can go one better than Adam? Do you want to pit your stomach against the best eating challenges that London has to offer? Having already featured in Time Out magazine and the Telegraph, a few brave souls with eyes bigger than their bellies are one step ahead of you and have already attempted one of The London Eating Challenge events, with mixed results I might add. That's right, the challenge has already begun. I'm sorry to say that you've already missed out on events containing bacon sandwiches, pies, and hot wing (see video below for the hot wings highlights). But fear not, for your lust of big and spicy food may still be quenched by the upcoming curry and meatball events.
Can't make either of those two events? Well check out the London Eating Challenge webpage to keep up to date with future challenges and their locations. Yep, that's right, this is a mobile eating challenge, moving from venue to venue as new foods are pitted against hungry bellies. To those of you who choose to enter I say good luck, as absolutely no one was able to complete the bacon sandwich challenge and so I imagine the curry and meatball challenges will be just as tough.
How Man Fared When Faced with London Food in Round 2
Hungry? Try These London Food Challenges
Blacks Burgers, Croydon: Win and you get a t-shirt; lose and you'll have to pay the full £40 for the 15,000 calorie behemoth.
Red Dog Saloon, Hoxton: Dare you take on the devastator burger? Three 6oz patties, 200g of pulled pork, bacon and American cheese. All housed within a chunky bread bun.
Octoberfest Pub, Fulham Rd: Love pork? Scoff down two slow roasted pork knuckles, fries and a side of sauerkraut, and a stein glass of your own will be yours to take home (once you have drunk its contents).
MEATliquor, Soho: "Come hungry. Leave Drunk" is the slogan on the door, but try their triple chilli challenge and you'll be food drunk rather than liquor drunk. Made up of a portion of chilli cheese fries, a green chilli cheeseburger, and an enormous chilli dog, you'll do well to complete the challenge let alone beat its current record, an incredible 3 minutes and 25 seconds.
Fat Boys Cafe, Croydon: Its the morning after a heavy night out. You need a big greasy fry up to get your head right again. OK so how about a 4,500 calorie number, would that sort you out? Think you could handle a whole packet of bacon, two jumbo sausages, 1LB of chips, two eggs, two tomatoes, a tin of baked beans, mushrooms and a fried slice? Good luck I say.
* * * Hungry, but just not *that* hungry? Join one of our food tour in London to enjoy more manageable food portions. 
For more fun things to do in London, read our guide on Quirky Bus Tours in London.