136 Views
Continue the series of chats with the members of our team! This time, let's talk to Katrina Brinckerhoff, our Lisbon Operations Manager. However, giving her just one title falls short. Since joining Eating Europe, Katrina has taken on multiple roles, handled challenging situations, and, above all, taken the food tourism in Lisbon to a whole new level!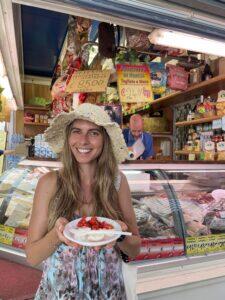 Katrina was born in Costa Rica to a Portuguese mother and an American father. She lived in the south of Italy and Madrid, then she moved to Portugal in 2016. Her educational background is in psychology. She stumbled into tourism when she moved to Lisbon and has been working in the industry ever since.
How long have you been working with Eating Europe?
I started working with Eating Europe part time in 2018 creating a few pilot tours but joined full time as the Lisbon Operations Manager in April 2019. 
Describe your role and tasks
Where to begin? On a broader scale, I create all Lisbon food tours and hire and train a team of guides to run them. On a daily basis I oversee the city-wide operations and everything that entails, overseeing guides and promoting their professional development, nurturing our partner relationships, working with our Marketing Department, Finance Department, ensuring guest satisfaction, addressing any problems that may arise… The list is ongoing and every day is different.
The biggest challenge in all these years
There have been many! Of course COVID was detrimental to the travel industry and the uncertainty of not knowing if or when we would be able to resume operations was extremely difficult because I love my job. More specifically to Lisbon, we have experienced an overwhelming surge in demand for our tours. Trying to cater to that increased demand in a city experiencing record-breaking tourism has been challenging but immensely rewarding. I've loved finding creative solutions to keep the authenticity of our tours and making sure our guests leave feeling like they've experienced a side of Lisbon they wouldn't have had otherwise. 
Funniest anecdote over the years of working
In 2020 we had a company retreat in Lisbon. As I was the city hostess, I organized a dinner at one of our restaurant partners. We were all having a great time eating, drinking and laughing when out of the corner of my eye I saw someone get up and start dancing and singing on the table! Mind you – this was at around 8pm! Turns out it only takes 2 glasses of wine to get our CEO to show off his dance skills! The restaurant staff was so shocked they just stood in the corner mesmerized. We still laugh about it to this day! 
What makes you happy to work with Eating Europe
Easy! It's the perfect balance between an amazing, supportive team and the freedom to work autonomously. I love what the company represents and the products we offer and all of my colleagues are stellar! 
Your favorite food among the cities in which we operate
My favorite dish in the world is carbonara pasta. I'm pescatarian but I will always make an exception for carbonara when in Rome. 
A tip for a young person who wants to follow your career path
Try to learn as much as possible about different aspects of the company. Dipping your toes in other people's roles will provide you with a more rounded, global perspective. I love wearing different hats in the company as there are always new challenges to solve which have been extremely educational. If you're doing the same thing day in and day out, you can forget there are other pieces of the puzzle. 
The most fulfilling part of your job
The people! Watching my colleagues thrive in their roles and learning from them, knowing that guides enjoy their jobs, and providing our guests with memorable experiences is extremely fulfilling and makes all of the challenges that arise along the way well worth it. I also love all of our vendor partners and have created a very strong relationship with them over the years. 
How do you see the future of the industry of food tours?
I'm very optimistic about the future of the food tour industry. We've experienced a phenomenal comeback post pandemic and I think the future looks very promising. Food tours are such a fun way to learn about a city's history and culture!