2649 Views
London is one of the most exciting cities in Europe, alive with thousands of restaurants, bars and attractions. I love nothing more than trying out a newly opened venue, whether it's a cool cocktail bar or a swanky restaurant. With that in mind, I'm going to hone in on one of my favorite areas in London to bring you some of the most exciting new and upcoming openings in Soho. Be sure to follow my handy guide and remember to let me know all about your visit…
Cahoots
Located in the center of Soho, Cahoots is the latest bar to arrive in this bustling area of London. But this newcomer certainly isn't your average watering hole! Found in the abandoned Kingly Court tube station, this underground bar boasts a quirky 1940s post-war theme. Expect to find plenty of eclectic London memorabilia, vintage décor and late-night electro-swing music. Their cocktail menu is also pretty impressive, with a variety of quirky yet delicious concoctions including one served in a huge smoking clock – definitely a showstopper! To ensure you don't miss out on any of the fun, I highly recommend booking a table well in advance via their online system.
13 Kingly Court, London W1B 5PG
+44(0)20 7352 6200
cahoots-london.com
Open: Mon – Wed 5 pm – 1 am, Thu – Fri 5 pm – 2 am, Sat 5 pm – 3 am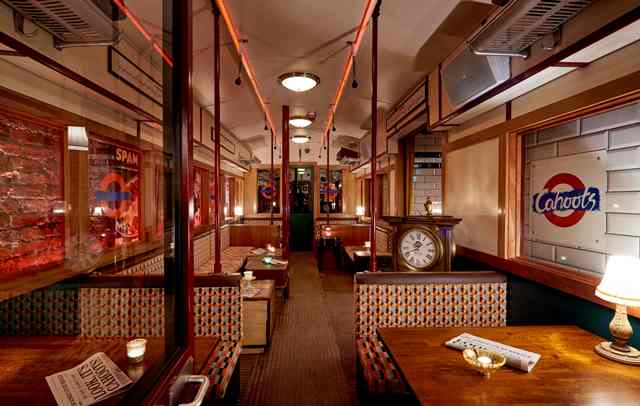 The Duck and Rice
Founded by Alan Yau, The Duck and Rice is Soho's newest addition to the gourmet food scene. This unique gastro-pub offers guests a warm atmosphere and pretty spectacular surroundings, reminiscent of a Victorian pub mixed with a pinch of ornate Asian decor. On arrival, head upstairs to indulge in the likes of Lobster Cantonese, Kung Po Chicken, Crispy Aromatic Duck and the cryptic No.23. But before leaving, be sure to grab a drink in the bar. The Duck and Rice has a huge offering of premium lager, ales, ciders and stouts – you name it, they've got it!
90 Berwick Street, London W1F 0QB
+44 (0)20 3327 7888
theduckandrice.com
Open: Mon – Thu 12 noon – 11.30 pm, Fri – Sat 12 noon – 12 midnight, Sun 12 noon – 10.30 pm
Top Dog
Due to open in May 2015, Top Dog is the latest US-style food joint to arrive in London. Think delicious hotdogs, a cool décor and not a single burger in sight! What's better yet? You can customize every aspect of your hotdog, making it a healthier fast-food option. Take your pick from a variety of mouth-watering organic meats (with vegetarian options available too), select your favorite bun and then finish it off with some tasty toppings including Pulled Pork and Apple Slaw, Caramelized Onions and even Kimchi! Don't forget to add on some fries to your order and lashings of home-made relish, washed down with an organic ice-cream shake.
48 Frith Street, London W1D 4SF
top-dog.com
Open: TBC
Melt Room
If you're a fan of all things cheesy, then Melt Room is definitely one for you! Opening its doors in May 2015, this new restaurant in Soho is the place to eat morning, noon and night. The menu offers a huge selection of tantalizing grilled cheese sandwiches including The Classic, Full English, Pulled Lamb Melt and the Supper Veggie choice. If that wasn't enough, Melt Room also promises a soundtrack as cheesy as your snack – very apt! Plus, they'll also be offering a local delivery service.
26 Noel Street, London W1F 8GY
meltroom.com
Open: TBC
And finally…
Twilight Soho Food Tour
If you're looking to uncover some of Soho's hidden treasures, join us on our new Twilight Soho Food Tour. A world away from the usual tourist haunts, our tour will reveal some of the area's most exciting international foodie finds. You'll get to indulge in everything from Italian polenta to Lebanese street food, and will even be introduced to the passionate people behind each dish. But that's not all: during the tour we'll also stop by plenty of cool landmarks and learn more about Soho's vibrant history. What's not to love? Experience a real taste of Soho and book your tour with us today!
+44 (0)20 3289 6327
eatinglondontours.co.uk/twilight-soho-food-tour
Open: Mon – Fri 5 pm (3.5 hours)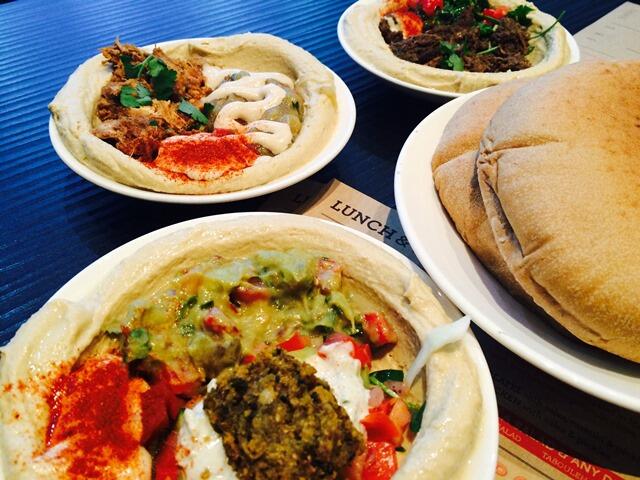 If you're headed to London and stuck for where to visit first, be sure to head to Soho. With all of these exciting choices on offer, you'll definitely find plenty to fill your time and belly during your trip to the capital!