2132 Views
What better way to get to know some new and interesting people than over a warm meal? For those of us that love turning strangers into friends, and wouldn't mind learning a new recipe while they are at it, Kitchen Party is their dream come true.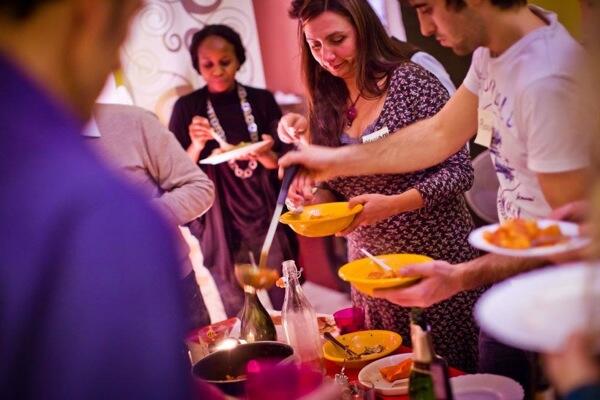 Launched only last year, Kitchen Party takes online social networking a step further by blending it with real-life interaction. The site acts as a tool for users to organize an evening of food and fun with people they don't know yet. Users can host their own Kitchen Parties at home or at any restaurant or park, and serve up whatever they choose. Other Kitchen Party members request invites via the website and must be specifically chosen by the host in order to attend. The only cost is a small "Participation Fee" which can be anything from a reimbursement to a bottle of wine.

You may want to attend or host a Kitchen Party if…
1. You do not know that many people in your area and want to make more friends. Friends of the opposite sex are of course welcomed as well. And, as a host, you get to review profiles of all the possible guests, with pictures included… Do I see a Kitchen Party Dating spinoff forming in the near future?
2. You are traveling through foreign lands and want to really immerse yourself in the culture. You want to meet locals, hear their stories, learn about their daily lives, and taste their authentic cuisine. At a Kitchen Party you spend a whole evening chatting and eating with friendly natives for a truly authentic experience.
3. You are a food fanatic, and want to learn how to cook as many dishes as possible. But you hate cookbooks, and cannot afford to sign up for an expensive cooking class. Kitchen Parties are low-cost and interactive, so even if you don't enjoy the company at least you will learn a new recipe.
Kitchen Party headquarters are located in Rome, but users can organize events all over the world. When browsing for parties you can search by location, enabling you to attend Kitchen Parties in your hometown or while traveling. For a perfect food day in Rome, attend one of our Food Tours in Rome and that night go to a fabulous local Kitchen Party.