4744 Views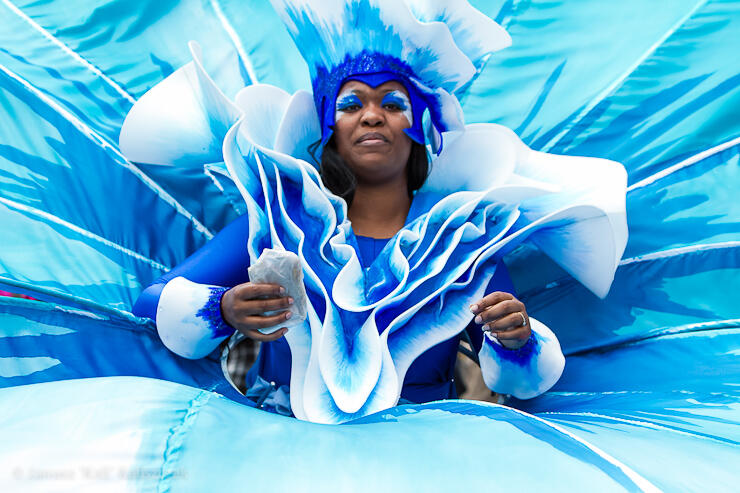 Each year one of west London's trendiest neighbourhoods proves its cultural mettle by playing host to Europe's largest carnival. Notting Hill Carnival is a cacophony of colour, music, delicious foods and fun in abundance.
With each step I can feel the revelry. West London's pavements are bouncing to deep baselines, and the crowd is jumping. As I close in on Ladbrooke Grove, my chosen point to watch the Notting Hill Carnival, I'm met with a symphony of music, incredible costumes and a rainbow of colour.
For two days in late August this quarter of London pulsates to the sound of steel bands and huge sound systems. They play everything from calypso, to soca and reggae to jazz, salsa, samba and dance music.
Notting Hill Carnival is held annually over the August bank holiday weekend and, with the sun usually making a timely appearance, is the greatest let-your-hair-down event in the capital.
Gone are those cool London look-through-you stares as found on the Tube.
Here you'll find Londoners at their most relaxed, friendly, fun-loving, and happy. Historically, over the years it seems every famous DJ and musician has played sets to appreciative crowds that jump in unison to every beat.
But where Notting Hill Carnival really dazzles is with its floats that edge their way through the streets – one with a full steel band hammering out tropical rhythms, the next festooned in feathers like a giant bird of paradise.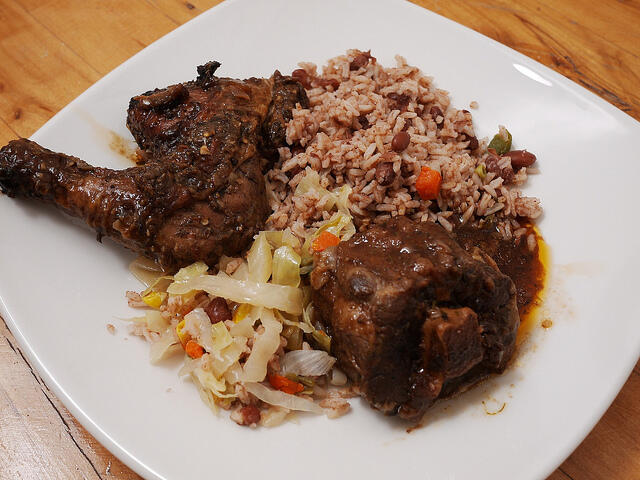 The smell of spices is in the air as I wander away from the parade route for a moment to get food. Here smoke rises from huge barbecue grills serving a selection of Caribbean favourites right on the street. Fishcakes, jerk chicken, peas and rice and curried goat are just a few of the temptations. But at this cultural melting pot of a festival you'll also find Brazilian caipirinha cocktails, Thai green curry and West African jollof rice.
I order some fishcakes and a rum punch and head towards the parade judging area on Great Western Road, knowing it will take me a while to get through the fun-loving crowds.
As I arrive night has begun to fall and the street lights – some now posing as viewing platforms for eager carnival-goers – are twinkling off dancers' sequined costumes. This is a great place to see all the floats and participants as they pause for judging, keen to be crowned the best band or King and Queen of Notting Hill Carnival.
But the Notting Hill Carnival is not just about spectating. Whenever the music grabs you, or perhaps an enthusiastic local does, go with it and dance, right there in the street – because you see, this is what it's all about. It's an opportunity to let go and join in the joy and the revelry.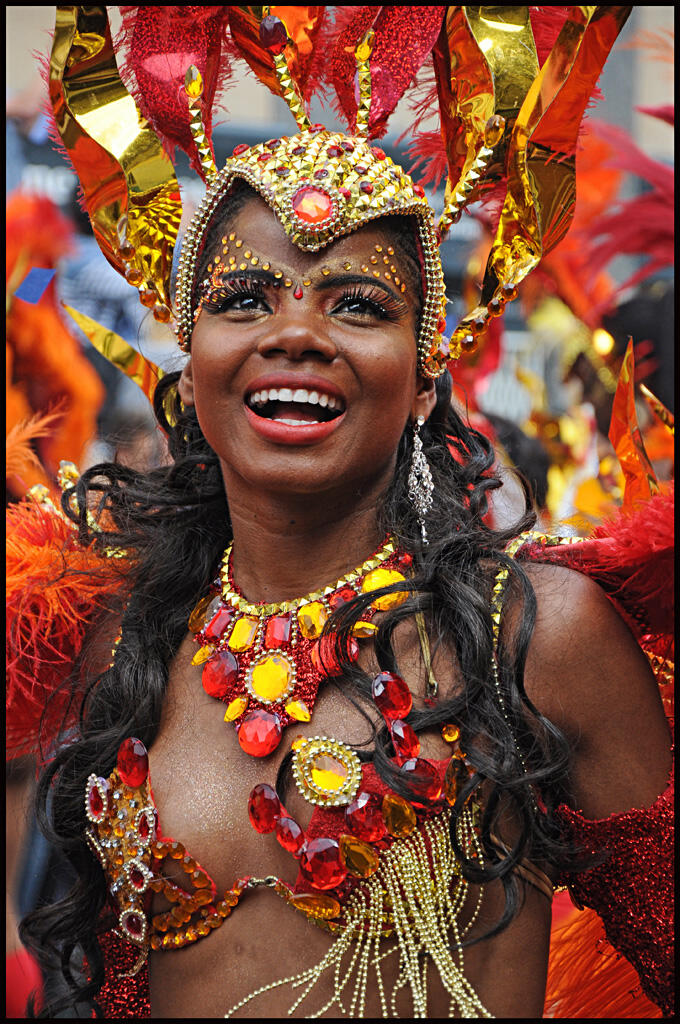 Photo by Rob Schofield.
After a while I have my mind on more late night adventures and head to a local nightclub to one of the carnival's many parties.
By the end of the night I stumble home, barely able to walk from hours of dancing, but I don't mind. Notting Hill Carnival has reignited in me the simple girl that's wants for nothing more than to dance in the street. And I know I'll be back next year for more.
* * *
Notting Hill Carnival takes place in and around the streets of Westbourne Park, Ladbrooke Grove and from approximately 9am to 7pm on Sunday, August 25 to Bank Holiday Monday, August 26 2013. If you're looking for more untypical London foods to try on your UK trip, be sure to check out our East End Food Tour.