2955 Views
Come visit some of our favorite places in Rome!
Paola & Francesca Fruttivendolo (Fruit and vegetable stand, Rome, Italy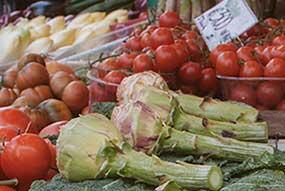 "We believe in showing off our produce, so we create a new display every single day. You'll never find something in the same spot. We still hand pick every single peach, every single apricot."
– Paola
This family-run fruit and vegetable stall at Testaccio Market has passed down three generations. With a huge selection of fresh, quality produce, the smiling Paola and Francesca are always on hand to guide you through your purchases and are happy to give you a recipe or two; they will even throw in some free fresh herbs.
To find the Paola & Francesca Fruttivendolo:
Address: Testaccio Market, Via Beniamino Franklin