17580 Views
This post was originally published in June, 2013 and was updated in November, 2017.
People always ask us about visiting Florence from Rome so we decided to take that question to Italy travel expert, Jessica Spiegel, from Italylogue who gave us the lowdown. So, after your food tour in Rome, be sure to add Florence to your itinerary!
There are plenty of reasons why you'd be planning a trip to Rome instead of Florence. Aside from the fact that it's far easier to find cheap airfare to Rome than to Florence from outside Europe, this is Rome we're talking about here – former center of the universe, current capital of Italy, Rome has everything the Italy traveler could possibly ask for.
Except, y'know, it's not Florence.
If your Rome visit spans more than a few days and you aren't planning to spend another few days in Florence, you can still get a taste of the Renaissance capital by making it a day trip from Rome. It's a long day, to be sure, but a long day spent in Florence is better than a short day in many other places.
How to Get from Rome to Florence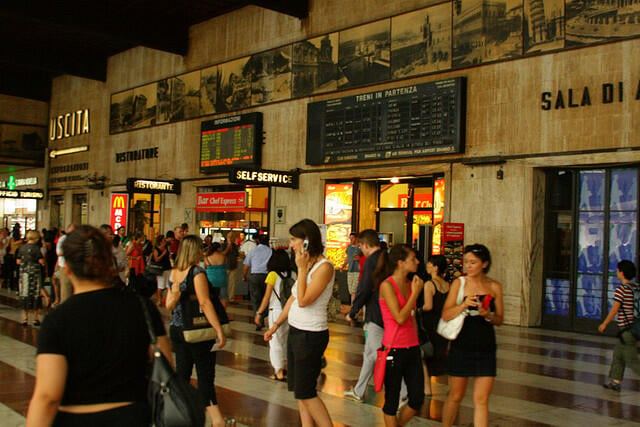 You can fly, drive, or take a bus to get from Rome to Florence, but those methods of transportation would make your day trip too expensive or impossible to complete in 24 hours. To consider Florence a viable day trip from Rome, you need to take the train – and a high-speed one at that.
Get yourself out of bed bright and early so you can catch one of the AV trains departing Termini Station before 9am. These trains make the journey in roughly 1.5 hours, which means that if you get the 7:15am train you'll be in Florence by 8:50am – perfect timing to start your day in the city of Michelangelo and Leonardo da Vinci with a coffee and cornetto at the bar. (For a less-aggressive schedule, the 8:33am train gets to Florence at 10:03am – still plenty of time for the major sights, and you can have your coffee in Rome instead.)
Tickets on the AV trains can be as little as $45 in second class if you book in advance – the normal second class fare is more like $63, and a normal first class fare is closer to $90. If you've got a Eurail Pass, this is a great time to use it – by making Florence a day trip, you'll get two train journeys on the expensive AV trains and you'll only use one travel day on your pass.
When planning a day trip by train, it's vital to check the return schedule before you leave. The last AV trains leave Florence bound for Rome at 9:55pm, arriving back at Termini station at 11:30pm. There are other departures before that, so either check the schedule online or at the station before you leave Rome so you know roughly when to plan on being at the Florence station that night. Late departure trains are sometimes cheaper, so if you book in advance you may find the return fare is less than $30 in second class.
Remember with the sleek and fast AV trains that you'll need both a ticket and a reservation. If you have a Eurail Pass, that's your ticket, but you'll still need a reservation that gives you a specific seat on a specific train. If you don't have a Eurail Pass, you'll buy a reservation when you buy your ticket. Prices quoted here include the ticket and the reservation. Also, make sure you're booking a trip on an AV train – there are other trains that go between Rome and Florence, but they're sloooow. Accidentally get on one of those, and your trip can last 4 hours.
What to Do in Florence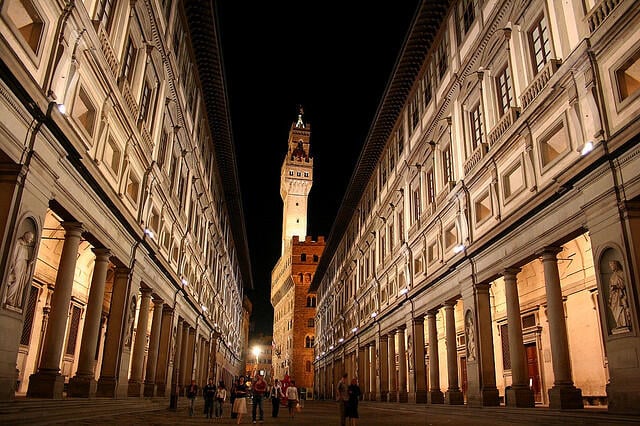 Getting to Florence for your day trip is the easy part. Cramming everything you want to do in Florence into one day is the challenge.
When time is limited in any popular destination, I can't stress enough how important it is to book as many things as you can in advance. Waiting in long lines to get into museums is no fun even when you've got all the time in the world – it's painful when you've only got a day. Luckily, you can book tickets for both the Uffizi and the Accademia – the two most popular museums in Florence, which routinely have the longest lines – ahead of time online.
The official site for the Uffizi and Accademia points visitors to the Firenze Musei site for booking advance tickets. The Uffizi and Accademia each have an entry fee of €6.50 – you'll pay an additional €4 per ticket to reserve your entry, but it's worth it to skip the line. If you don't get tickets in advance, your first stop in Florence should be the "secret" ticket window on Via dei Calzaiuoli to see what openings they have for reserved visits that day. You might just get lucky!
Florence Travel Guide
Having secured your visiting times to two of the main attractions in Florence, your next job is to fit the rest of your must-do items in like puzzle pieces around those visits. Some of the other things that can help you fill up a week in Florence (let alone a day) are:
Duomo Square – The piazza in front of the Duomo is great for people-watching, the Baptistery doors are replicas but still gorgeous and much-photographed, Giotto's belltower provides awesome views of the cathedral dome, and the Duomo is spectacular from the outside (the inside's a bit sparse).
Duomo Museum – After the 1966 flood, most of the Duomo's artistic treasures were moved to this museum after being restored. The original Baptistery door panels are also kept here.
Bargello Museum – An often-overlooked museum in a former city jail, the Bargello is packed with some incredible sculptures (including early works by Michelangelo).
Santa Croce Church – This church is where famous Florentines like Michelangelo, Galileo, and Machiavelli are buried.
Medici Chapels – Fantastic Michelangelo sculptures top the tombs of these Medici family members, and although there's more to a visit to this church than just this small chapel, the sculptures here are worth the price of admission.
Palazzo Vecchio – This palace is a former residence of the Medici family and now houses a museum. The David statue out front is a replica, marking the spot where the original first stood.
Pitti Palace and Boboli Gardens – Across the river, this is the palace to which the Medici family moved when they left the Palazzo Vecchio. The garden behind the palace makes up for the palace's austere facade.
Ponte Vecchio – The "old bridge" is lined with shops selling gold and jewelry, just as it has been for centuries, and is often very crowded. Cross one of the neighboring bridges for an easier passage and a photo-op of the famous bridge.
Piazza della Signoria – Another excellent piazza for people-watching, this one is in front of the Palazzo Vecchio and is lined with expensive cafes. Don't miss the pavement marker commemorating the date when the monk Savonarola was burned at the stake in the piazza.
Piazzale Michelangelo – If it's those picture-postcard views overlooking Florence that you're after, you'll need to hike (or take a bus) up to the Piazzale Michelangelo. It's basically a parking lot, but – oh, the view!
Leather Markets – Florence and other nearby cities are famous for their leather work, and there are two outdoor markets in the city selling all manner of leather goods. Keep hold of your bag in the markets, as they're havens for pickpockets, and haggle actively.
With all this sightseeing, you'll need sustenance – so don't miss out on having a bistecca fiorentina, the famous Tuscan steak, or (if it's chilly) cozy up to a bowl of ribollita, a hearty bean-and-bread stew. And no visit to Florence would be complete without at least a couple of stops for gelato. This treat has its origins in Florence, and the city is well-known as one of the best in the country at producing it. It's a bit of edible culture, so don't be shy!
Is one day in Florence enough?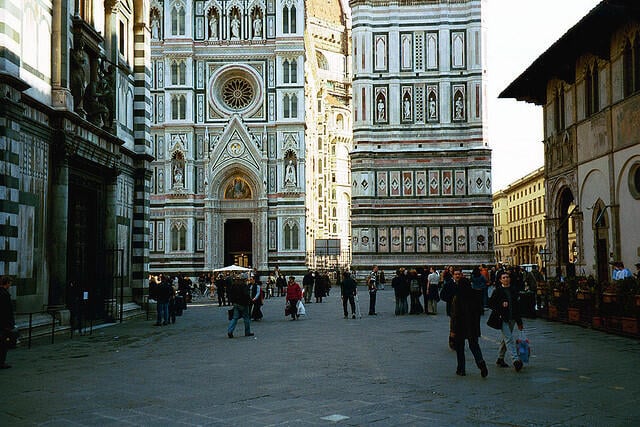 You'll have a hard time doing all the things I've listed in this article during a single day-trip to Florence – and I'm leaving out all kinds of other things you can do and see in the city – so the short answer is:
No, one day in Florence isn't nearly enough.
What a one-day visit to Florence gives you is a getaway from Rome, a good taste of what Tuscany has to offer, and an excellent head-start on Florence for your next visit… Which you'll be planning on your flight home, no?
Read more about Florence:
* * * * * * * * * * * * * * * * * * * * * *
Heading to Florence?
Avoid the tourist traps and taste the best of Florence's bohemian Oltrarno area! Eat authentic Florentine dishes, drink delicious Tuscan wine, and explore artisanal stores.
Join us on our Brand New Florence Artisan Food Tour:
* * * * * * * * * * * * * * * * * * * * * *
About the Author: Jessica Spiegel is a Portland-based travel writer for the BootsnAll Travel Network, where she pours her heart and soul into the WhyGo Italy travel guide. She's got a strict policy of eating gelato twice daily in Italy, and welcomes you to adopt a similar policy for your own trip. You'll find her on Twitter @italylogue.
Photo credits:
Photos in this post by ccblaisdell, jay8085, cfwee, Chris Yunker