9383 Views
This article was originally published October 2016 and updated November 2019
From pubs and clubs to unique attractions, there are plenty of things to do in Prague at night. Check out this guide for an inside look at Prague's nightlife.
An Inside Guide to Prague's Nightlife
One of Europe's favorite nightlife destination, there certainly is no shortage of things to do in Prague at night. The Czech Republic's capital city doesn't disappoint with its wide array of activities after dark. While it's easy to find a place to simply enjoy a pint of Pilsner, there are many other ways to spend an evening while visiting. Whether you're hoping for a wild night out at the city's biggest club or looking for something a little more low key or unique, this guide to Prague's nightlife has got you covered. 
T-anker Bar
Treat yourself to some spectacular evening views over the city at T-anker Bar. The entrance hidden away next to a shopping center gives no indication of what awaits upstairs. If you want to enjoy the more relaxing side of Prague's nightlife, sip one of T-anker's many beers from small Czech breweries that they have on tap from their rooftop terrace while watching the sun set over the city of one hundred spires.
Vinograf
Visitors might be surprised to learn that the Czech Republic has a rich wine culture. Head to one of Vinograf's two locations if you want to sample some of the country's finest wine on a night out in Prague. The Senovážné Náměstí wine bar has over 50 wines served by the glass and 35 are served by the glass at the Míšeňská location, giving you the opportunity to try many different options.
Absintherie
You'll be sure to see absinthe advertised all over Prague's Old Town, but don't get sucked into trying these low-quality versions. Head to one of the Absintherie's two locations if you want to have an authentic absinthe experience in Prague.
Both locations serve over 100 kinds of quality absinthe and the highly-trained staff will be happy to show you how to serve and drink it in the correct way. 
Karlovy Lázně
Karlovy Lázně is said to be Central Europe's biggest music club, but it isn't for the faint of heart. This is the club that makes Prague's nightlife famous, and with good reason.
Each of its five floors has a different them and music style, from mainstream and oldies to dance music and hip hop. There's also a chill-out floor for when you need to take a break. The club is also equipped with an oxygen bar and the only fog screen in the Czech Republic.
Jazz Dock
Jazz lovers will be delighted by this unique glass venue perched on the Vltava River next to the Smíchov riverbank. This cool lounge has a bar that extends 10 meters long, serving signature cocktails and other drinks well into the morning hours.
There is live music every night with a diverse program of jazz musicians taking the stage at this floating club. This is a popular spot for private events so be sure to check their events calendar before showing up.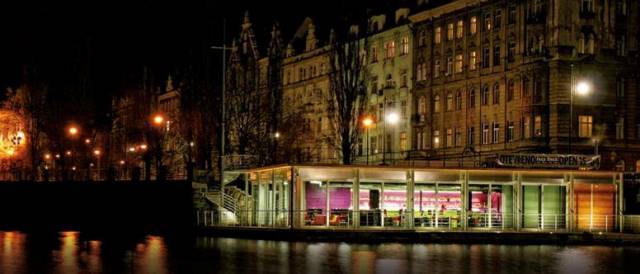 Globe Bookstore & Cafe
Prague's first largest English-language bookstore transforms into a lively pub in the evening and is a favorite international spot on Prague's nightlife scene. Geared primarily toward expats and travelers, the events calendar is packed with fun activities such as karaoke nights, happy hour, and pub quizzes. The pub quizzes are very popular and tend to fill up in advance so be sure to book a table ahead of time.
Prague Beer Museum
The Czech Republic has the highest beer consumption per capita so it's no surprise that Prague nightlife centers around this particular beverage. While being a bit more touristy than a local pub, the Prague Beer Museum has an impressive 30 beers from Czech micro-breweries on tap.
With so many choices, ordering flights will allow you to sample as many of the country's best craft brews as possible. Impress your friends (and maybe even your bartender) with your Czech beer knowledge by checking out these facts before you go.
Black Light Theater
Black light theater has become a popular attraction and Prague specialty in recent years. There are several theaters in the city showing performances in this unique style. This whimsical spectacle brings stories to life using special effects, a black backdrop, bright costumes, and UV lighting.
There are no spoken words in this style of theater, making it easy for everyone to enjoy regardless of which languages they speak. While not a typical Prague nightlife activity, attending a black light theatre performance is unlike anything else. 
---
Need a little more inspiration to help you decide which things to do in Prague at night? Take our Prague Craft Beer and Food Tour to learn about Czech beer and where to drink it or join our Prague Evening Food Tour. Our guides are all very knowledgable about the city and will be happy to point you in the right direction for the perfect spot to spend the rest of your evening!