3259 Views
Here at Eating Europe, we're proud to announce the launch of our new series of foodie travel guides for Amsterdam, Rome, London and Prague.
Whether you're just in Prague for 24 hours, or are spending a couple of weeks traveling around the Czech Republic, you're sure to want to see, do and eat the best that the city has to offer. Our Foodie Guide to Prague offers you insider's tips on how to make the most of your visit. We've gathered together our favorite attractions, restaurants, bars and places to stay in Prague, as well as our very own shortlist of not-to-be-missed food and drinks in the Czech Republic! And here is a sneak preview…
Essential Food and Drinks to Try in Prague
Chlebíčky – The original Czech open-faced sandwiches, chlebíčky are commonly eaten for lunch or as snacks. They're traditionally topped with cold meats, cheeses, devilled eggs (usually spread with margarine or cream cheese underneath) but nowadays more "gourmet" chlebíčky with creative, innovative toppings are being served. On our Prague Food Tour, you'll try chlebíčky with pickled herring and wasabi, for instance, or goat's cheese and beetroot.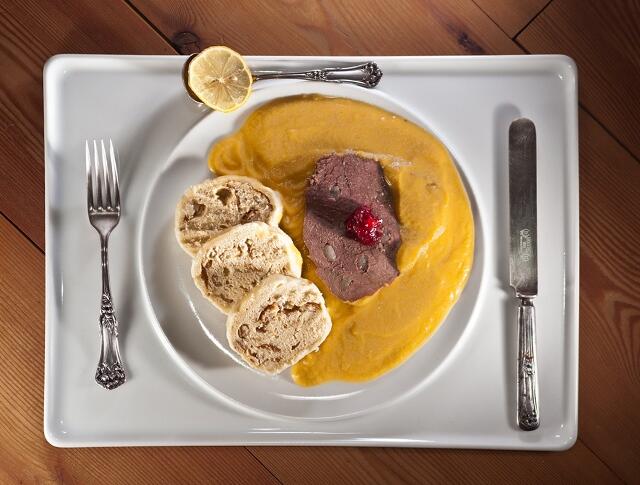 Svíčková with dumplings – Sirloin beef in cream sauce is considered the queen of Czech sauce-based dishes, the Czech name for which is svíčková (pronounced sveech-covah). For Czech families, this is a classic Sunday family lunch dish, since it is best when the meat is prepared and marinated a day in advance. Traditionally, this delicacy is served with bread dumplings and, to complete the dish and create a perfect harmony of flavors, it has to be garnished with a slice of lemon, cranberries and scoop of whipped cream. It may look like dessert, but it's not!
Pivo – You can't come to Prague without tasting Czech beer (pivo) at least once, even if you're not usually a beer drinker. After all, the population of the Czech Republic drinks the most beer in the world: the total consumption – divided by every man, woman, grandparent and baby in the country – equals approximately 150 liters per year, or in other words almost half a liter daily, for every person. Impressive! But after tasting a foam-topped pint from the birthplace of Pilsner, understanding why becomes much easier. Czech beer brands include Pilsner Urquell, the world's first pilsner, Budweiser Budvar (not to be mistaken for the American version of Budweiser), Velkopopovický Kozel (a darker, meltier brew), Gambrinus, Radegast, Staropramen, Krušovice, Starobrno, Bernard and Svijany.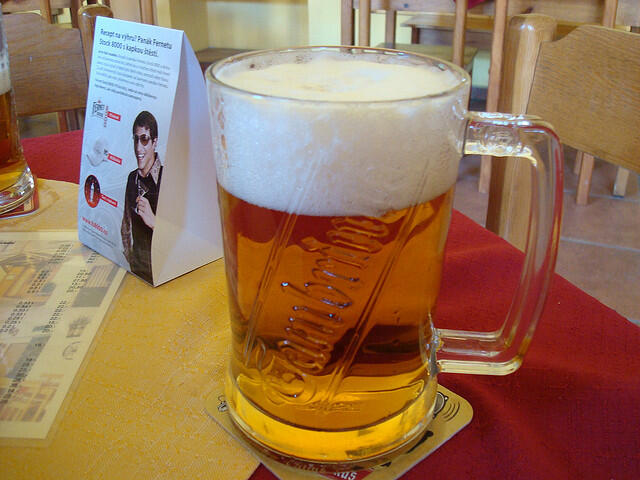 Read about more essential food and drinks to try in the Czech Republic in our Foodie Guide.
Prague's Best Restaurants and Bars
Čestr – Czech meat dishes (Čestr means Czech-spotted cow) and an amazing dark beer ice-cream not to be missed!
Legerova 75
+420 222 727 851
cestr.ambi.cz
Open: Mon – Fri 11.30 am – 11 pm; Sat 12 noon – 11 pm; Sun 12 noon – 10 pm
Cafe Imperial – Run by a Czech version of Gordon Ramsey (Zdenek Pohlreich) and with touches of gold throughout the restaurant, Café Imperial has a timeless elegance that's simply inimitable.
Na Poříčí 15
+420 246 011 440
cafeimperial.cz
Open: Daily 7 am – 11 pm
Lokál – Run by the famous Ambiente group and serving a great line in classic Czech dishes (try their fried cheese), Lokál has several locations across town. This is our favorite:
Dlouhá 33
+420 222 316 265
lokal-dlouha.ambi.cz
Open: Mon – Sat 11 am – 1 am; Sun 11 am – 12 midnight
Pivovar U Tří Růží – Translating to "At the Three Roses," this beautiful Old Town brewery is definitely a favorite. It boasts 6 great beers on tap, great Czech pub fare, and 15th century history.
Husova 10
+420 601 588 281
U3r.cz
Open: Sun – Thu 11 am – 11 pm; Fri & Sat 11 am – 12 midnight
Read more about the best restaurants and beer bars in Prague in our Foodie Guide!
Our Favorite Attractions
Prague Castle and Picture Gallery – Prague Castle is the most important historical site in the city, as well as the biggest castle in Europe. The castle was used as a residence for the kings of Bohemia and Holy Roman Emperors in the 8th century. Today it contains the office of the President of the Czech Republic. Inside, the Prague Picture Gallery contains paintings from the famous collection of Emperor Rudolph II. It allows visitors to view 100 paintings selected from the over 4,000 paintings in the Prague Castle.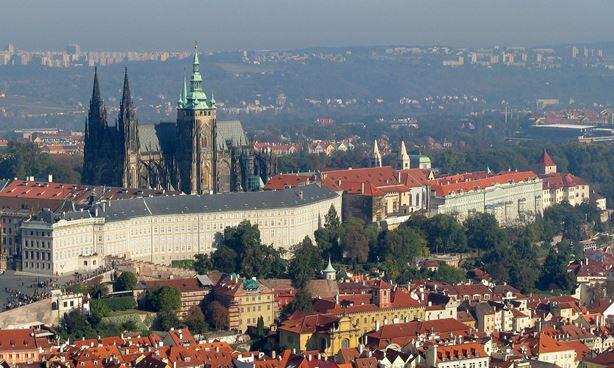 Mala Strana – Translating as "Lesser Town", Mala Strana is the neighborhood of Prague adjacent to the Prague Castle area, and connected to the Old Town by the Charles Bridge. In the Middle Ages, the German citizens were concentrated in this part of the city. The Lesser Town was home to a number of noble palaces, whereas the Old Town was more bourgeois and Bohemian.
John Lennon Wall – If you're a Beatles, or just a John Lennon fan, you can't miss the famous John Lennon Wall in Mala Strana. Since the 1980s, it has been filled with graffiti and song lyrics dedicated to John Lennon and the Beatles. The wall has undergone years of additions, and the original face of John Lennon is lost under layers of new colors. The wall is a symbol of youth ideals, love and peace.
The Jewish Quarter – The Jewish Quarter dates back to the late 11th Century, when the Jews in Prague were forced to move out of their homes and into one restricted neighborhood. The Jewish Quarter later became known as the Prague Jewish Ghetto. Six synagogues exist, including the Old-New Synagogue and the Spanish Synagogue, as well as the Jewish Town Hall and the Old Jewish Cemetery, considered the most noteworthy in Europe.
Read about more of our favorite things to do in Prague in our Foodie Guide.
Top Picks for Prague Hotels
Lokál Inn – Lokál restaurants are well known among locals and visitors alike for their authentic Czech cuisine and excellent atmosphere. Their boutique hotel sits on the cobblestoned streets of Prague's Mala Strana district, just below the Prague Castle at one end of the Charles Bridge. The décor mixes modern touches with exposed wood and traditional parquet floors, with a great meal waiting just downstairs.
Míšenská 66/12, Prague 1
+420 257 014 800
lokalinn.cz
Rooms from around €120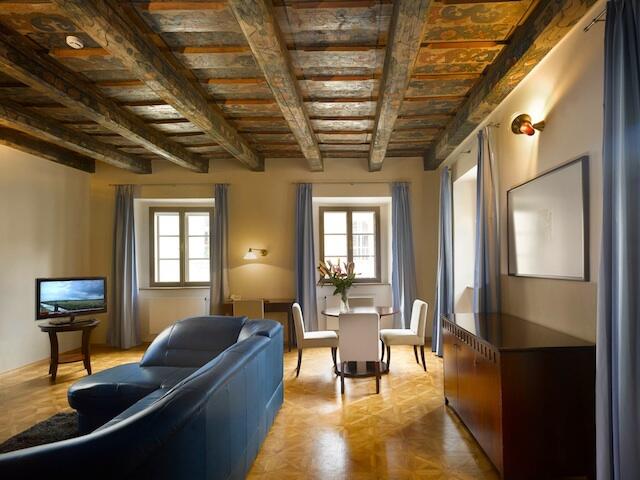 Mosaic House – Visitors looking for a pivo (beer) and a party usually congregate at Mosaic House. This 4-star, environmentally-friendly building houses everything from shared hostel beds to high-end private rooms, plus live music and DJs at La Loca Music Bar and Lounge. Start your morning slowly after a long night with a short walk to the Dancing House and continue along the Vltava River or relax in the park at nearby Karlovo Namesti, with easy access to public transportation.
Odborů 278/4, Prague 2
+420 221 595 350
mosaichouse.com
Rooms from around €75; beds from around €30
Fusion Hotel – Prague's Fusion Hotel rooms are designed to be as memorable as the monuments that surround them. The calming White Room offers a private rooftop patio. Kids can pile into bunk beds in the Family Room, while couples cuddle up in the Love Room stocked with erotic books and a mirror above the bed. The Xtensive Room is perfect for pajama parties and close friends, boasting "the largest bed in Central Europe" which can sleep up to 6 people.
Panska 9, Prague 1
+420 226 222 800
fusionhotels.com
Rooms from around €70
Read about more of the best hotels in Prague in our Foodie Guide!