3215 Views
These days, it's more and more common to see customers in a pub or cafe with their laptop out, presumably getting some work done on the go (case in point, me right now). For those of us who don't work in a typical office setting, or travelers on the road, it's invaluable to have a place to go when you need to bear down and get things done. In recent years, Prague has seen an increase in wifi cafes and work spaces which provide a setting to do just that. There are also plenty of trendy, modern coffeehouses; however, they tend to be crowded and not exactly ideal if you're seeking a bit of peace and quiet. Since nearly everywhere has wifi these days, I've focused on comfy spots which provide a more appropriate work setting.
Pracovna
If you don't know that "Pracovna" means "workplace" in Czech, it would be easy to assume at first glance that it is simply a cafe. The well-lit, cozy interior seems welcoming enough, and besides coffee, tea, cakes and snacks, Pracovna has a full bar and draught beer. The front cafe room is suitable to sit with a computer and work for a while, although space is somewhat limited. The workplace is set up in the rear of the cafe and consists of several rooms in a more traditional office layout. There are two conference rooms which can be reserved for meetings or presentations, printers, projectors and the usual equipment you would find in an office. Pracovna rents out the work space to small businesses and people holding seminars or lessons, and individuals can join up for a monthly fee or pay by the hour. Guests are welcome to spend a day in the workplace for free before becoming a member, and rates start at 50 CZK (€1.85) per hour.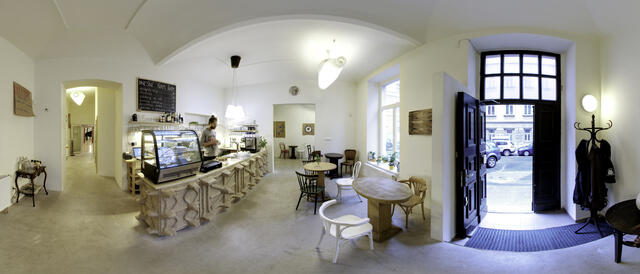 Vlkova 36, Prague 3 – Žižkov
+420 731 180 134
pracovna.cz
Open: Mon – Fri 8 am – 10 pm
Cafedu
Situated in the shadow of the National Museum at the top of Wenceslas Square, Cafedu has become a popular destination for students and other busy people. Until recently, I had only noticed the trendy-looking cafe in passing, and even then I didn't realize there was a large study room and workspace upstairs. When I stopped by on a Sunday afternoon, every single table in the lower level cafe was occupied, laptops and textbooks scattered across many of them. While it didn't strike me as an ideal work environment, the upstairs study room serves as a refuge for those who want to spread out and have some space to themselves. Guests who want to use the second floor must register and pay a monthly fee of 499 CZK (€18.50) per month, 199 CZK (€7.35) for students. The heavy discounts given out to students prove that Cafedu aims to attract a younger crowd. Due to its popularity and location, I would strongly advise booking a table in advance to make sure you get a seat. One last thing: the study room is open 24 hours a day!
Škrétova 490/12, Prague 2
+420 776 790 660
cafedu.cz
Open: Mon – Fri 7.30 am – 10 pm, Sat – Sun 10 am – 10 pm
Impact Hub Prague
Some of you may be familiar with Impact Hub from one of their 82 locations around the world, and I had been hearing about it for years before finally checking it out. When I stepped into the spacious, 2-story office space, I was immediately impressed. It was buzzing with activity and the numerous nooks, crannies, meeting rooms, and open spaces were filled with people working away on computers or meeting with colleagues. Impact Hub operates via membership, and while the majority of their 560 members live in Prague, travelers are also welcome. Memberships start at 10 hours for 750 CZK (roughly €28), and new members get a free trial day before deciding whether or not to sign up. Prospective members are encouraged to start with a brief tour to learn what Impact Hub offers (English tours take place on Wednesdays, although you can arrange a private tour if you contact them in advance). There are certain rules to help things run more smoothly, but Impact Hub mostly operates on the honor system: members are trusted to pay for their own drinks and monitor their own hours. Impact Hub aims to create a sense of community and bring motivated, working types together in an environment that encourages productivity.

Drtinova 557/10, Prague 5 – Smíchov
+420 734 746 923
hubpraha.cz
Open: Mon – Fri 8.30 am – 6.30 pm
Original Coffee
I only recently discovered this neat little cafe tucked away on a side street near Old Town's Bethlehem Chapel. Despite the central location, Original Coffee is more affordable and calmer than I would expect, which is a great for those of us looking to sit for a few hours and do some work. There are two rooms with tables spaced out enough that you won't bump elbows with the people around you, and I found the friendly staff and atmosphere quite pleasant. While the cafe isn't so large, there seems to be a table available most of the time. I can certainly recommend Original Coffee for those who need a reprieve from the crowded Old Town streets.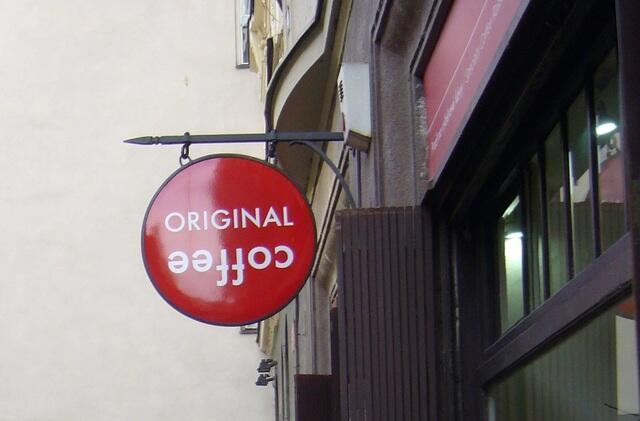 Betlémská 12, Prague 1
+420 777 263 403
originalcoffee.cz
Open: Mon – Fri 8 am – 7 pm, Sat – Sun 10 am – 7 pm
Barista
If you're the kind of person who might like to buy a vase during a work break, this gallery/concept store/cafe could be for you. It isn't as swanky as I make it seem, although Barista is a bit classier than your average cafe. Another place that flies under the radar for most locals, I found Barista appealing because it's easily accessible (about halfway between metro stops Náměstí Republiky and Florenc) and you almost have the place to yourself during the day. The food and drinks are a tad more expensive than average, but the cakes and sweets on the counter looked amazing, and the service and coffee were top-notch. Barista also has a full bar for those who would prefer a stronger drink while typing away and also serves small meals, sandwiches and salads in addition to dessert.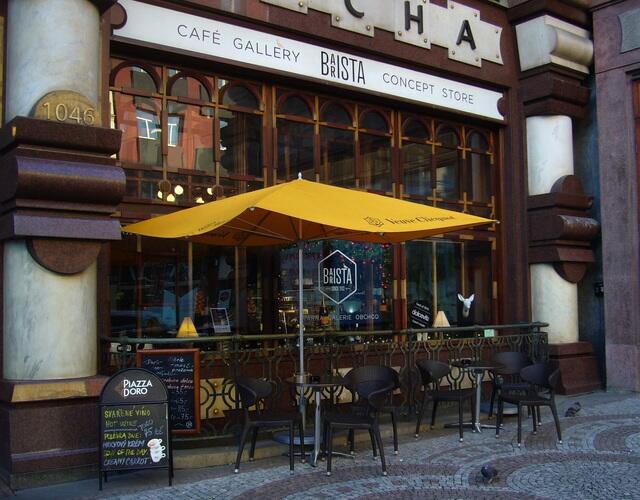 Na Poříčí 24, Prague 1
+420 727 963 540
archabarista.cz
Open: Mon – Sun 8 am – 11 pm
Pražírna
Now, this is a place that offers a little bit of everything. Pražírna is one of the more popular new cafes I referred to earlier, but it is also large enough for you to find a table in a corner to work quietly. Pražírna can be a bit busy in the evenings, so a reservation would be a good idea; however, you shouldn't have a problem finding a table during the day. Pražírna offers plenty to make you feel comfortable, such as high-quality, freshly-roasted coffee, delicious beer from a top Czech microbrewery, plus some small meals and snacks. Quickly becoming one of Prague's top destinations for coffee lovers, Pražírna is also a great place for you to be both productive and comfortable.
Lublaňská 50, Prague 2 – Vinohrady
+420 720 385 622
kavarnaprazirna.cz
Open: Mon – Fri 8.30 am – 10 pm, Sat 10 am – 8 pm