4052 Views
Long-term Prague expat, writer and beer expert Nathaniel Patton took our Prague Food Tour in the darkest, wintriest month of the year. But despite all that, he came away with a new-found appreciation for his adoptive city and its unique cuisine. Find out 10 things he learned on his Prague food tour…
1. What makes Czech cuisine special
The Czech Republic is well-known for its beer, but not so much for Czech cuisine. However, Czech food is truly unique and makes use of the local ingredients available. Rye bread, root vegetables, cabbage, and forest-picked mushrooms are featured on the tour along with traditional dishes like chlebíčky (open-face sandwiches), zelňačka (sauerkraut soup), and svíčková (beef sirloin in cream sauce).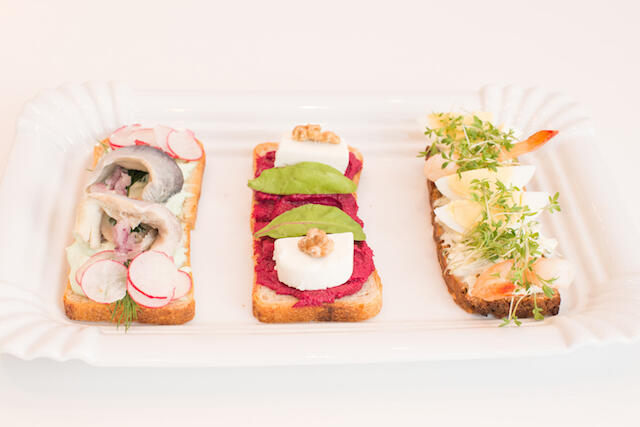 2. Czech cuisine is still recovering from the Communist era
Living behind the Iron Curtain greatly affected all aspects of life, including Czech cooking and eating habits. Many products we take for granted, like oranges and lamb, simply weren't available most of the time. In addition to that, good service in restaurants wasn't exactly a high priority. However, the past 26 years has seen a return to traditional Czech cuisine popular before the Communist takeover and the addition of international influences. Czech people are still getting used to all of the tastes, flavors and variety of dishes that weren't common before 1989.
3. All sorts of fun facts from a local perspective
Besides the delicious tastings which headline the Prague food tour, we also learned a great deal about Czech culture as we walked around the historical center of Prague. I enjoyed learning about famous Czechs from history, the stories behind some of Prague's most interesting buildings, and loads of other interesting facts. Plus, our knowledgeable Czech guide added his personal perspective, such as his own recollection of the Velvet Revolution as a child, which made the tour feel more authentic.
4. Czechs prefer hard bread for a reason
Traditional Czech rye bread is kind of a love-it-or-hate-it thing for many expats, but it was interesting to learn the reason why this type of bread was the preferred style years ago. As it turns out, Czech villagers used to make all of their bread on one day of the week for convenience. In order to stay fresh for longer, they settled on a heavy rye loaf with a thick exterior, which is still the bread of choice for Czechs today.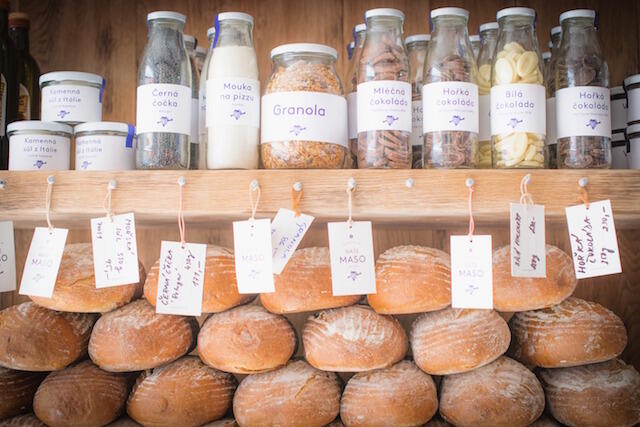 5. The secret benefit of sauerkraut
Cabbage is a central feature of Czech cuisine, and we tried traditional sauerkraut soup on one of our stops. Our guide helpfully informed us that in addition to its nutritional benefits, sauerkraut is also effective in combating hangovers. Just another reason to load up on the cabbage on your trip to beer-soaked Prague!
6. Not all meat is created equal
Perhaps this isn't so surprising, but the Prague food tour reminded me of this important fact. Our guide lamented how more and more people get their meat from supermarkets, which tend to focus on low prices rather than quality cuts of meat. I have nearly given up ordering sausages at Czech beer gardens because of the unwanted surprises you might find within. However, the meat at Naše Maso, Prague's finest butcher shop/bistro, was out-of-this-world! I was reminded that sausages and cured ham can be extremely delicious when you combine a higher quality meat with butchers who take pride in their work.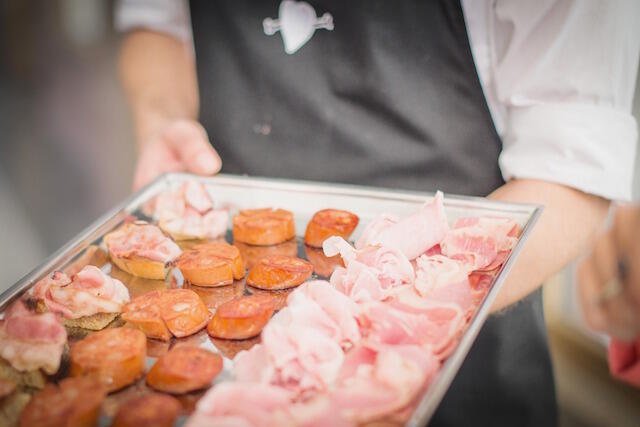 7. How Napoleon's army affected Czech cuisine
It's interesting to learn how history has affected a country's food culture, and our guide mentioned how the presence of Napoleon's army in the early 1800s left a French impression on Bohemian cuisine. Apparently they took to the French affinity for fine food and good service, which is reflected in the names of some of Prague's finest restaurants, such as Café Louvre, our last stop on the tour.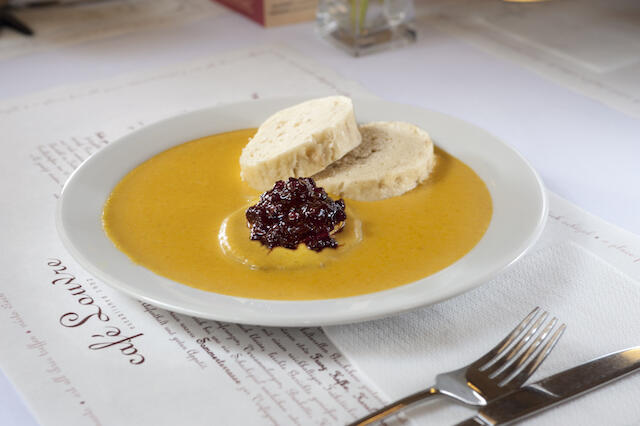 8. I actually like gingerbread
Ok, this might not be a popular opinion, but I've never been a huge fan of gingerbread. Not that I actively dislike it, but I've just never considered it anything special. Maybe that's because much of the gingerbread you get from the store is dried-out and uninspiring. However, the fresh, homemade gingerbread at Perníčkův Sen was the best I've ever had and made me rethink my stance on this traditional Christmas treat.
9. Some great new places to visit
One dilemma about living in Prague is which places to visit when you go out. There are so many worthy pubs, cafes and restaurants that it would take ages to visit them all. Even though I have lived in Prague for a decade, I was pleased to discover several new places on the food tour that I will definitely add to my rotation. One example was the charming Styl & Interier cafe which is hidden in plain sight in the heart of Prague. If I hadn't done the Prague food tour, I might have never found this lovely place!
10. Prague is a wonderful city
I'll admit that I cheated on this one. As a long-term resident of Prague, I already knew how great it is. But the food tour helped to remind me of this fact. Not only did we visit 6 places which were all fantastic and unique in their own way, but we also walked through some of the prettiest and most historical areas of Prague. This is a city full of beautiful sights and delicious tastes, and the Prague food tour is a fun, personal way to experience them all.