2970 Views
Central Europe's Pride is in full swing in the Czech Republic's capital city. In its fourth year, focused on gay, lesbian, bisexual and transgender issues, Prague Pride merges the serious (cultural and social events and debates) with the fun (over-the-top wild parties and activities). The all-day and all-night festivities which kicked off Monday (and conclude Sunday) can be found dispersed throughout the city at various venues. So far this year is proving to be yet another colorfully spectacular and amazing experience… and there's so much more to look forward to!
This year's theme revolves around building awareness of the differences between LBGT rights of Eastern versus Western Europe. There's no better place to do so than the heart of Central Europe where East and West collide! The festival aims to support lesbians and gays from Russia and other post-Soviet countries who are restricted from freedoms of expression like the Gay Pride events. A secure application was built for them to connect and openly share their thoughts, photos, videos and messages throughout Pride week, allowing the experience of the festival from their homes.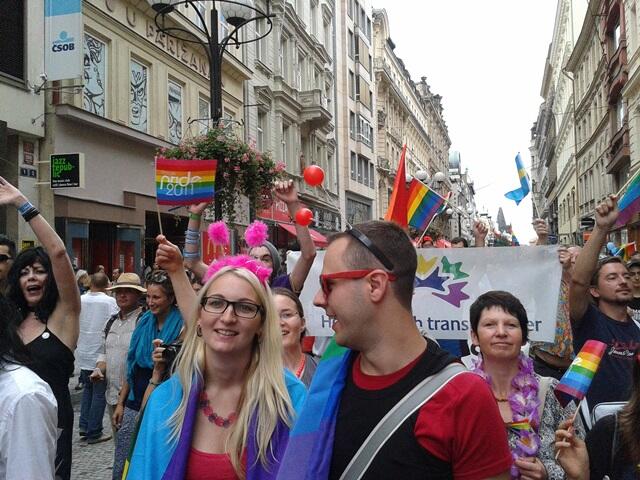 For those who came to Prague for Pride, we're guessing your schedule is booked morning 'til morning (because according to the organizers, this year's program is "more packed than Cher's wardrobe!"). If you're simply looking to hit up one or two inspirational (and fun) Prague Pride events, here are our picks for the remainder of the week.
The Pink Choice Photo Exhibition
Showcases the lives of lesbian and gay couples in Hanoi and Ho Chi Minh City during the time of the first Gay Pride in Hanoi. Photographer Maika Elan recently won the 1st Prize Word Press Photo in "Current Issues" (2013) for these photos.
Wenceslas Square
August 13-31
Tina Turner Tribute Concert
Does what it says on the tin!
Hard Rock Cafe
Malé náměstí 3, Praha 1  
August 14 from 8 pm
"Cold from Russia, Rainbows from the West: LGBT Politics Between the East and the West"
Members of Baltic, Balkan and Visegrad Group lead the discussion.
Langhans – Centrum people in need
Vodičkova 37, Praha 1  
August 14 from 7.30 pm
Café-Café
Whether gearing up for the day or recovering from the previous day, get your brunch fix at this fantastic Old Town restaurant.
Cafe-Cafe
Rytířská 10, Praha 1  
Daily 10 am to 3 pm
Our Grandmas' and Grandpas' "Molly's Houses"
A historic walk through Prague's "queer sights" in Malá Strana and Hradčany. Tour is in Czech so make sure to bring a friend who won't mind translating!
Meeting point: Újezd u pomníku obětem komunismu
August 15 from 6 pm
Silent Disco
Grab your headphones and jam "silently" to DJs outside the Czech National Theatre. We're totally intrigued. Entry costs 100 CZK plus 300 CZK deposit for headphones.
Piazzetta of the New Stage (National Theatre)
Národní 4, Praha 1
August 15 from 10 pm
Prague Pride Parade
Don your best Pride gear and join the colorful masses on the march through the historic streets of Prague. Perhaps the most freeing and energetic parades this town sees all year!
Wenceslas Square
August 16 at 12 noon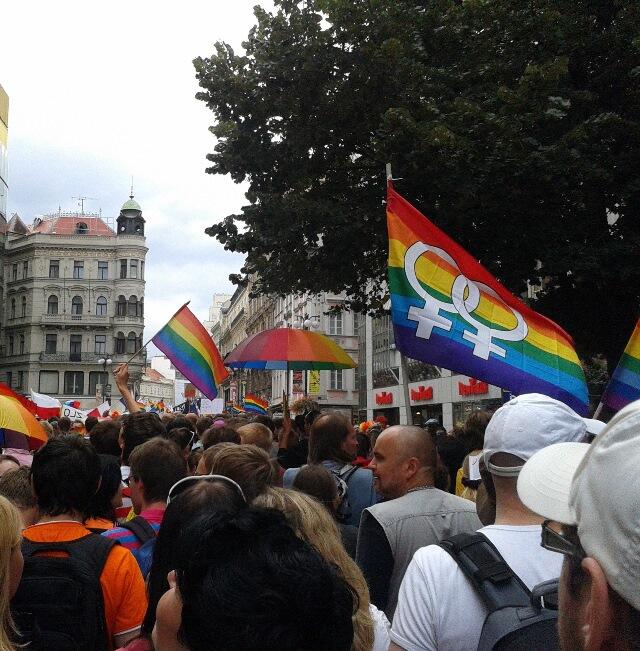 Outdoor Music Festival
This outdoor festival follows the parade at one of our favorite parks (with out-of-this-world views of Prague)
Letna Park
August 16 from 2 pm – 10 pm
OMG Party
Three floors, two musical stages, dancing all night and DJ Alexio from Berlin. Entrance costs 300 CZK.
Klub Mecca
U Průhonu 3, Praha 7
August 16 from 10 pm
Prague Pride Wrap Up Party
DJs, dancing, free entry. We always have a blast at this venue!
Friends
Bartolomějská 11, Praha 1
August 17 from 10 pm
Of course, if all these celebrations make you hungry, you know who to contact!