4771 Views
It's entirely possible to experience the beauty, history and magic of Prague on a whim and without a plan. With every cobble-stoned step and around every corner of the Golden City, there is something to be discovered. However, just like all other capital cities around the world, there are also top attractions, famous sites, key points of interest — tourist destinations, if you will — that should have ample place in your itinerary. What are those top tourist destinations in Prague? Grab a map for marking as we've got 20 to share with you!
1. Prague Castle – Pražský hrad
Last year alone, an estimated 6 million people visited the Prague Castle grounds and encompassing attractions, including St. Vitus Cathedral, Old Royal Palace, St. George Basilica, and the royal gardens. Peruse the grounds for free or purchase a ticket to enter the various other historical buildings and monuments. Be sure to check out the castle (and St. Vitus) lit up at night, props to the Rolling Stones.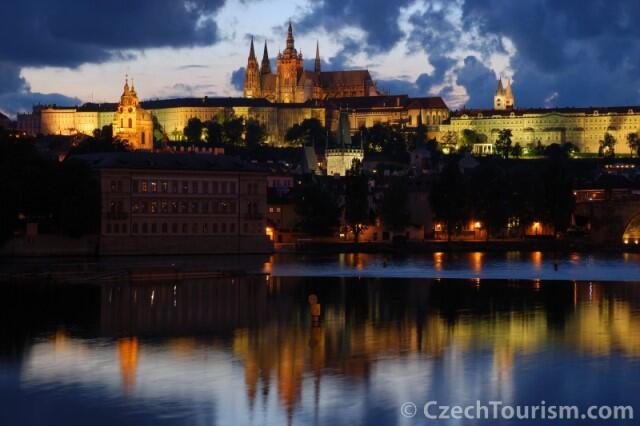 Castle District, Prague 1
hrad.cz
Castle Grounds Open: Apr – Oct: Daily 5 am – 12 midnight; Nov – Mar: Daily 6 am – 11 pm
Changing of the Guard: Daily at 12 noon
Gardens open: Apr – Oct 10 am
Historical buildings and exhibition hours: see here
2. Petřín Funicular and Rose Gardens – Lanová dráha na Petřín a Rosarium
Take the easy way up Petřín Hill via the historic railway from Lesser Town (Malá Strana). Once at the top, head to the Rose Gardens, meander Petřín park and/or climb to the top of the observation tower (Prague's "Eiffel Tower") for incredible views of the surrounding lands.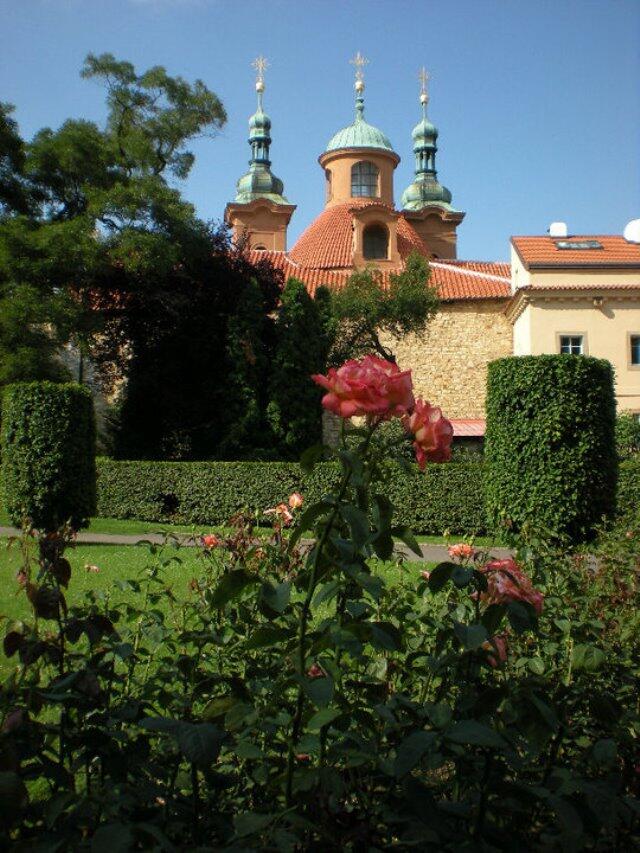 Petřín Hill, Prague 5
+420 257 320 112
dpp.cz/en/the-petrin-funicular/
Open: Daily 9 am – 10.30 pm, Oct – Apr runs every 15 minutes and May – Sep every 10 minutes from Újezd stop (the funicular is part of the public transportation network so tickets are interchangeable)
3. Old Town Square – Staroměstské náměstí
With rich history and a mix of Romanesque, Baroque and Gothic architecture, stepping into Old Town Square feels like an enchanted fairytale. St. Nicholas Church, Astronomical Clock, Týn Church and Jan Hus' statue, plus horse-drawn carriages, street performers and tourists aplenty adorn the historic square.
 Staroměstské náměstí, Prague 1
4. Golden Lane – Zlatá ulička
Part of the Prague Castle complex, Golden Lane is a quaint street lined with 11 historical little houses which, throughout the centuries, were home to castle guards, goldsmiths, alchemists and artists, including Franz Kafka.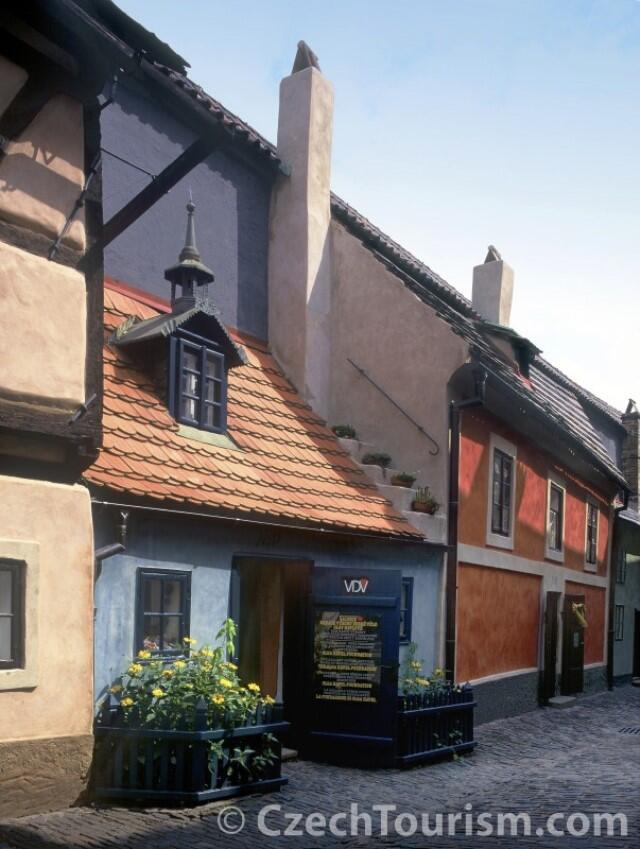 Castle District, Prague 1
Open: Apr – Oct: Daily 9 am – 5 pm; Nov – Mar: Daily 9 am – 4 pm
Entrance to Golden Lane is not payable separately, but included in one of the Prague Castle's self-guided visitor tickets.
5. Powder Tower – Prašná brána
Constructed in 1475, the Powder Tower is one of the original 13 city gates to separate the Old Town from the New Town. During the 17th century, it was used to store gunpowder, thereby earning its "new" name. Climb the 186 steps to enjoy views over Old Town.
Republic Square, Old Town, Prague 1
Open: Mar: Daily 10 am – 8 pm; Apr – Sep: Daily 10 am – 10 pm; Oct: Daily 10 am – 8 pm
6. Municipal House – Obecní dům
Next to the Powder Tower, find one of Prague's most famous and beautiful concert halls decorated in Art Nouveau style. Take a guided tour and visit the grandiose café (Kavárna Obecní dům) overlooking the Republic Square.
Náměstí Republiky 5, Prague 1
+420 222 002 101
obenidum.cz
Open: Daily 10 am – 8 pm
7. Prague Main Train Station – Praha hlavní nádraží
 While not a traditional or sought-out tourist destination of Prague, the main train station surely hosts a lot of tourists. If you happen to be one of them, take note of the Art Nouveau décor, the original dome and stained glass windows when passing through.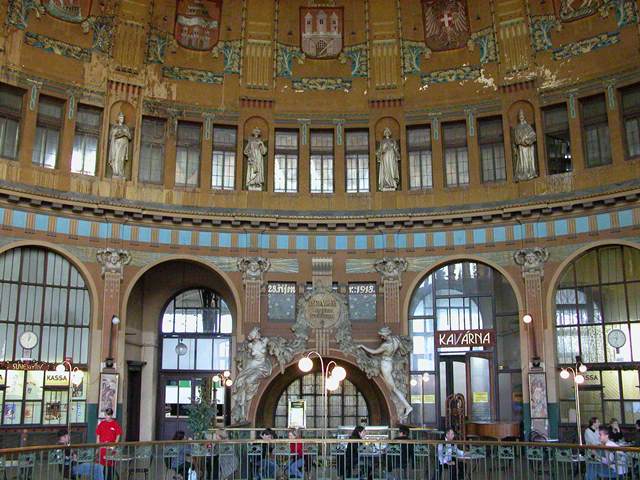 Wilsonova 8, Prague 1
www.cd.cz
8. National Museum – Národní museum
While the museum extends several locations, the neo-Renaissance historical building at the top of Wenceslas Square is the most recognized. Natural history, science, art, culture and various other exhibitions are housed here.
Václavské náměstí 68, Prague 1
+420 224 497 111
nm.cz
Open: the main building is under reconstruction until 2018
9. National Theatre – Národní divadlo
Not to be confused with the museum, the theatre with its unmistakable golden rooftop is located on the bank of the Vltava River. One of the most beloved cultural institutions in the capital city, the theatre has a rich history of art, music and theatre performances which continue today.
Národní 2, Prague 1
+420 224 901 448
narodni-divadlo.cz
Open: hours vary depending on performances
 10. Dancing House – Tančící dům
The Dancing House's design (featuring the dance duo, Ginger Rogers and Fred Astair) was a source of controversy when it was built in 1996 as it was thought to clash with the Neo-Baroque, Neo-Gothic and Art Nouveau buildings typical to Prague. Now, the modern structure is well-regarded, filled with offices as well as a gourmet restaurant.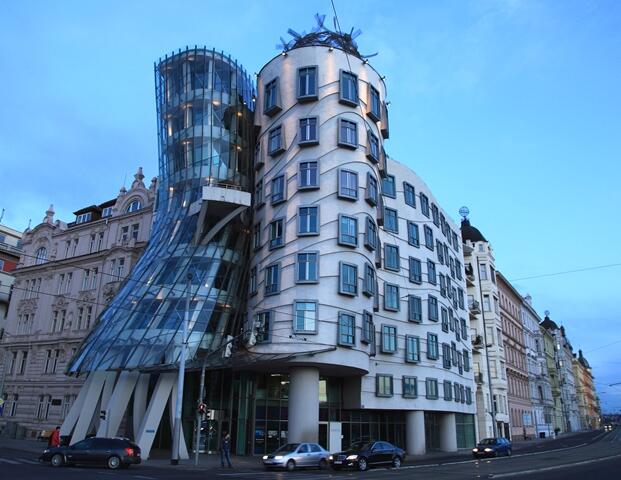 Jiráskovo náměstí 6, Prague 2
+420 605 083 611
tancici-dum.cz
11. Havelská Market – Havelské Tržiště
Czech trinkets and tchotchkes galore, artwork, postcards, even fresh produce to go, Havelská Market is a convenient place near Old Town Square to find a quick Czech gift or souvenir.
Havelská 13, Prague 1
Open: Mon – Fri 7.30 am – 6 pm; Sat & Sun 8.30 am – 6 pm
12. Charles Bridge – Karlův most
Without a doubt, the Charles Bridge is within Prague's "top 3 tourist attractions". The 14th century wonder connects Old Town (Staré Město) with the Lesser Quarter (Malá Strana). By day, it's bustling with artists, local vendors and tourists. At night or sunrise, enjoy more tranquility. Don't miss the historical Gothic Old Town Bridge Tower (Staroměstská mostecká věž) on the Old Town side of the bridge (climb to the top as you wish).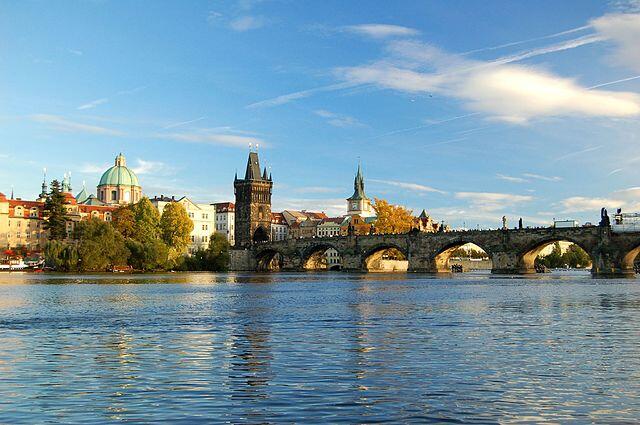 Old Town Tower Bridge
Karlův most, Prague 1
Open: Mar: Daily 10 am – 8 pm; Apr – Sep: Daily 10 am – 10 pm; Oct: Daily 10 am – 8 pm; Nov – Feb: Daily 10 am – 6 pm
13. Jewish Quarters – Josefov
Tucked near Old Town Square, formerly the Jewish ghetto, there is remarkable history preserved here. Visit the oldest existing synagogue in Europe, the Jewish Cemetery and Jewish City Hall, and observe monuments which survived Nazi occupation.
14. Clementinum National Library – Klementinum
Prague's second largest complex (after the castle), the National Library houses an astronomical tower, Mirror Chapel, and Baroque Library Hall. A Jesuit college in 1556, the Charles University Library in 1622 and the National Library in 1781, many astronomers, scientists, mathematicians, philosophers, historians and musicians have gotten their smarts on here. Guided tours and daily concerts.
Mariánské nám. 5, Prague 1
+420 222 220 879
klementinum.com
Open: Jan – Feb 10 am – 4.30 pm; Mar – May 10 am – 7 pm; June – Dec 10 am – 6 pm
15. Wenceslas Square – Václavské náměstí
Wenceslas Square has been eyewitness to some of the Czech Republic's most important historical events (including Prague Spring of 1968, the Velvet Revolution, and Václav Havel's memorial). The historical boulevard in the heart of New Town is today lined with shops, restaurants and clubs.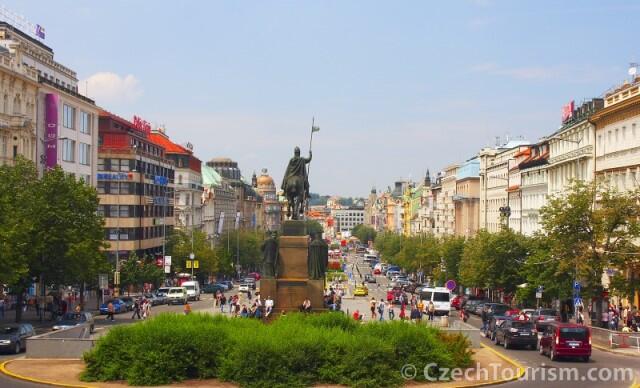 16. Communist Museum – Muzeum komunismu
Original artifacts, statutes, a reconstructed classroom, interrogation room and historical videos offer a window into the communist era of Czechoslovakia. Ironically, the museum is located along one of Prague's main shopping streets next to McDonald's.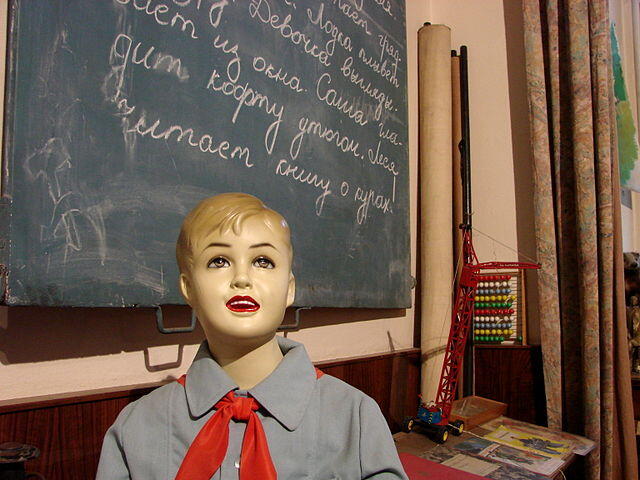 Na Příkopě 10, Prague 1
+420 224 212 966
muzeumkomunismu.cz
Open: Daily 9 am – 9 pm
17. Lennon Wall – Lennonova zeď
A gritty and colorful haven of creative expression, the Lennon Wall's origins date back to the 1970s when it was first known as the Wailing Wall, chalk-scribbled with poetry from Czech people. Following Lennon's assassination in 1980, the wall's chalk was replaced by colorful graffiti of Lennon's lyrics and rallies for peace, love and freedom. Today, the wall's messages and art continue to change daily.
Velkopřevorské náměstí, Prague 1
18. Prague Zoo – Zoologická zahrada Praha
Perhaps more local than foreign tourists visit (with more than 1 million visitors annually), Prague Zoo is a favorite attraction set in the green Troja district of Prague. It's possible to spend a full day at the zoo but the river cruise, Trója Chateau, vineyards and Botanical Gardens nearby are additional highlights.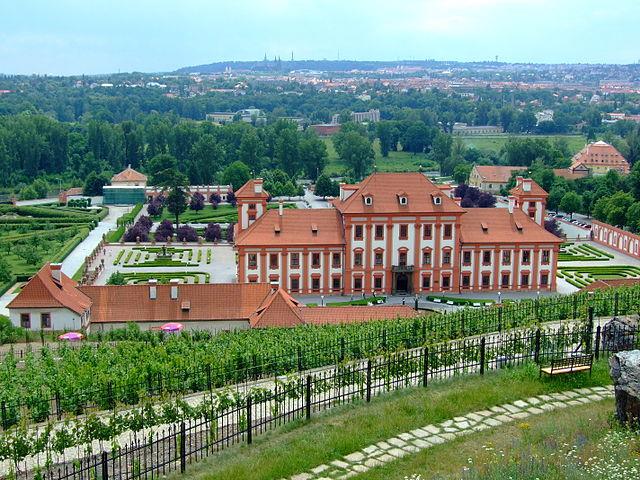 U trojského zámku 3, Prague 7
+420 296 112 230
zoopraha.cz
Open: Apr – May, Sep – Oct: 9 am – 6 pm; Jun – Aug: 9 am – 7 pm, Mar: 9 am – 5 pm; Nov – Feb: 9 am – 4 pm
19. Žižkov Television Tower – Žižkovský vysílač
Soaring high above the Žižkov district of Prague, the TV tower has earned its fair share of criticism throughout its approximately 30-year history, mainly for its communist era roots and bizarre design. Speaking of bizarre design, David Černý's crawling baby sculptures were added in 2000. The top of the tower has an observation deck and relaxation "pods", a gourmet restaurant and luxury accommodation. And fortunately, unlike most other towers in Prague, this one has an elevator!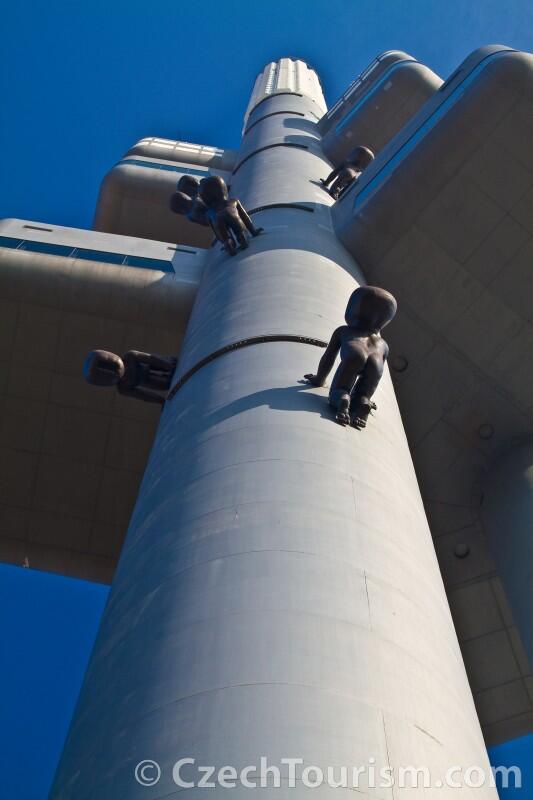 Mahlerovy sady 1, Prague 3
+420 210 320 081
towerpark.cz
Open: Daily 10 am – 10 pm
20. Vyšehrad
Still not overly touristy (but certainly getting there), it's easy to spend at least a couple of hours here. Inside the stone-walled castle complex, there's much to explore, including the Church of Saint Peter and Paul, the cemetery where many famous Czechs are laid to rest (Dvořák, Smetana and Mucha), green parks, 360 views of the area, restaurants, cafes and an outdoor beer garden and grill.
V pevnosti, Prague 2
+420 241 410 247
praha-vysehrad.cz