21223 Views
This post was originally published on October 2, 2014 and was updated on October 21, 2016.
Prague's public transportation system is clean, efficient, and relatively easy to use once you know a few basics that'll make for a smooth ride.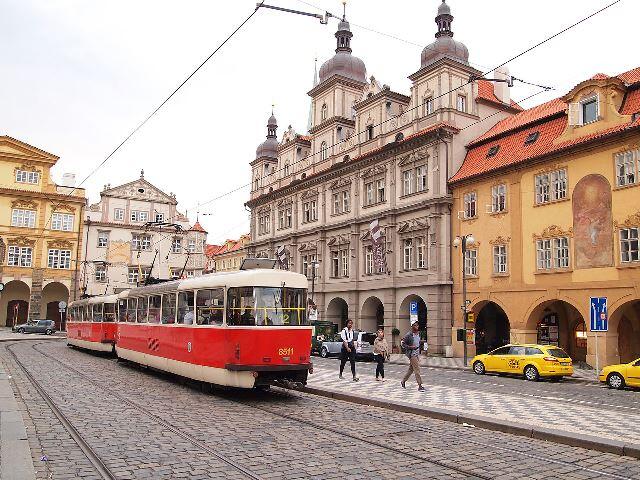 Get a ticket – and get it stamped
You can purchase a ticket at any metro and most tram stations, directly from bus drivers, selected tobacconists, or via SMS or mobile app (see below). To buy tickets and request help or information, "Info Centres" are conveniently located at major transport hubs around town, including the Muzeum metro stop, Hlavní Nádraží train station and the airport.
Look for the large yellow vending machines stationed near metro entrances or at tram and bus stops near shelters. Fares are paid in time increments: 24 CZK = 30-minute ticket, 32 CZK = 90-minute ticket, 110 CZK = 24-hour ticket, and 310 CZK = 72-hour ticket. Tickets are valid for the given length of time and passengers can freely transfer between modes of transport. Note: vending machines only accept coins.
If your phone is equipped to send and receive text messages locally, you can also purchase tickets via SMS. Text the appropriate code to the number 902 06. The "Sejf" mobile app can be downloaded for free here and also allows you to purchase tickets and display your valid ticket to inspectors.
Which brings us to the most important rule for riding in Prague: Validate your ticket ASAP! Spot validator boxes in metro stations by the escalators or stairs and at the entrances to trams and busses. Stamp your ticket by inserting the pointy arrow side into the box.
Ticket inspectors frequently appear in uniform at metro stations or on metro cars, and on board trams and busses in plain clothes. They will flash their badge and expect you to show them your valid ticket in return or prepare to pay a fine of up to 800 CZK.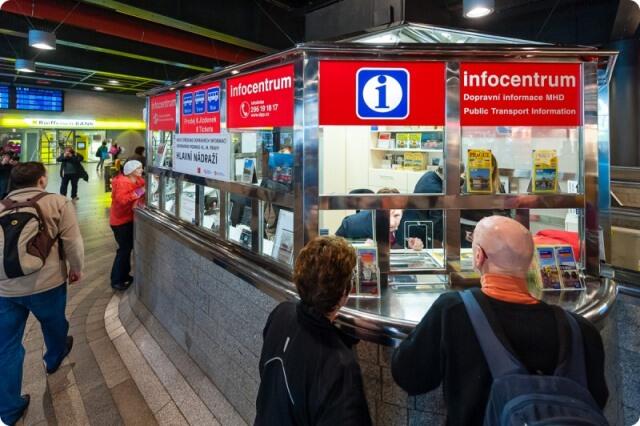 Take your pick: metro, tram, or bus
Metros service most of the major attractions in and around the center. The Prague metro is renowned for its artful design, frequently making "most beautiful metro in the world" lists. It operates on 3 lines, A, B, and C, often referred to by color (green, yellow, and red, respectively). Easy-to-read maps are posted on platforms and in metro cars. Metros run from 5 am – 12 midnight every 2-4 minutes during peak hours and every 4-10 minutes during off-peak hours and weekends. After midnight, night trams and busses are the only options for night owls!
Trams are quintessentially Prague, and you should definitely hop on one while you are here. Tram no. 22 calls at a wide variety of essential attractions, including Prague Castle. Timetables are posted at tram stops with trams arriving every 8 minutes during peak times and every 10-15 minutes during off-peak hours and weekends. The trams with the higher numbers (e.g. 51, 52) are night trams – these run until 4.30 am when the regular schedule resumes.
Busses service Prague's farther flung districts and attractions; the 119 bus from Dejvická metro station (line A) will take you to and from the airport. Bus rides require a standard public transport ticket, but when taking a "300" bus to an outlying district you'll need to show your ticket plus pay a small additional fare. Timetables are posted at each stop and schedules reflect peak and off-peak hours and weekends. While many bus stops have ticket machines, you can buy a ticket from the driver but exact change is expected.
The Prague Integrated Transport website offers a useful journey planner and information on barrier-free travel.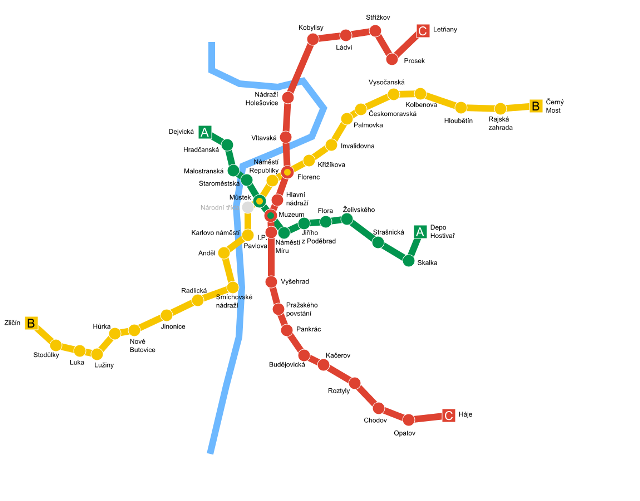 Mind your manners and your belongings
Prague was once pick-pocket central, and while public service announcement campaigns have done much to bring awareness to this kind of crime, tourists are still vulnerable to theft. To blend in with the locals consider these tips:
Always give up your seat to the elderly or a pregnant woman, especially if you are sitting in one of the designated handicapped seats!
You may board a bus or metro from the very front but make sure to exit from the middle or rear.
Czechs are a rather conservative bunch and it's best not to be boisterous when commuting.
If you have luggage, board the metro at one of the designated areas toward the rear (just follow the bikes and strollers!). On trams, head for the spacious area in the back.
Planning your trip to Prague? Explore the city's culture, history, and food by taking our Prague Food Tour or our Brews and Views Prague Beer Tour for incredible Czech delicacies!
Like this? Check out Eating Europe on social media! We're on…
With Czech travel ideas, foodie pics and much more.