2677 Views
Welcome to the first in our series of recipes written by a selection of our favorite food bloggers from around the globe! Each month in 2015, Eating Europe is collaborating with a different food blogger to bring you recipes inspired by our food tours and the stunning European countries they take place in. For March and to kick off our series, we'd like to introduce you to Susan Palmer – a New York-based blogger who brings you the best recipes from her little red kitchen…
Susan, author of the Girl in the Little Red Kitchen, says she developed a passion for food at an early age, drawing inspiration from her mother's cooking, as well as her food heroes Julia Child, Jacques Pepin, Alton Brown and Sara Moulton. Despite the fact that she has no formal culinary training and started off by following other cooks' recipes, Susan quickly started branching out and creating recipes of her own. "I developed original recipes and cooked more by feel than by structure," says Susan. She cooks out of her 80 square foot (7.5 square meter) newly remodeled (red!) kitchen in Brooklyn, New York. Her husband and uber-cute pug dog are always willing taste testers for her new recipes!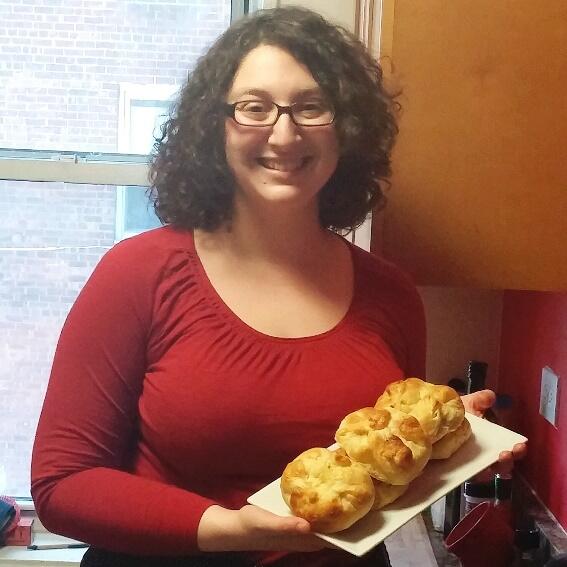 The Girl in the Little Red Kitchen got started in June 2011, and has been charting Susan's culinary adventures ever since. Here at Eating Europe, we're all about food, which is why we love Susan's blog – not only for her recipes, but also for the food- and drink-related events that she shares. She says: "I try to go to as many food events as my calendar will allow and if there is a good beer event, you are certain to find me there!"
Her recipes are always seasonal, feature mouthwatering photos, and range from sandwiches and snacks to full-blown main dishes and homemade breads. We love her #SundaySupper collection – perfect for the weekend, and a little bit boozy at times, too – what's not to like?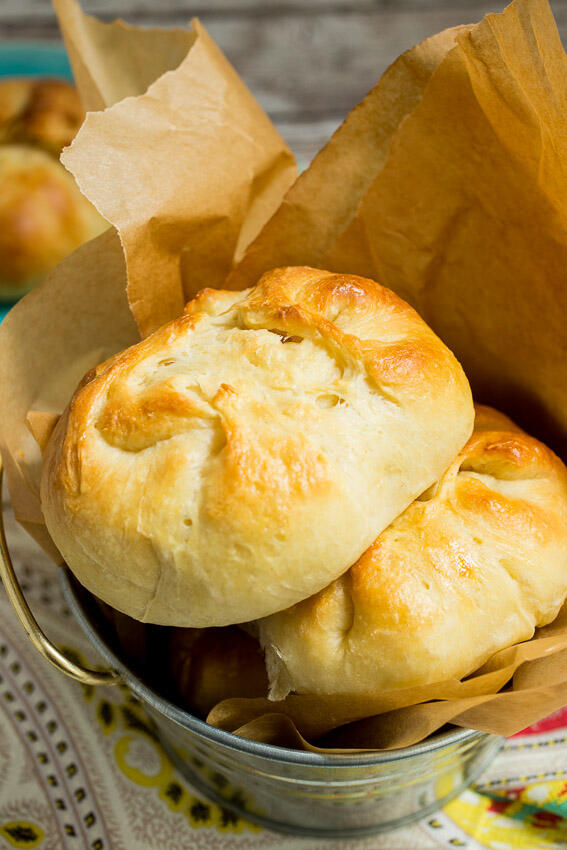 When it came to writing a recipe for Eating Europe, Susan decided to pick a Czech food dish. Despite having no connections with Prague or the Czech Republic, she was curious to try making something from a cuisine that's new to her. In Susan's words: "Because it's fun to explore even if it's just from the comforts of your home and in your kitchen" – we couldn't agree more! Reading about delicious, traditionally sweet kolache (a Czech filled pastry), she wanted to put a savory spin on it. We can't wait to try Susan's savory kolache ourselves!
Susan's Recipe for Sausage and Brie Kolache
Ingredients (makes 12):
For the Dough:
4 cups (950 g) unbleached all-purpose flour
2 teaspoons instant yeast
1 teaspoon kosher salt
2 tablespoons cane sugar
1 cup (250 ml) milk
½ cup unsalted butter
2 large eggs
For the Filling:
1 1/4lb (570 g) loose sweet Italian sausage
12 ounces (340 g) brie, rind removed and cut into 12 1-ounce pieces
2 teaspoons fresh thyme
1 large egg plus 1 teaspoon water for egg wash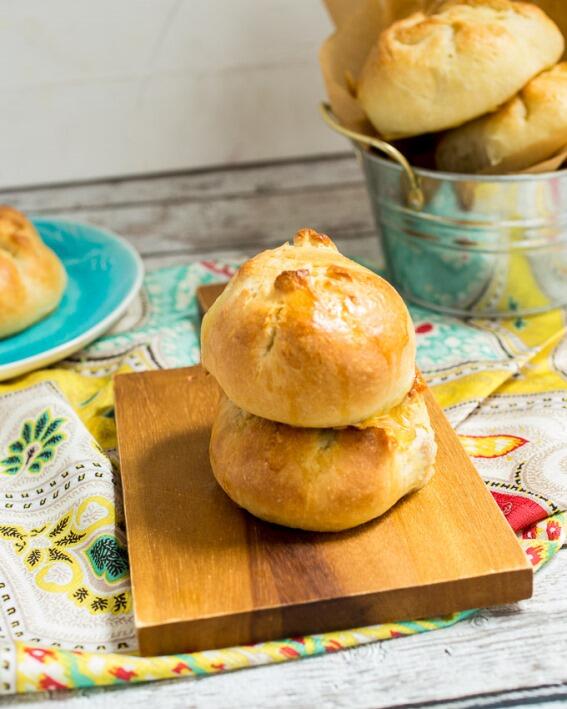 Method:
In the bowl of your stand mixer fitted with the dough hook attachment, add the flour, instant yeast, salt and sugar. Mix on low speed to combine.
In a small saucepan on medium-low heat, melt the butter in the milk and remove when the milk is heated to 110 degrees Fahrenheit. Do not let the milk boil; if it's warmer than 110 degrees, let it sit for a few minutes before it cools down.
With the mixer running on low speed, slowly drizzle the butter/milk combination down the sides of the bowl. Once it's been added, stop the mixer and add your eggs. Turn the mixer back on to medium-high speed to finish mixing in the all the flour. The dough should be soft and elastic at this point and pull away from the sides into a ball. Remove the dough from the mixer and place on a floured surface. Knead it with your hands a few turns and then form into a ball. Place it back into a greased mixing bowl and cover with plastic wrap or a damp towel. Allow to rise in a draft-free, warm space for 1 hour or until the dough has doubled in size.
While the dough is rising, prepare the filling. In a sauté pan over medium heat, drizzle a small amount of neutral oil and add your sausage. Use a spatula to break it up into small pieces and mix in the thyme. Cook for 10-15 minutes or until the sausage is cooked through and starts to brown. Set aside.
Once the dough has fully risen, punch it down and place on a well-floured surface.  Divide it into 2 pieces, keeping the second piece covered while you work with the first.  Roll the dough out into a rectangle about 12 inches (30 cm) in length and 8 inches (20 cm) wide. Cut into 6 even pieces.
Place 1 ounce of brie on each square of dough and then ¼ cup of sausage filling. Bring up the sides of the dough and pinch in the center to fill.  Place on a parchment-lined baking sheet. Repeat with remaining dough. Let the filled kolache rise for a second time for 30 minutes. During the second rise heat your oven to 350 degrees Fahreheit.
When the kolache have finished rising, brush the tops with the egg wash and bake for 25-30 minutes or until they are golden brown on top. Allow to cool slightly before eating. Store extra kolache in the refrigerator in an airtight container.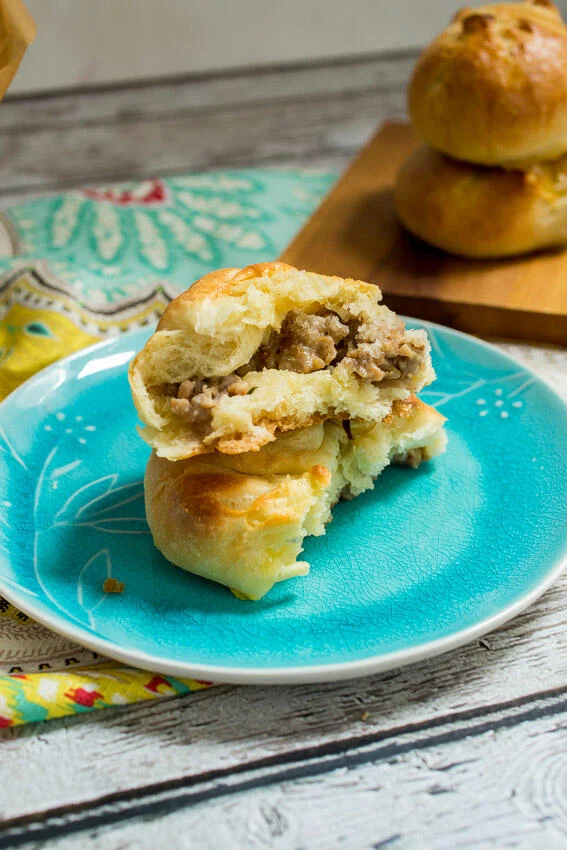 This recipe originally appeared on Girl in the Little Red Kitchen on March 2, 2015. For more of Susan's delicious recipes, take a look at a few of our favorite posts:
Dobrou chuť!