3584 Views
Rome is undoubtedly one of the most romantic cities in the world. Even its name in Italian, Roma, is amor, or love in Latin, spelled backwards. The city inspires romanticism through its long history, indulgent architecture, picturesque piazzas dotted with fountains, range of art, and of course the possibility of sharing all this over a bottle of wine with someone special. If just being in Rome can inspire romance, you'll want to take a Valentine's holiday, honeymoon, or just a romantic weekend to the next level by choosing the right hotel.
Most of the hotels listed below specialize in luxury, in their rooms and views and restaurants. Many of them have terraces overlooking the most historic parts of the city, and their rooms are furnished to be comfortable, sexy or modern (or all 3). So whatever you and your partner are in the mood for, check out our suggestions…
And if you're looking for something a bit more romantic, consider renting an authentic Italian villa through a company like QualityVillasItaly.co.uk, which has property listings throughout Italy.
Top Romantic Hotels in Rome
Crossing Condotti
This elegant and classy hotel is located right off Via Condotti, near the Spanish Steps, an area best known for its exclusive shopping. It is a boutique hotel that balances antique furnishings with clean and ultra-modern conveniences. There are 5 rooms to choose from, and the best of these excel in a simple yet romantic style. The price ranges from €220 in the low season for the double superior room to €420 in the high season for the junior suite.
Via Mario de Fiori, 28
+39 06 6992 0633
crossingcondotti.com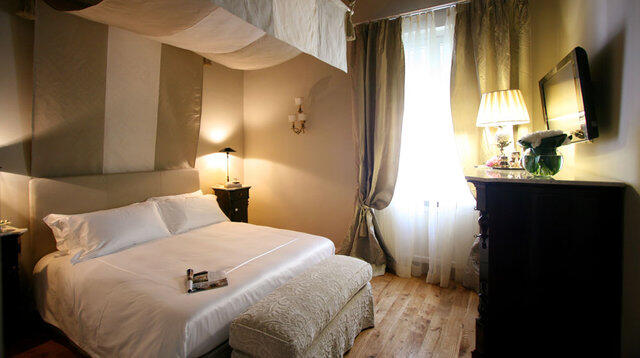 Grand Hotel de la Minerve
This 5-star hotel is situated right in Piazza Minerva, a stone's throw away from the Pantheon, Piazza Navona and Largo Argentina. There is a vast array of rooms that range from a classic double to large and elaborate suites. This hotel's luxury is topped off with the roof garden that overlooks the center of Rome where you can go for dinner and drinks. Rooms average about €250 per night.
Piazza della Minerva, 69
+39 06 695201
grandhoteldelaminerve.com
Hotel Hassler
If your idea of a romantic hotel is staying where celebrities stay on their romantic getaways to Rome, than look no further than Hotel Hassler, located on an enviable spot right on top of the Spanish Steps. Many of the rooms frame amazing views over the city, and of course there is a terrace restaurant that does the same. The simplest room costs between €300 and €400.
Piazza Trinita dei Monti, 6
+39 06 699340
hotelhasslerroma.com
Palazzo Manfredi
Another 5-star luxury hotel, the Palazzo Manfredi is where to stay if you want to view the Colosseum morning and night. The elegant building dates from the 1600s and stands out on the Via Labicana. Inside, Palazzo Manfredi boasts every modern furnishing you could desire. The biggest and best suite has a jacuzzi right in the room. Another bonus to this already fabulous hotel is the restaurant on the terrace that again features spectacular views of Rome and the Colosseum. Prices run upward from €300.
Via Labicana, 125
+39 06 7759 1380
palazzomanfredi.com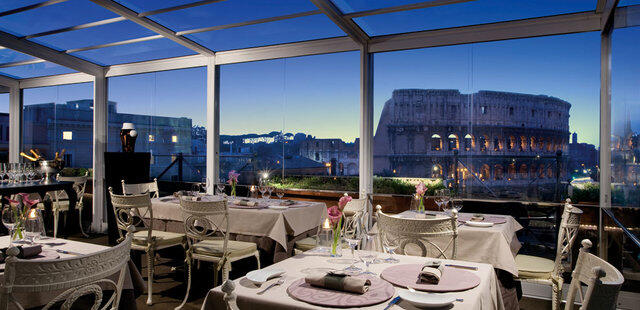 Portrait Roma
This luxury boutique hotel is relatively new to Rome's 5-star hotel scene, but it has already made a lasting impression. It is located above the Salvatore Ferragamo shop, near the Spanish Steps and Via Condotti. The views from the rooms are amazing, as are the rooms themselves that delight in balancing comfort with black-and-white charm from the 1950s. Don't forget to grab a glass of wine on the terrace while you watch the evening sparkle of Rome.
Via Bocca di Leone, 23
+39 06 6938 0742
lungarnocollection.com
Suite Sistina
This hotel wins for being the sexiest on this list. With details such as round beds and bathtubs or a jacuzzi right in the room, the Suite Sistina can somehow pull these features off without being too much. And if such details weren't enough, the hotel adds extra flourishes like a sound system and plush throws for the bed. These hotel rooms start at €170.
Via Sistina, 55
+39 06 2036 8380
suitesistina.com