3609 Views
Prague exudes romance thanks to its breathtaking views and fairytale charm so you're in luck if you're planning to spend Valentine's Day in the Czech capital. From stunning sunset views to romantic dinners and wine bars, there's no shortage of romantic things to do in Prague. 
Sometimes referred to as a 'Paris of the East', the City of a Hundred Spires arguably packs as much romance as the City of Lights. If you're planning to spend Valentine's Day in Prague, this list will give you plenty of inspiration for planning the perfect date night with your loved one.
Watch the sunset from above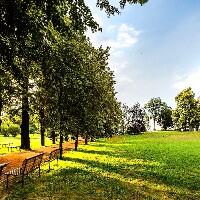 There are so many great spots to catch a romantic sunset in Prague. Letná Park and Vítkov Hill provide spectacular panoramic views of the city below. Petřín Hill is another intimate setting for watching the sunset over Prague. To make things more romantic, there's even a tower loosely based on the Eiffel Tower on top of Petřín Hill where you'll be able to gaze well into surrounding Bohemia on a clear day. 
You don't have to climb a hill to get spectacular views in Prague, though. T-anker bar, located near Náměstí Republiky, offers magical views from its terrace right in the city center. While it may be a little chilly outside on Valentine's Day, you'll likely forget all about the cold when you're cuddled up next to your love and taking in the stunning views. 
Kiss in front of the Karel Hynek Mácha statue
While you're up on Petřín Hill, be sure to make your way over to the statue of Karel Hynek Mácha. Like so many artists, Mácha's work was underappreciated in his time but today he's considered to be the Czech Republic's 'poet of love'.
His poetic epic Maj has become required reading for Czech schoolchildren and is so beloved that it has become a tradition for couples to lay flowers at his statue's feet on May 1st. However, it's not uncommon to see lovers lingering around Mácha's statue throughout the year as it's one of the city's most prominent symbols of love.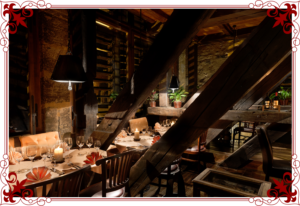 Enjoy a candlelight dinner in one of Prague's towers
Nothing says romance quite like a dinner with a view but dining in one of Prague's famous towers will be the cherry on top of a great meal. Located in the Žižkov Television Tower, Oblaca Restaurant offers a fine dining experience in the clouds that's sure to enchant. At 66 meters above the ground, the twinkling lights of the city below create an ambiance that you won't be able to find anywhere else.
For those who want to soak up the romance of Prague's Old Town, Restaurant Zvonice in the historic Jindřišská Tower is the place to go. This belltower dates back to the 15th-century, and the gothic windows and authentic wood features create a cozy fairytale setting for a romantic evening. 
Spend an evening at the theater
Theater lovers will not be disappointed with the array of choice in Prague. From classical concerts and ballet to black light theater, there are shows to suit every taste. With some of the most spectacular theaters in Europe, treating your loved one to a show is a great way to spend a romantic evening. If you're catching a show at Prague's National Theater or Estates Theater, get tickets for a private box to make the experience even more romantic. 
Take a romantic boat trip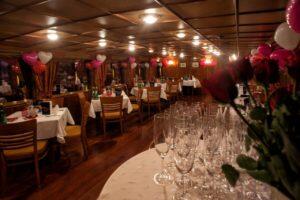 With stunning views of Prague Castle, the Vltava River is one of the most romantic spots in Prague. Boat tours are a great way to see a different side of the city while relaxing with your loved one. Many companies even offer special Valentine's dinner cruises to make the scenic ride extra special.
While perhaps not the best idea in February, renting a swan-shaped paddleboat on the Vltava River is a fun way to spend a romantic afternoon in the warmer months. 
Sip wine at a cozy wine bar
The Czech Republic is known around the world for its beer but the country also has a long history of producing wine. Prague has many cozy wine bars throughout the city that are perfect for a romantic night of tasting Czech and international wines. Vinograf Senovážné Náměstí has an impressive 700 different bottles available and Vinný sklep Újezd offers a romantic wine cellar atmosphere. 
Prague's historic beauty is a big part of what makes it such a romantic spot. However you choose to show your love on Valentine's Day, make sure to show love to the city too. Attaching 'love locks' to bridges used to be a popular way to profess your undying devotion to someone, but it's fallen out of favor. There's nothing romantic about property damage!