4017 Views
The only thing that compliments a drink better than ice is a side of scenic view. And as far as scenic goes, a rooftop view is as good as it gets. There's no way around it: gazing off into the horizon at sunset or glancing down on a skyline while swirling your drink is the pinnacle of imbibing pleasure.
It's not simply about having a good vantage point, though; it's necessary to combine your view with a quality drink and maybe even mix in some tasty food. The best bars with a view in Amsterdam are a diverse group, and here are some of our favorites.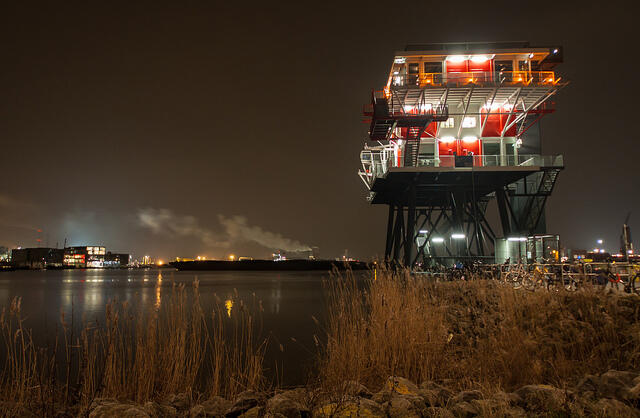 Amsterdam's Best Rooftop Terraces
REM Eiland
Standing alone in the category of "former pirate radio station tower turned waterways control tower turned restaurant," REM Eiland is a sight to behold and a great place for a cold drink on Amsterdam's urban shore. Don't let the rough exterior fool you, as REM Eiland offers light and delicious modern fare in the restaurant and classic drinks on their breezy rooftop bar. The vantage point of Amsterdam from REM Eiland is special, as it really gives you an insight into the hard-working industrial side of the city, which has come full circle and is stylish once again.
Haparandadam 45-2
remeiland.com
Open daily 12 noon – 10 pm
Twenty Third Bar
On the twenty-third floor of the Hotel Okura, the aptly named Twenty Third Bar specializes in bubbly champagne drinks to lift your spirits and sweeping views of the city that are worthy of raising your glass. In one of Amsterdam's coolest neighborhoods, De Pijp, the Twenty Third Bar is the perfect place for visitors who want to see a unique area of Amsterdam and locals who want to see their beautiful city from above. This is a place to see be seen. If you get hungry, beautifully put-together plates of oysters are available to compliment your bubbly.
Ferdinand Bolstraat 333
okura.nl
Open Sun – Thu 6 pm – 1 am; Fri and Sat 6 pm – 2 am
NEMO's Roof
The family-friendly spot on our list, NEMO's Roof is the cherry on top of the fun and educational NEMO Science Center. It is the largest roof terrace anywhere in Amsterdam, and is open from May 31 to August 31. Just like the science museum below, the roof is home to both fun and educational attractions such as cascading water, an oversized chess board, descriptions of historic Amsterdam and, of course, a cafe serving snacks and drinks. It's a great place to overlook the center of Amsterdam, while learning a bit about its past in the process.
Oosterdok 2
e-nemo.nl
Open May 31 – August 31, 10 am – 7 pm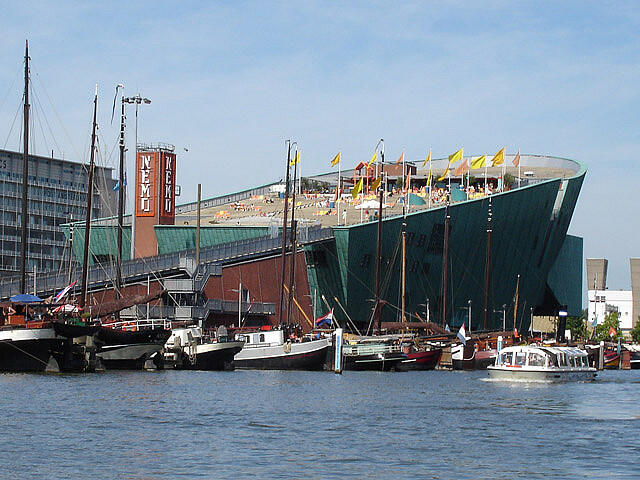 Floor 17
The Vondelpark may be the most famous of the large city parks in Amsterdam, but the Rembrandtpark is arguably the most underrated. A sprawling green space on the city's west side, the park's leafy fringes are home to the Ramada Apollo Hotel and Floor 17 rooftop bar. Encouraging guests to partake in their Triple D philosophy (drink, dine and dance), Floor 17 is home to a stylish modern bar with sweeping views of the park and the city of Amsterdam. On clear days, you can see all the way out to sea from Floor 17, but don't fret if it rains, because Floor 17 is an all-weather destination with the attached rooftop terrace being fully enclosed.
Staalmeesterslaan 410
floor17.nl
Open Mon 10 am – 12 midnight; Tue – Fri 10 am – 1 am; Sat 10.30 am – 1 am; Sun 10.30 am – 12 midnight
Skylounge
Bringing the best of all worlds under one rooftop, Skylounge combines a breathtaking view of the spires and canals of Old Amsterdam with modern drinks and delectable bites. Due to its location, sunsets are particularly spectacular from Skylounge and it especially excels at balancing both cosmopolitan and comfort. Skylounge is the type of place where you can feel totally comfortable to have a coffee during the day and then come back dressed up to the nines at night.
Oosterdoksstraat 4
doubletree3.hilton.com/en/hotels/netherlands/doubletree-by-hilton-hotel-amsterdam-centraal-station-AMSCSDI/dining/skylounge.html
Open Sun – Thu 11 am – 1 am; Fri and Sat 11 am – 3 am
__
Photo credits: