2786 Views
There aren't many thing I love more in life than food. And the city I live in. And eating food in the city I live in. What this means is that the moment I heard about the East End Food Tour, a 4-hour exploration of some of London's most historical, interesting, and most importantly, delicious food spots, I was instantly excited – and hungry – to try it.
Meeting up with Emily, our wonderfully warm, personable and welcoming tour guide and 10 other enthusiastic eaters from as far afield as Guadalajara, Alabama and Israel at Old Spitalfields Market was the perfect start to a bright, crisp Saturday morning. After a brief introduction and a warning that belts would need loosening pretty quickly, we headed off to the first of 8 different restaurants on a tour that taught me things about the capital and some of its most famous foods that I'd never known before. If you're after a spot of learning, a lot of tasting, and a morning full of good company, this is the tour for you. Here are 10 things I learned along the way…
1. The best bacon sandwich in the city can be found at St. John Bread & Wine, a restaurant that specializes in nose-to-tail dining – meaning that on any given night you can expect to find any and every part of the plant or animal on your menu. Although other breakfasts may come and go, the "bacon sarnie" is an integral part of the British culinary landscape and this one, made with freshly baked and grilled bread, thickly cut and perfectly cured bacon, and a homemade tomato sauce that is lighter and fruitier than any of its competitors, is pretty damn wonderful.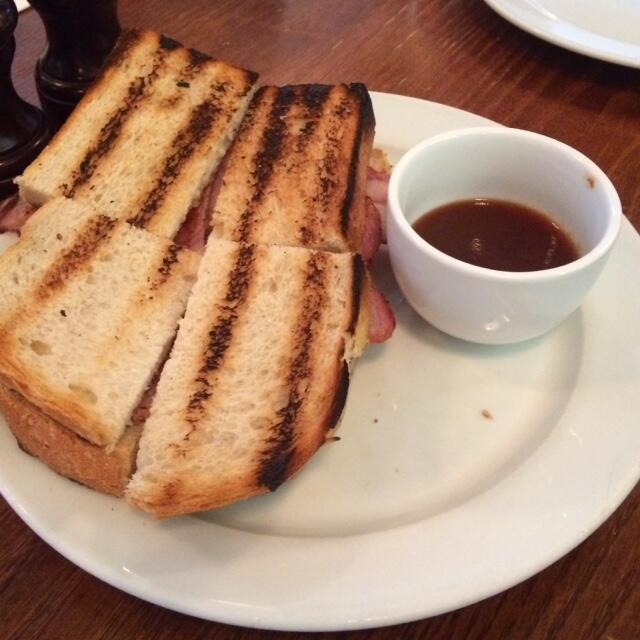 2. If someone offers you a portion of "dustman's wedding cake", take it! What they're referring to is a quintessential English dessert known as bread and butter pudding, and The English Restaurant does a version that is light, silky and oh-so-comforting especially when served with lashings of vanilla bean flecked custard. Originally called the "poor man's pudding" and made with stale bread and currants back in the 13th century when it was first created, it's as British as bangers & mash or tea & scones, so dig in!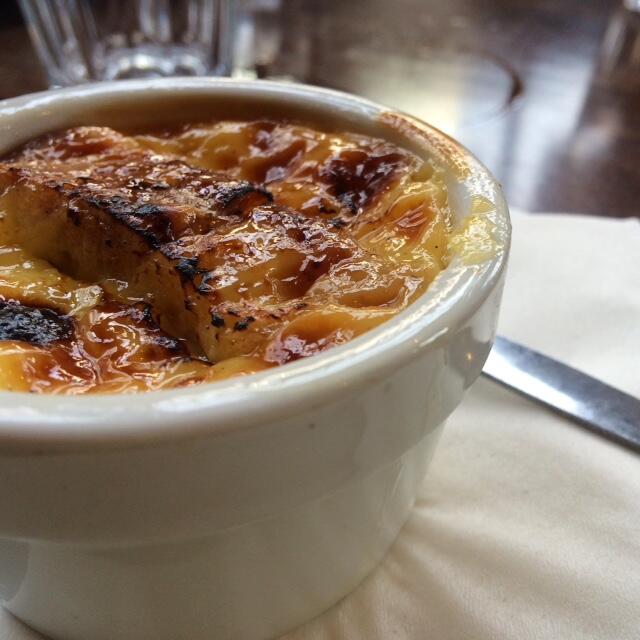 3. Until as recently as the mid-1990s, Spitalfields and the surrounding area were home to some of the poorest people in the city; but the buildings they were looked after in are some of the most beautiful you will ever see. The Jewish soup kitchen is particularly lovely, with gloriously cared for brickwork that makes it thoroughly deserving of its designation as a listed building. Anyone possessing a love of architecture will find the juxtaposition of centuries-old houses with towering glass structures both awe-inspiring and moving.
4. The cheese industry in the UK is worth a staggering £1.9 billion with cheddar topping the polls and taking 51% of the sales. If there's one thing us Brits love, it's cheese. And Androuet, tucked just inside the old market, is as goud-a place as you could find in which to indulge! Dealing directly with farmers and only working with the smallest producers, the brothers who run it mature their own wedges of pungent blue and wheels of tangy goat's cheese in a cellar directly under their shop, making it the ideal place to try something new or pick up an old favorite.
5. We owe a big debt of thanks to 13-year old Joseph Malin for giving us what is arguably the national dish – fish & chips. Malin was the first person to consider pairing fish from France together with chips (or fries) from Belgium, in the process coming up with something that we eat more than 300 million portions of each year in the UK! Poppies on Hanbury Street has been run for over half a century by Pat "Pops" Newland and his brand of sustainable fish delivered daily and fried in peanut oil to make it fantastically crisp. Hand-cut crunchy yet fluffy chips which taste phenomenal when liberally doused with salt & vinegar, coupled with vintage east-end charisma, made this my favorite stop on the tour… Plus, their newspaper has edible ink which is just beyond awesome!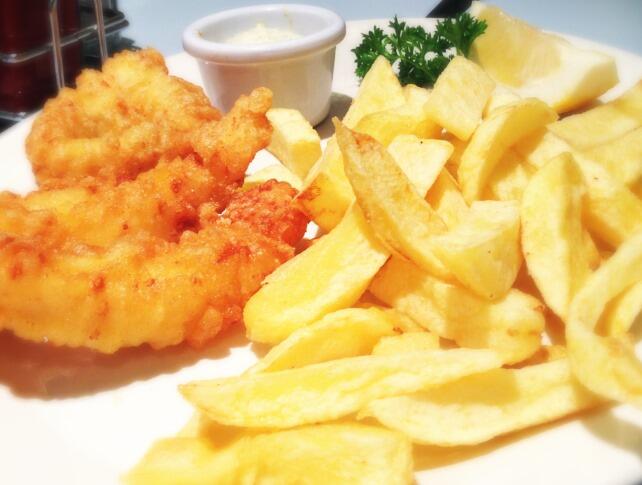 6. Wilkes Street is home to some of the city's most tragic history and some of its most eye wateringly expensive future. As hunting ground to Jack the Ripper, the still present lamp-posts, wooden shutters and attics high above the streets bring to mind the terror and fear that wormed its way into the heart of the locals in the late 1800s. But with price tags topping £3 million, the beautifully restored houses complete with glossy front doors are proof that anywhere can be gentrified with the right vision and the deepest pockets.
7. You can brush shoulders with feline royalty in the form of Lenny the pub cat if you choose to sup a pint or two at the Pride of Spitalfields. Stepping inside this free house – meaning they have no affiliation with any particular brewery and can therefore offer a much wider selection of ales – is like walking onto the set of every true East End pub you've ever seen on the big screen. Lenny, a kitty so famed that he has his own Twitter account and everyone from locals to Russian TV crews come looking for him, rules the roost with an air of nonchalant confidence. Prices are cheap, real ale is served appropriately at cellar temperature, and it's a must-visit for anyone seeking a slice of Eastenders without the hammy acting or depressing storylines.
8. There are more Indian restaurants in London than in both Mumbai and Delhi combined! With over 50 on Brick Lane alone, choosing one can seem a daunting task. But at the Aladin Curry House, you can be assured of a night of venerable Indian feasting. Some of their most popular dishes are available for you to taste on the tour, including fall-apart-at-the-touch-of-a-fork lamb and flaky, buttery naan bread, perfect for scooping up the rich, meaty sauce.
9. Sometimes the tiniest places provide the most memorable dishes, and Beigel Bake is the perfect example of this. An absolute institution within London and open 24 hours a day, 7 days a week, whether you need a solid breakfast, a lunch on the run or a post-pub snack, the team here (which includes baker and co-owner since 1976 Sammy Minzly) will see you right. The bagels are soft and chewy with just the right amount of shine, the salt beef is sliced into doorstop-sized chunks, the pickle slices are sweet and tangy, and the mustard sends a fiery tingle through you. In short, ask anyone in London for a bagel and you will be directed here, you can rest assured.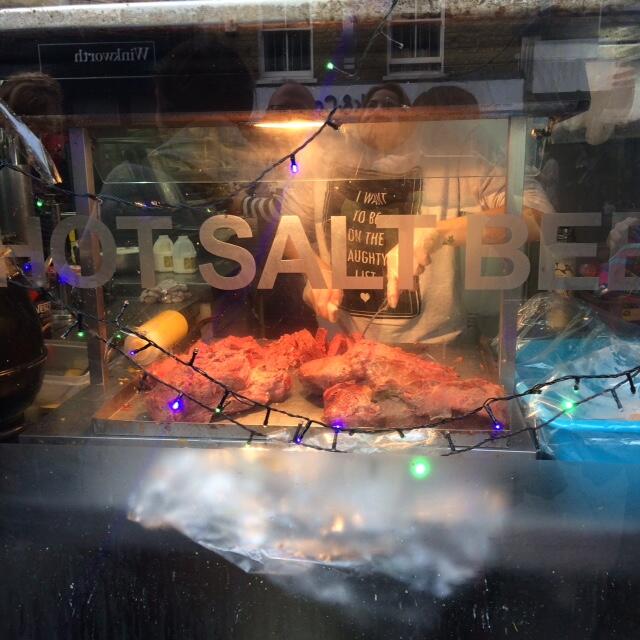 10. Three of Time Out London's top 100 dishes can be found on this tour, and Pizza East will provide you with the sweetest. Their chocolate, salted caramel tart will make your toes curl with delight. Sinfully but not unduly rich with a creamy, salt speckled filling and a dainty, flaky base, this is undoubtedly one of the best desserts in London. Eating it on the last stop of our tour alongside a cup of tea was the most splendid way to finish our morning of gastronomical gorging.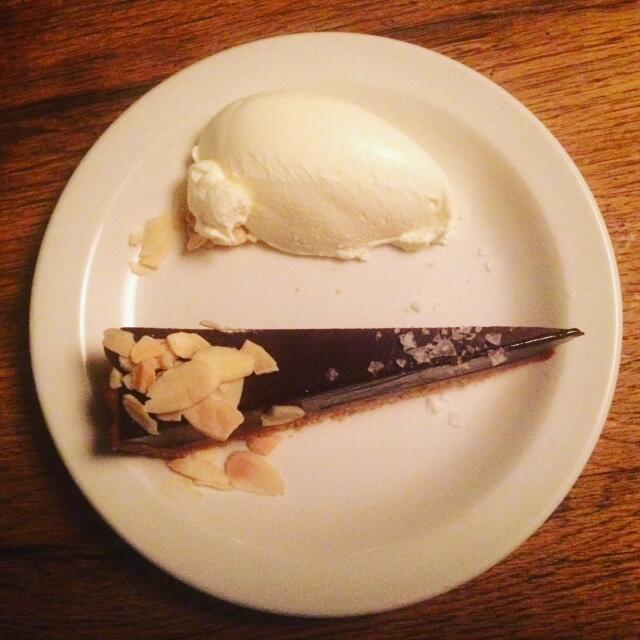 Whether you're a visitor with a limited amount of time to spend in London or a local with a hankering to know more about it, this tour is such a brilliant way to meet new people and to see parts of the capital that you may never discover on your own. The pace is steady but not rushed and whether you come alone or with friends, you'll be welcomed with a big smile and you'll leave more than a little bit in love with this corner of London.
Want to join us for a delicious stroll through London's East End? Book your food tour here!