3407 Views
Street food has been all the buzz of late and London's streets are no different. To help find your way through the burgeoning street food scene in London, local expert Richard Johnson from BritishStreetFood.co.uk aims to get Great Britain's street food on the map. Besides the annual British Street Food Awards, Johnson is launching an app that showcases the best of British street food…in real time.

Annual British Street Food Awards
This year's British Street Food Awards are going all European. And the massive street food party—the one that has become an end-of-season institution since it was founded back in 2009—will showcase the best street food from across all of Europe. The public will get their chance to vote for their favourite food trucks, vans and trailers the weekend of September 28-29. At stake? Bragging rights.
The Awards organisers have already had applications from Claus Meyer – the restaurateur behind Noma in Denmark, voted the World's Best Restaurant for three years running. He'll be leading the Nordic contingent. And Kirstin Frederick from Le Camion Qui Fume, whose 'tres magnifique' burgers are shaking up the streets of Paris, will be representing France. Now she wants to come and stick it up the Brits.
But the BSFAs have always been about showcasing homegrown talent, which has made its business to compete with the very best that Johnny Foreigner can come up with. Whether it's an electric milk float serving home-made organic ice cream, a driftwood beach shack with the freshest razor clams you'll ever taste or a converted horse box with the tenderest homecure salt beef in town, these traders will fight – woman and man — to keep this year's Street Food Awards British.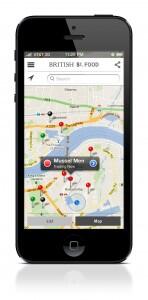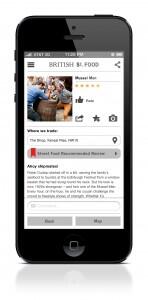 British Street Food App
The end-of-season street food bash comes at an exciting time for British Street Food. This week the team are launching the BSF app for iPhones and smart phones, which will showcase the absolute best in street food. With live GPS maps showing who's trading where and when, it will detail the daily specials of the best traders, and encourage punters to photograph – and review – food, helping to involve everyone in the street food community. The rating system will give us the first ever street food Top 10.
It feels like the key idea of street food – to make good quality, fun food accessible to everyone – is really starting to happen.
British Street Food are also involved in the craziest, most exciting street food scheme ever – to LIFT vans, trucks and trailers onto the first floor of the upmarket Trinity retail development in Leeds. With all those shiny new floors! Trinity Kitchen, sponsors of this year's British Street Food Awards, opens in October, with five new traders – drawn from the very best of the Street Food Awards – parking up every month.
BritishStreetFood.co.uk is also developing street food 'brands'. They are advising SSP, the international food and travel company, about traders with the ambition to move into permanent premises. Thanks to the collaboration with SSP, Ginger's Comfort Emporium – winner of the British Street Food Awards 2012 – are now selling their ice cream in Manchester Airport. Other BSF traders are lined up for King's Cross station, Euston and Gatwick.
Richard Johnson, the founder of the British Street Food Awards, sees 2013/2014 as a period of huge growth. Johnson (who is a regular presenter of the Food Programme for BBC Radio 4, and writes a street food column for the Guardian) is even working with the government to put street food swagger into children's school dinners. "It feels like the key idea of street food – to make good quality, fun food accessible to everyone – is really starting to happen."
Download the app and learn more at britishstreetfood.co.uk/app/