3393 Views
Getting into the Thanksgiving spirit when in Rome isn't impossible, but it does require a tad bit of planning. If you've got an oven big enough for a turkey, then cooking up your own Thanksgiving feast for friends can be a fun way to celebrate—though wrangling up the right ingredients does take time. If you would rather that someone else does the cooking then try the dining out options listed below. Whichever way you choose to spend your Roman Thanksgiving, we're sure it'll be one to remember.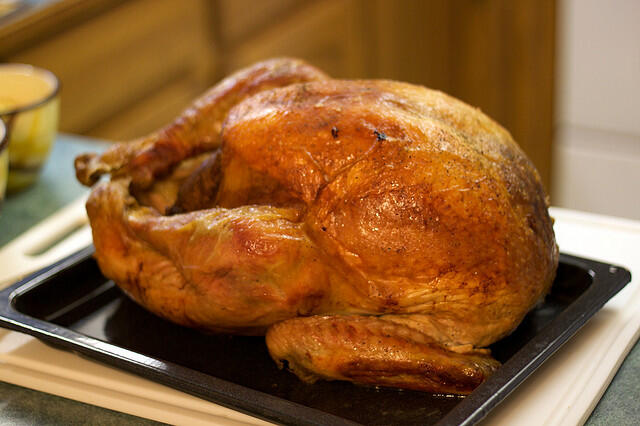 Eat in
The turkey: Thanksgiving wouldn't be Thanksgiving without the turkey, or tachino in Italian. And though you'll rarely see one of these birds sitting in the glass case of your local butcher, that doesn't mean they don't exist here. Order a turkey from your butcher at least a week ahead of time, and when you pick it up, expect a lot of questions. My favourite butcher is Bio Eno on Via Labicana, 70. Or go talk to Cesare, the butcher in the Testaccio Market, who will order you a big bird. (A word of warning, if your kitchen, fridge and oven are small, be sure to specify about how many kilograms you think your appliances can handle.)
Bio Eno — Via Labicana, 70
The fruits and veggies: If your neighbourhood fruttivendolo stocks up only on Italian produce (like most do) then you'll have to make a trip out to the Esquilino Market near Piazza Vittorio, open Monday to Saturday, 6 am–2 pm. There you'll find sweet potatoes (patate americane) and a variety of squash, as well as all the usual suspects like regular potatoes, pumpkins for pie—I've used the green ones to delicious surprise—and green beans. In a pinch, try the Campo dei Fiori Market that stocks some international produce, but it's unpredictable and more expensive.
Esquilino Market — Piazza Vittorio
The trimmings: Your best bet for any hard-to-find specialty food is Castroni, a high-end market that fills its shelves with international goods. Here you can find cans of cranberries and pumpkin puree and bags of brown sugar and pecans. The prices tend towards steep.
Castroni — Via Cola di Rienzo, 196
The dessert: If making the main Thanksgiving meal is about all your tiny Roman kitchen can handle, then pre-order your desserts from Homebaked, an American bakery in Monteverde. Before the holiday, they'll be baking up a flurry of pumpkin pies and pumpkin cupcakes too delicious to pass up even if it weren't Thanksgiving.
Homebaked — Via Fratelli Bonnet, 21/23
Eat out
Vivi Bistrot: Every year Vivi Bistrot—located on the edge the Villa Pamphili park—puts on a Thanksgiving dinner buffet. The food is American with an Italian twist—this year the menu boasts turkey cooked with chestnuts and sausage. Inside, the restaurant is laid back yet elegant.
Vivi Bistrot — Ingresso di Via Vitellia, 102
American International Club of Rome: The American International Club of Rome is taking reservations for their annual Thanksgiving dinner, held this year at Hotel InterContinental. Club members cook up a feast of turkey and fixings that is served family style. Book your meal in advance through their website.
American International Club, Rome — Via Sistina, 67/69
Mama's: In the north of Rome, Mama's Ristorante and Pizzeria puts on a yearly Thanksgiving dinner. Call ahead to book a table where you can eat your fill of turkey with stuffing and other classic dishes.
Mama's — Via Bellagio, 2
Highlander Pub: In addition to showing the NFL game, Highlander Pub is also hosting a buffet with a drink included. The buffet starts at 6 pm so that at 6:30 the football games can take over. Bookings are recommended, as it's not a big place and about the only event in Rome with both food and football.
Highlander Pub — Vicolo di San Biagio, 9
* * *
Contact us with Blog Enquiry in the subject title for any feedback or requests for a topic you want us to cover. Voted one of the best things to do in Rome, Eating Italy Food Tours offer a Rome walking food tour through one of Rome's oldest and most characteristic neighborhoods. View our Italy Tours here.