4414 Views
While Czech beer has garnered some well-deserved international fame recently, the multi-faceted cuisine of this central European nation still remains off the radar to many. But as the former capital of Bohemia and a historic crossroads between east and west, Prague is actually one of the top foodie cities in Europe.
So come along with us as we dig deep into everything from the best street food in Prague to the top white tablecloth dishes in this Czechlist wrap-up par excellence.
Kulajda –  Soups are a staple of the traditional Czech diet and no guide to eating in Prague would be complete without highlighting Kuladjda. A potato and mushroom cream soup flavoured with dill or caraway seeds and sometimes topped with a poached egg, kulajda is served in both down-home traditional eateries as well as some of Prague's top restaurants – where chefs compete fiercely over who has come up with the new greatest recipe. In fact, there are as many versions of Kuladjda as there are chefs in Prague, so make sure you try it more than once!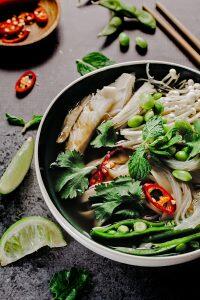 Pho – Visitors are often surprised at how popular Vietnamese food is in Prague, but immigrants from this South East Asian country actually make up the third largest ethnic group in the city. Some of the best street food in Prague can be found at the Sapa Market, a bit of Hanoi in the middle of Central Europe.
But you don't have to leave the historic city centre to grab a bowl of excellent authentic pho, this noodle soup is extremely popular in Prague and can be found all over.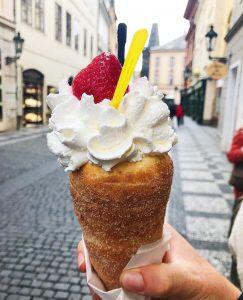 Doughnut Ice Cream Cones AKA Turtleneck – You'd think that someone would have thought to combine two of the world's favourite desserts before, but this trend that is now sweeping the city of Prague. Based on the traditional Czech pastry called Trdelník, a fried sweet bread topped with sugar, cinnamon, and nuts, but filled with ice cream to boot. These doughnut ice cream cones are now topping many visitors lists of the best food in Prague and should be on your must-try agenda too!
Palačinky – Similar to French crêpes, these light and sweet delights are served both as street food in Prague and in cafes. A popular option for couples on a romantic evening out in Prague, palačinky is stuffed with fruit, jam, cream and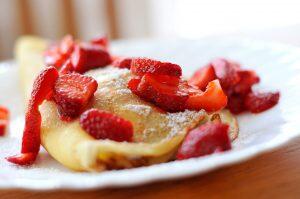 nuts and goes down great with a nice Czech coffee. Savoury palačinkies are also sometimes on the menu, with spinach, meats and cheese topping the offerings available.
Guláś – A close relative of the Hungarian goulash, this hearty meal is also an essential experience when eating in Prague. The Czech version of this gravy based beef stew is even thicker than its Hungarian counterpart, contains fewer vegetables and is served with yummy bread dumplings. When it's time to get your fill on, gulàš is like heaven on earth.
Eating in Prague Like a Pro
Many of the best foods in Prague, including street foods, are made to go just perfectly with a nice cold Czech beer. Check out our 3.5 hour Czech Beer and Food tour for an in-depth intro into this deeply satisfying scene. Want to head straight to the heart of Prague's dynamic food scene? Sign up for our 4 hour Prague Food Tour (you'll still get to drink beer!) and prepare to be pleasantly overwhelmed by all the choices!