6880 Views
As the capital of Tuscany and known as the cradle of the Renaissance, a trip to Florence should be on the top of your list for places to visit in Italy!
Renowned for its amazing art history, monuments and attractions like the Duomo, Uffizzi Gallery, the Ponte Vecchio and the famous Statue of David, the diverse cultural history of Florence can be seen and felt all over the city.
Whether you have time for a short stay or more than a few days, being able to walk the same streets that some of the greatest minds in history have walked (think Leonardo di Vinci, Michelangelo, Dante and where the Medici family called home) is utterly inspiring!
Florence is also a fantastic base for day trips to Pisa, Siena and other Tuscan towns. Check out our piece on Eating Your Way through Tuscany for more unique food and travel ideas.
But before you jump on the next train or plane check out our Florence travel tips!!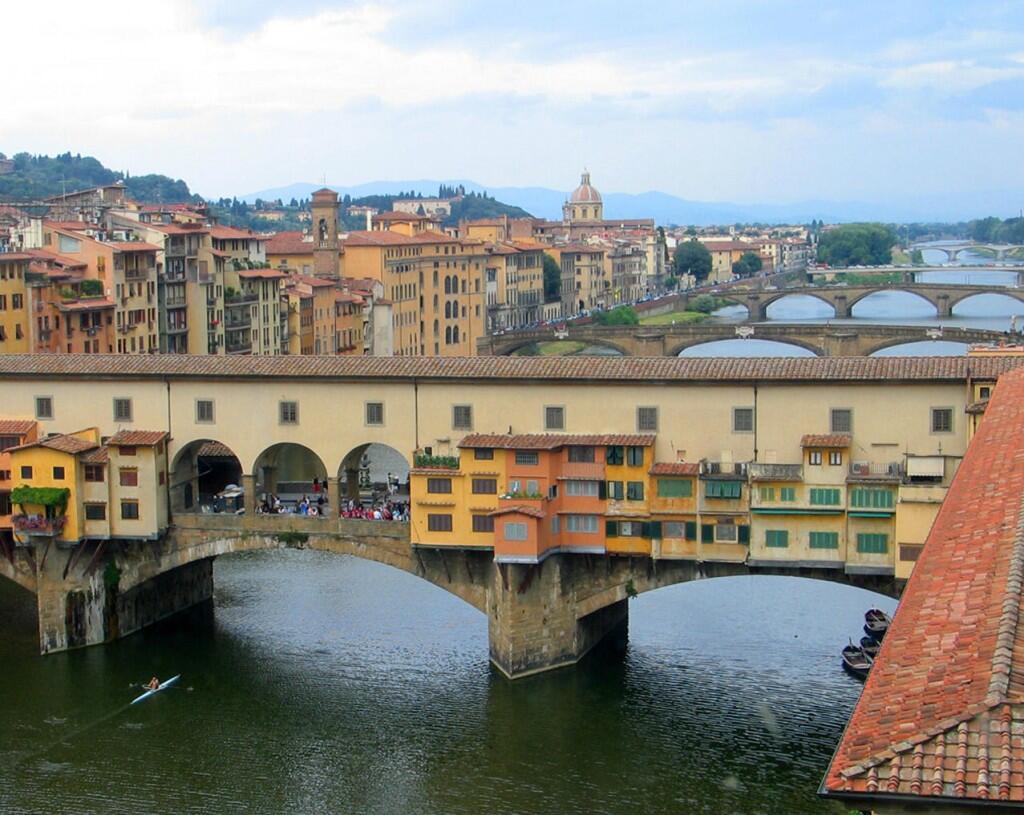 Getting there
If you are already in Italy, train is the ideal way to arrive to Florence with connections from most major cities. Step off the train from Florence's main station Santa Maria Novella and into the very beauty that is this city. Plan your trip and get up to date information on departure/arrival times and the cost of the fares by visiting http://www.trenitalia.com.
If flying is your preferred method of travel no problem  – Florence is served by three different airports!  Keep in mind that the airport you arrive in depends on the air carrier you choose.
Florence (FLR) Amerigo Vespucci. The ideal airport to land in for Florence because of the many public buses connect the airport to the centre of town.
Pisa (PSA) Galileo Gallelei. This airport has growing in popularity because many of the European low cost carriers are flying into it.  There is a shuttle service that will take you to Florence, but it takes 70 minutes and take traffic into consideration to ensure you don't miss that flight on your way home!  There is also a train that runs from Pisa to Florence.
Bologna (BLQ). An hours drive away from Florence, this airport is also an option (but Bologna you are flying into and not Forli (FRL) which is even further from Florence).
If you're arriving to Florence by car make sure that you check ahead of time that your hotel provides parking.  Keep in mind that driving in Florence is difficult, parking is hard to find, and that you cannot get to the centre of the city by car.

10 things to do in Florence
Florence is packed with things to do and places to see, especially if you are an art fan! As the capital of the Renaissance and the where the Opera was invented you might find it difficult to determine what not to see or do in Florence! Don't fear if art is not your thing – Florence is also one of the largest artisan leather producers in the world so shopping might just be the way to fill your time!
Here are our Top 10 Florence sights:
1. The Duomo
This is by far the most popular site in the city.  Also known as the Cathedral of Santa Maria del Fiore, the huge gothic structure was completed in 1436 and can hold up to 20,000 people.  The exterior of green, pink and white marble is recognisable from quite a distance.
2. The Baptistery
One of Florence's oldest buildings here you will see mosaics, a marble pavement of the zodiac and a set of amazing bronze doors.
3. The Bell Tower (Campanile)
Located in Piazza Duomo, the first one was designed by Giotto and it is therefore commonly referred to as Giotto's Bell Tower. Buy a ticket and climb the 414 stairs for a breathtaking view of the cathedral dome and all of Florence.
4. Galleria del Accademia including Michaelangelo's David
Holding important paintings and sculptures from the 13th-16th centuries, many visitors come here to see one thing only: Michaelangelo's Statue of David – arguably the most famous sculpture in the world.
5. Piazza della Signoria and Palazzo Vecchio
Florence's most famous square is the heart of the city and holds some important statues including a replica of Michaelangelo's Statue of David.  It is the political centre of the city and holds the medieval Palazzo Vecchio with elaborately decorated public rooms and private apartments.
6. Boboli Garden and (7.) Pitti Palace
The Pitti Palace was once the seat of one of Florence's – and Italy's – most famous families: the Medici family. The palace now boasts 8 different galleries including art, costumes and jewellery collections. It sits behind the Boboli Garden, a huge park with beautiful gardens, fountains and great view of the city.
8. Uffizi Gallery
The Uffizi holds the world's most important collection of Renaissance art with works by Michelangelo, Giotto, Botticelli, Leonardo da Vinci and Raphael. Book ahead as this is one of Italy's most crowded museums.
9. Ponte Vecchio
Florence's first bridge was built in 1345 and is the only surviving bridge from medieval days. Like throughout history, gold and silver and leather shops still line the strip and you get a great view along the River Arno standing on the bridge.
10. San Lorenzo Market
Not far from the Duomo, this huge market is the beating heart of the city where you can buy anything from food to jewellery to artisan crafts and leather.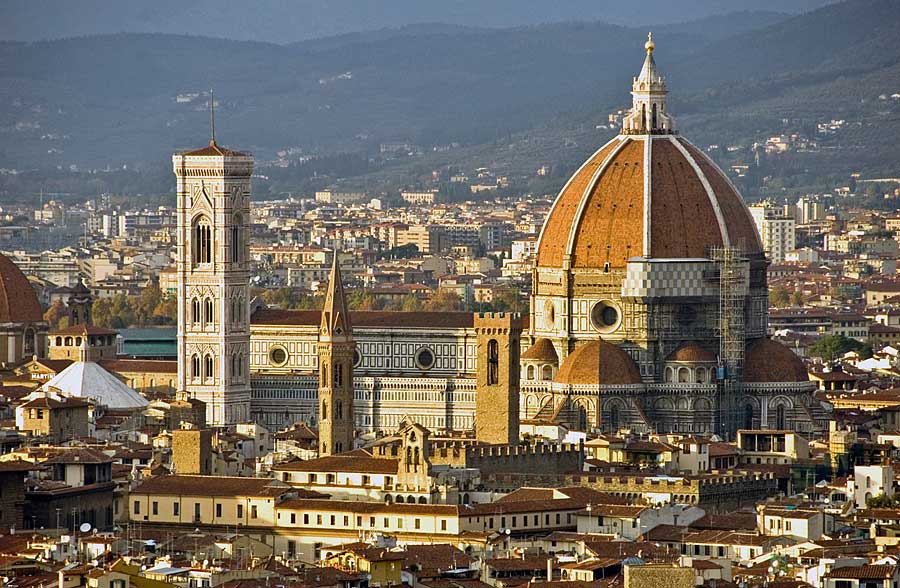 Sightseeing Tips
Be mindful of opening hours in Florence. For instance, on Mondays almost all museums are closed in Florence, so make sure to have alternative plans!
Florence is considered to have the highest concentration of art in the world and so in our opinion, visiting the Uffizi gallery is unavoidable, especially with all the Renaissance pieces to take in!  We recommend pre-booking  your ticket to save time from waiting in lines for hours.  Let's be honest, by booking your ticket ahead of time you'll have more time to spend gazing at art!
While visiting Piazza dell Signoria take a look at the massive Romanesque Town Hall Palazzo Vecchio!
Get a unique look at this building designed by Arnolfo di Cambio (also is the architect of the Duomo and the Santa Croce church) by booking a secret paths tour!  Many of these places have only been opened up to the public since 2000 by the Family Museum and can only be visited in small groups.
Click here for information and bookings at all Florence museums.
If you want to visit the Duomo, plan ahead and visit the museum behind the church where all the artwork is kept. Following the flood of 1966, many works of art were damaged with some moved to a safer place. To enter the Duomo is free but you will need to buy entry tickets to see the Bell Tower, Dome and Baptistery
Shop 'til you drop
Italy has an international reputation for fashion, style and quality. But Did you know that Florence is considered the birthplace of Italy's modern fashion industry? Italian designers such as Salvatore Ferragamo, Gucci, Roberto Cavalli, and Emilio Pucci all call Florence home.
No matter what your budget is, take a look at the high end boutiques on one of the main upscale shopping streets such as Via de' Tornabuoni, Via del Parione or Via Roma to see where all these Italian fashion houses were born.
If you're looking for leather, there's no better place than the streets surrounding Piazza Santa Croce with many markets and boutiques to choose from.
The famous Ponte Vecchio which translates literally to Old Bridge, crosses over the river Arnoand has historically been lined with shops and merchants since 996 AD.
As listed in our travel tips above, one of the most famous and visited markets of Florence is the Mercato di San Lorenzo, and is not too far from the Duomo! Lose yourself in this huge market and shop around for different leather products, clothes, souvenirs and whatever seasonal item is in at the time of your visit.
Oh and don't forget to take a look at the San Lorenzo Church – the oldest church in Florence and close to the Medici chapel!
If you're into designer brands but on a budget, why not head to the designer outlets featuring none other than Gucci, Prada and Dolce and Gabbana! You'll get discounts of 30-50% and day trips from Florence start from €35.
Refuel with Florentine Food
Whether you are looking for a quick budget option or a unique restaurant experience don't fear – Florence has something for everyone!
In Piazza Ghiberti near the Sant'Ambrogio market is a place called Eccoci. It's worth a try to sample tapas but in a Tuscan sauce, and of course their menu also provides a variety of other dishes, but always with a Tuscan feel.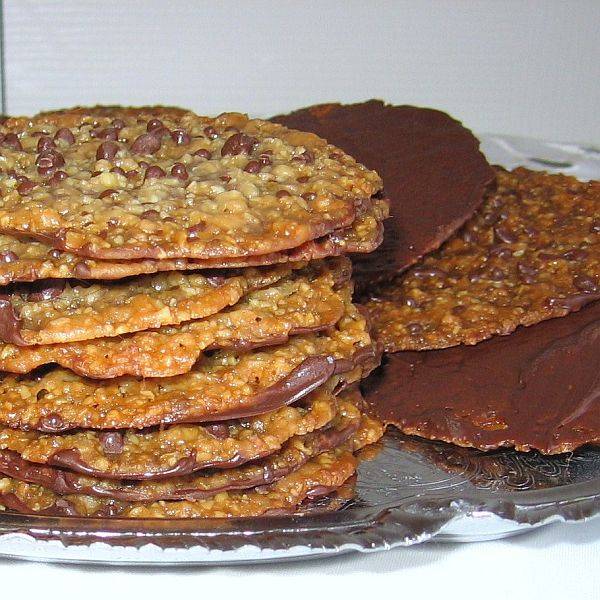 If you are the type of traveler looking for a truly unique experience then check out L'è Maiala located at Via Agnolo Poliziano, 7. Opened only in September this year, what makes this place so special is the fact that paying is not required and instead customers can barter for their food! The atmosphere is madeto make you feel at home and includes a traditional Tuscan menu with items such as maiale (pork), vegetarian options, pici (hand-rolled pasta), as well as papa al pomodoro (tomato and bread soup) and Florentine trippa (tripe or cow stomach).
****************************************
If you'd like to take the guesswork out of finding the best Tuscan food and wine, then why not join us for one of our food tours? Our Other Side of Florence Food Tour where you get to see cantucci being made or our Florence Sunset Food Tour where you get to try Bistecca alla Fiorentina.
****************************************
And don't forget to try Florence's signature sweet, known the world over – the Florentine. This delicious biscuit is made from nuts, candied cherries and formed in a caramel disc with a dark chocolate base! Found all over the city, we recommend you head to Café Gilli located in Piazza della Repubblica for an extra special one. They have been serving up treats since 1773!
Happy travelling and happy eating always!