38042 Views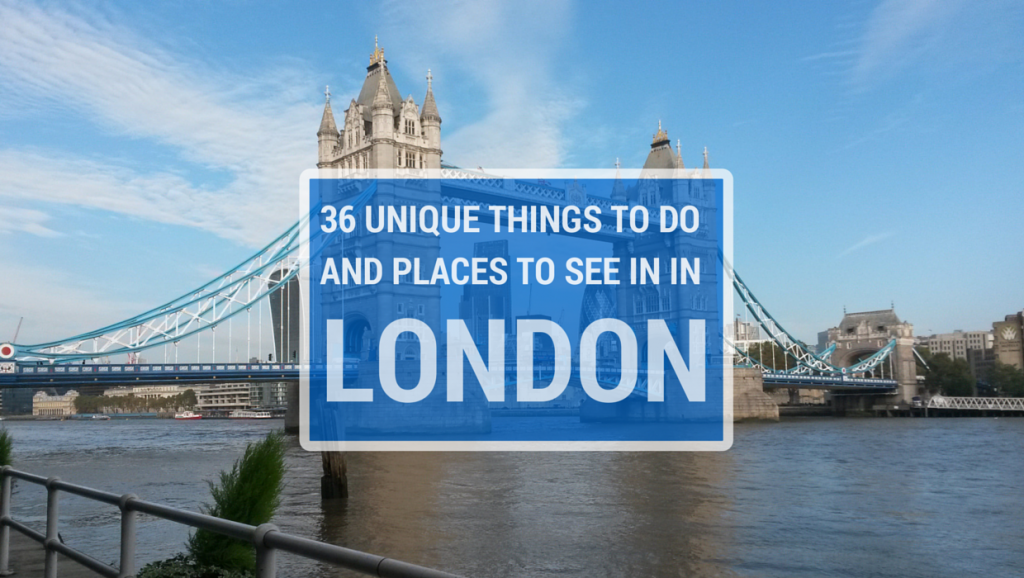 We certainly know what Samuel Johnson was getting at when he said "when a man is tired of London, he is tired of life; for there is in London all that life can afford." The city is huge, and there are just so many things to do in London – the problem is, how do you decide what to do when you're there? Well, that's where we come in! We asked 36 of the best travel bloggers from London and around the world for their favourite unique thing to do in London, so may we present to you the ultimate list of unique things to do in London! All you have to do now is figure out what to do with the other 329 days of the year!
Note: this post was originally published in October 2016 and was updated for accuracy. Updates do not take into account potential closures due to COVID-19!
36 Unique Things to Do in London
1. Grab a beer on the rooftops of London. Frank's Cafe in Peckham or the Queen of Hoxton are both fun choices. – Ocean of An Ocean Away 
2. My new-to-me favorite thing to do in London is to walk through the Columbia Road Flower Market on a Sunday. Extra points for travelling there by bicycle! – Alison Chino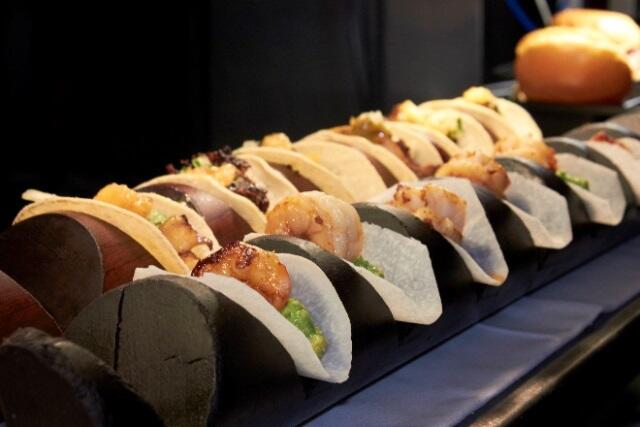 3. I love opentable.com and use it all the time! They have fantastic weekly offers at some of London's top restaurants, where you can have lunch for £19 and a glass of wine at many Michelin-starred places. Needless to say, it is the only way to get those tables. – Ana of Mrs O Around the World
4. Wandering along peaceful Regent's Canal from Paddington, past the gorgeous canal boats and the zoo to end up in Camden Market for a feast from one of the many cuisines on offer and a browse through the mix of tat and treasure. – Jessica from Two Feet One World
5. If you're looking to escape the crowds of Borough Market try heading down to Maltby Market in Borough. It's a smaller market with far less tourists but equally as good produce. – Paul from TravMonkey
6. Borough Market! There's vintage architecture, full-sized pirate ships and independent shops that surround the indoor market, and plenty of weird and wonderful vendors on the inside selling some of London's best fresh and cooked street food! – Sara from This Girl Loves
7. The Canalway Cavalcade is an annual festival along Little Venice complete with boat pageant, lots of food and drink and music and where basically lots of crazy people come out to play and the primary goal is not to fall into the canal. – Yishyene from Small Crazy
8. Climb up to the Greenwich Royal Observatory for a great view over the city… and some cheesy photos of the meridian. – Sofie from Wonderful Wanderings
9. Churchhill Arms in Kensington is quite possibly London's most famous watering hole. Even if you don't stop to eat the delicious Thai food, the outside of this small pub is covered in flowers and hanging baskets. With its distinctive styling, it makes for some great photos. – Erin from Travel With Bender
10. Nothing imparts London's history like Gin. Very few people do Gin better than Butler's Gin; and if you book in advance you and a few friends can share gin cocktails on a narrow boat with the Butler himself. Recommended. – Ciaran from Bacon With Everything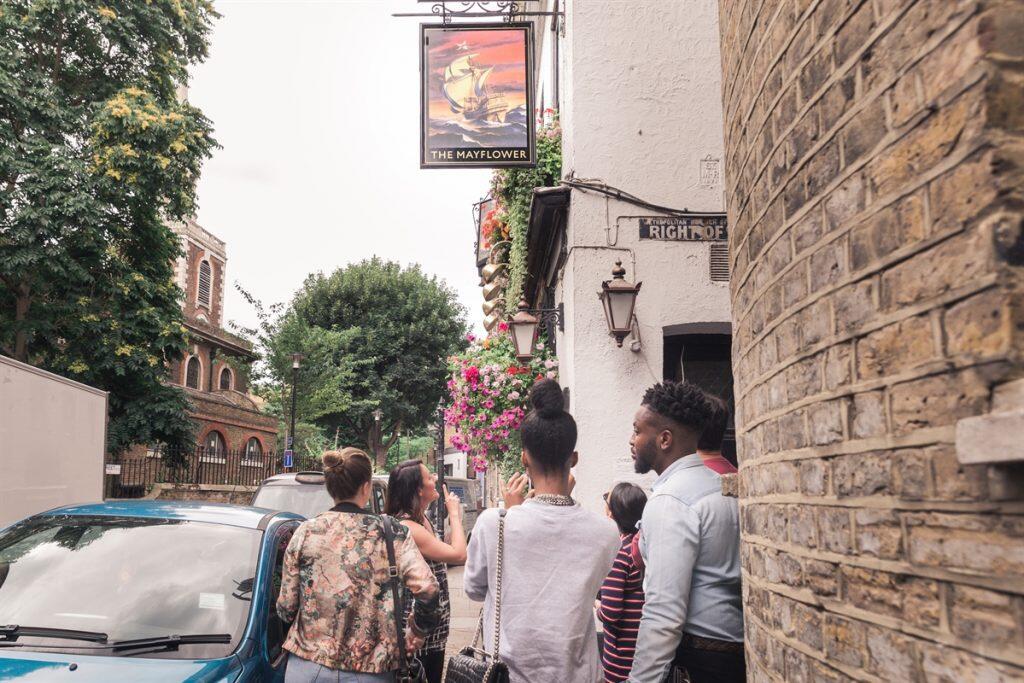 11. Go on a themed tour. There are a multitude of themed tours to choose from such as literary, architecture and historic tours. For something more unusual, there are Harry Potter, Jack the Ripper or Beatles walking tours. One of my personal favorites is the "Italian Job" tour in classic Mini Coopers. Visitors are zoomed around the city in blue boiler suits and tweed caps, and help to re-enact scenes from the movie. – Keith from Velvet Escape
12. Visit the cafe in the Victoria and Albert museum. These Victorian rooms are the most gloriously luxurious place you could enjoy a coffee in London. Stunning architecture. – ReeRee from Rockalily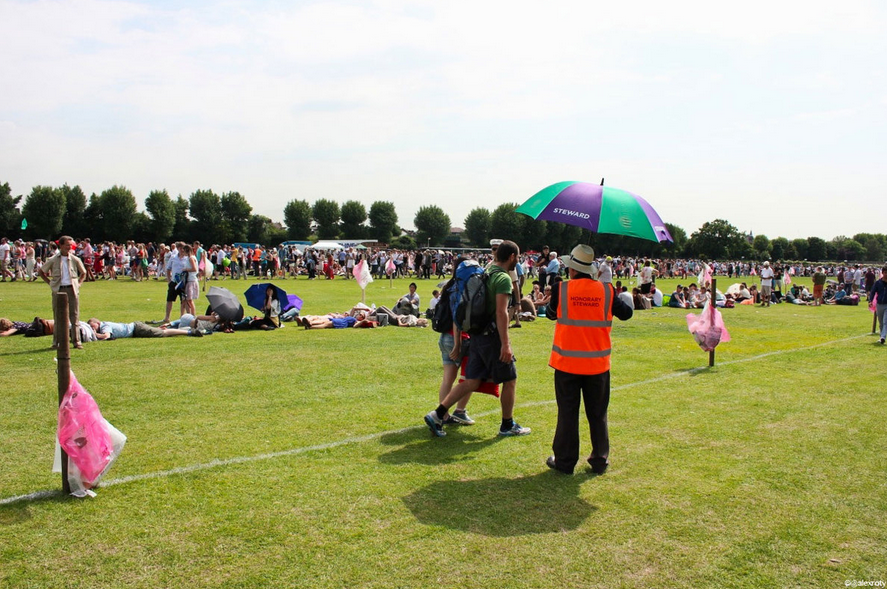 13. Bring some light camping stuff to spend at least a full 24h queue to get tickets for Wimbledon's Centre Court. Everything is very well organised for the campers, stewards are all over the place to help you enjoy the queue. There's a nice atmosphere with people from all over the world but couple of rules apply: don't leave your tent or it'll be thrown away by the stewards, bring earplugs and don't drink too much or you won't make it. – Alex from Un Francais a Londres
14. For those with a penchant for alternative cafes, it doesn't get more quirky than tea and a slice of cake at Lady Dinah's Cat Emporium – London's only cat cafe. – Kasha from Lines of Escape
15. If there was time only for one tea experience in London, I'd pick the Claridge's Afternoon Tea. If you are looking for a different kind of afternoon tea experience, then Vertigo 42 might be best suitable for you – you'll get a sweeping view over London (window seating only!) with your delicious champagne tea. – Reeta from Skimbaco
16. Take a stroll over to Central London's only marina of St Katharine Docks for bustling quayside dining every Friday. There's also a good food market where stalls serve up tasty dishes from all around the globe. – Emily from The Cosy Traveller
17. The one thing I love about London is the unusual museums you'll find all over the city. The Magic Circle Museum near Euston station, the Museum of Brands in Notting Hill, and the rather gruesome Old Operating Theatre at London Bridge are all definitely worth checking out. Oh, and don't forget the Sherlock Holmes Museum on 221b Baker Street! – Matt from Travel With a Mate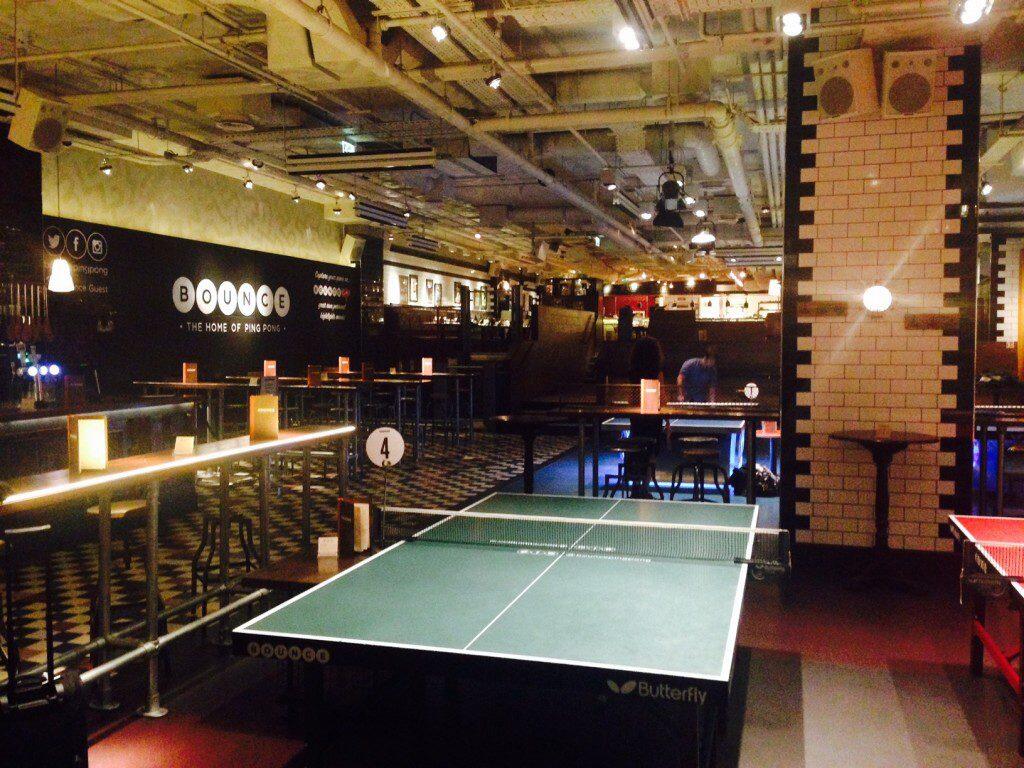 18. Brush up your ping pong skills for the Olympics at the exact same spot where the game was invented at Bounce Bar. – Cherie from Flight of the Travel Bee
19. One of the coolest things I've done is the London Underground Supper Club. Gourmet food and mixing in with a load of strangers for a night of randomness on board an old Victoria Line tube in Walthamstow… – Hayley, travel blogger
20. Find peace and quiet in the city on a Sunday. In a rather unassuming place, find St Dunstan in the East, slap-bang in the middle of the banking district. This old, bombed-out Wren church has only four walls and its steeple still standing, the rest destroyed in the Blitz. It's now a beautiful public garden and is usually completely empty at weekends, as the bankers are off and few tourists venture this deep into the city. – Lottie from Rough Guides
21. If you're looking for London's best Vietnamese food, then head up to Kingsland Road in Shoreditch / Hackney area. There are tens of family-run Vietnamese restaurants all serving London's best pho. And the prices are really good too! – Adam from Travels of Adam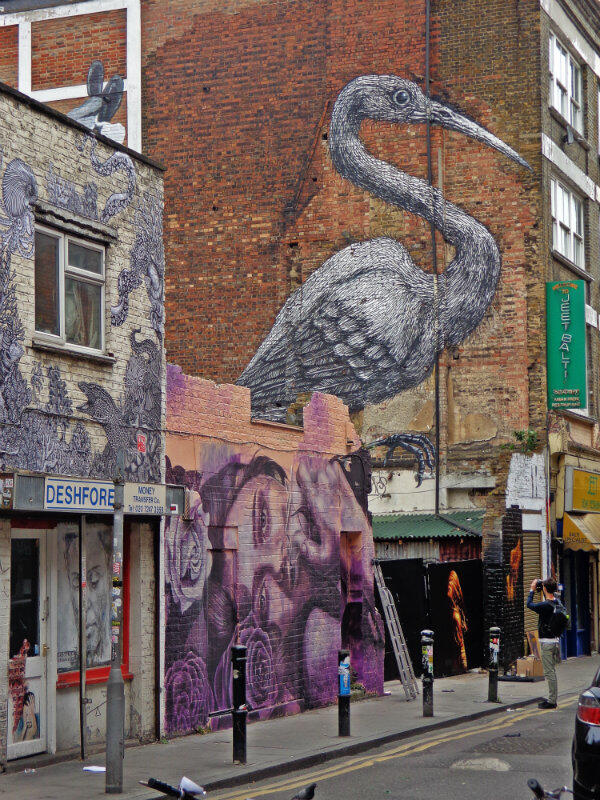 22. Explore London's East End and its delicious and diverse food and uber cool street art on a walking food tour with Eating London. – Maria from Heart Rome
**********************
**********************
23. Home to London's (and supposedly the world's) biggest antique market and also home to its very own film festival. Walk the streets lined with brightly coloured houses, dodge the crowds, haggle, stop and listen to one of the many buskers or treat yourself to a bargain. Even if you're not into antiques, there's plenty more on offer, from old vinyl records to vintage clothing and incredible food from all over the world. – Neil from Backpacks and Bunkbeds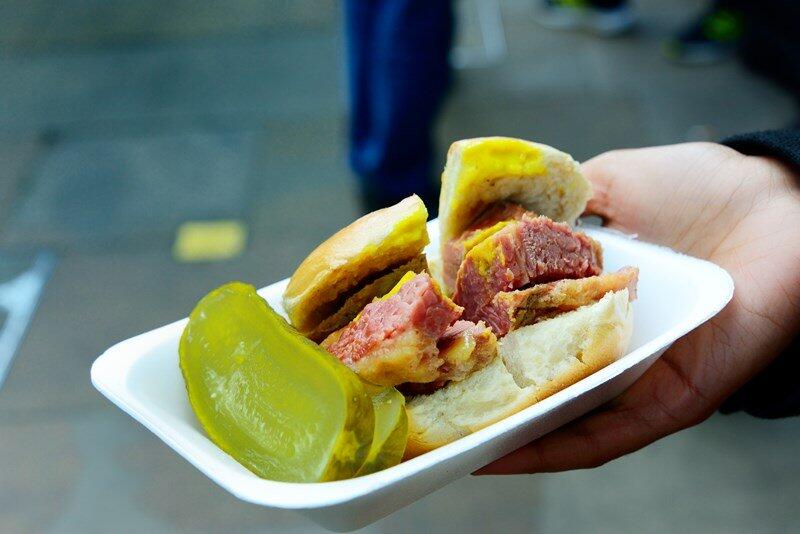 24. On Brick Lane, go to Beigel Bake bagel shop that's open at all hours and is a must-eat destination after rolling out of the nightclub. – Ed from Rexy Adventures
25. Head where time began (in a manner of speaking…) to Greenwich and the Royal Observatory. Go on a Sunday for Greenwich market, where you can get all types of food as well as antiques and accessories. On a sunny day, Greenwich Park is perfect for a picnic. – Kirsten from Kirst Over The World
26. The Attendant is a fabulously quirky little coffee shop on Foley Street, set in a converted Gents toilet. I tried a salted caramel and chocolate brownie with a cup of mint tea. The brownie was absolutely heavenly, not too rich with just a hint of salt – spot on. Loved everything about it (although a tad pricey). – Kathryn from Travel With Kat
27. Check out the Hunterian Museum* at the Royal College of Surgeons. Not for the squeamish, but best described as horrifically fascinating. Dissected body parts in jars (human and animal), old surgical instruments etc. – Andy from Grown Up Travel Guide
* The Hunterian Museum is now closed until 2021.
28. The Lordship Recreation Ground is a public park in Tottenham (Haringey). In 1938, the Minister of Transport opened a "model traffic area" where children can learn about road traffic on a miniature road network, including signs, traffic lights and road marking. It was restored in 2012 and a cafe and playground was added. Great for families! – Nienke from The Travel Tester
29. Located in Hyde park, there is a 40-acre artificial lake called the Serpentine that was first made in the 1700s. It is open for recreational use and on nice summer days it is a lovely spot to hang out and have a picnic by. You can even rent a paddle boat or row boat and spend the afternoon floating around and feeding the ducks. – Cailin O'Neil from Travel Yourself
30. Get up early and head south of the river (pack your passport!) to visit Brixton market for a real insight into how diverse London is, before wandering up Atlantic Road to Kaff to sample their amazing jambalaya pancakes for breakfast, cooked by Chef Richard all the way from N'Orleans. – Peter from On in London
31. Head to the Electric Cinema in Notting Hill and watch the latest blockbuster hits from the comfort of a plush armchair, complete with your very own footstall and snuggly cashmere blanket! – Lisa from A Taste for Travel
32. Stand at the centre of world time on the Greenwich Meridian line. – Jonny from Visit London
33. Kayaking down the Regent's Canal with Moo Canoes is a really lovely and totally different way to see the city. You can stop off at pubs and cafes along the canal near Hackney Wick and Borough Market, for a drink or a bite to eat – and they'll even give you takeaway cups if you want to get back on the water in a hurry! – Flora from Flora the Explorer
34. Browse the Saturday farmers' market in Duke of York Square, then head next door to the Saatchi Gallery to see what's on. – Julie from A Lady in London
35. If you're a classical music buff then London has an amazing range of free classical music concerts on offer thanks to the Royal College of Music's lunchtime (1.05 pm) and rush-hour concerts (6 pm and 6.30 pm) across some amazing historic venues in London – Kash from Budget Traveller
36. Cross Bones Cemetery is a site in Southwark that was once unhallowed ground and therefore the place where thousands of ladies of the night, homeless people and others deemed "unholy" by the church were buried carelessly and without gravestones. Here you'll see entrance gates covered with ribbons, trinkets and personal notes. Free vigils hosted by the man that saved the site from being developed take place here once a month. – Sophie from Travel Darkly
And a bonus for traveling with kids! While not unique per se nor off the tourist travel, we know you'll visit or at least walk the grounds of Kensington Palace. So why not visit something unique while there! After – or before – your stop, there is an amazing playground right next to the Palace built in the memory of Princess Diana. It's free and offers an exciting diversion for kids – Tripduck lists this and 34 more tips for visiting London with kids.