3793 Views

"I'm going in," I informed my London friends, and pumped up my shoulders to barge my way through the salivating crowd in front of me. Before I could go Rambo style on the older woman blocking my path, my ears pricked at a seller yelling from his stall, "Scotchtails!" I stopped, confused, as my mind broke under the din from my stomach yelling "FOOD!"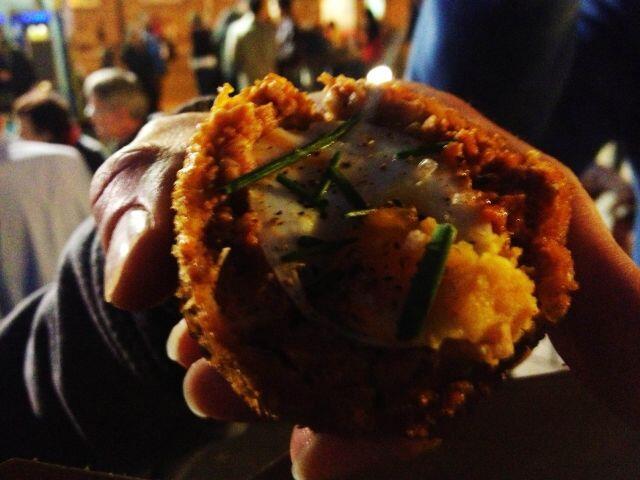 I am at the Urban Food Festival at Shoreditch, London in the middle of the evening on a Saturday. I should be out socialising and treating unsuspecting victims to my cheesy chat up lines, but no; I dragged my friends to this event instead. Flicking through the London guides on the tube earlier on, I heard about this street food night market that has sprung up in outdoor Euro Parks on the High Street in Shoreditch. What's more, there was a bar, some live music, and seating areas with live bands providing entertainment to trendy crowds, on whom again I could inflict my awful chat up lines. However, Urban Food Festival had me at food. I love food. If you had to measure my love, try thinking how Cookie Monster obsesses over biscuits. Got that? Multiply that by infinity and square that.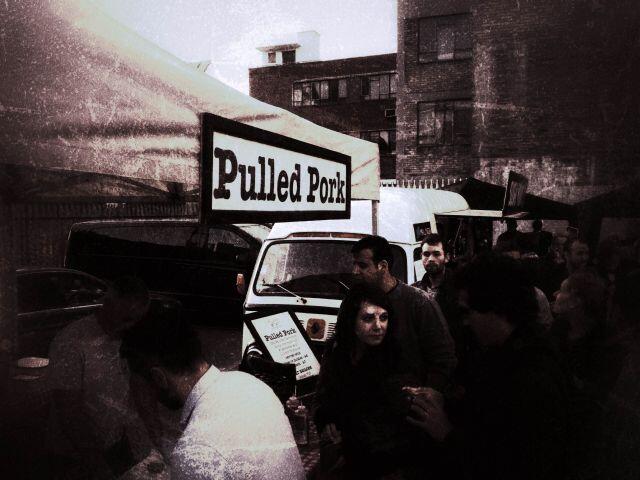 Walking in the car park in the glow of the beautiful sunset, I was happily checking out the many stands around the perimeter like an excitable dog that's lost its ball. There's so much food to choose from. I now know how Veruca Salt at Willy Wonka's Chocolate Factory felt. Should I try Peruvian skewers, battered frogs legs, pulled pork, Portuguese samosas, scotchtails or even sushi? And that's not forgetting the macaroons that glinted ever so temptingly next to me as my eyes played across London's night kitchen. No, my mother told me to have dessert last…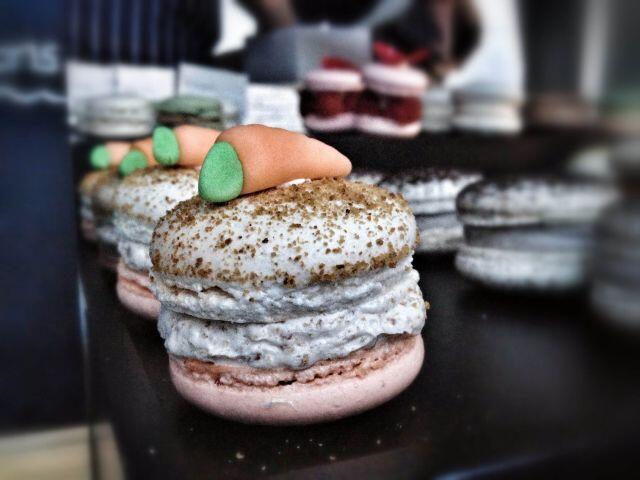 It's a truly international affair, with blends of culture reflecting truly the multicultural history of the East End. London has seen many changes since Britain's colonial days.
There was no time to decide as I spied Korean burgers – or should I try Caribbean jerk chicken? My eye was caught by the twirling moustache of an Italian who reminded me of Luigi of Nintendo's Mario Bros. He was trying to sell a group of happy American travellers some Italian pastries. Luckily for me, the Urban Food Festival is open until midnight, so I had hours to gorge until these foods were coming out of my eyeballs. That's how serious I am.
First, we needed to cleanse our palates with a nice bottle of Old English Cider (it was needed). The bar was staffed by beautiful people who had me coming back for more just to have that interaction. After downing the sweet beverage, I was ready to rumble. You could tell the Urban Food Festival was popular. The crowds overwhelmed the stands and sellers were hard-pressed as the food fairly flew off the shelves.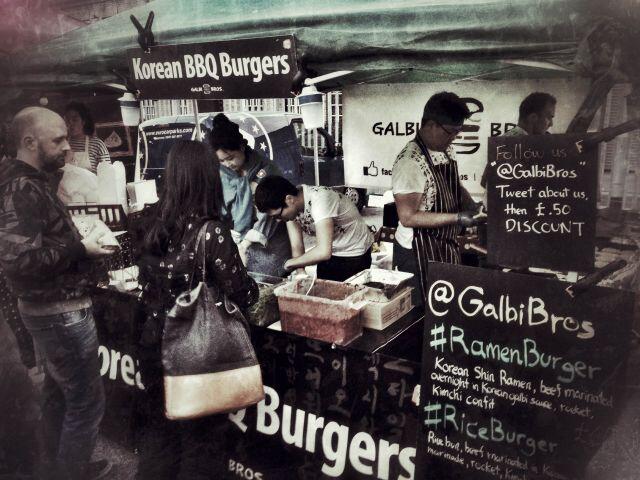 I first decided to go for the Battered Frogs Legs, but this is where I found myself in a predicament. What next? Pulling myself together, I decided I would have a scrumptious feast, all at once. It would be a London gourmet street food extravaganza!
Ordering Peruvian Ox Heart Skewers covered with papas a la huancaina sauce from Peru Sabor, a Black Pudding Scotchtail Egg from Scotchtails, Japanese Salmon and Avocado Handrolls by Maki Matcha, Battered Frogs Legs from Geaux Cajun, Korean Pork Belly Rolls at Busan, and topping it off with macaroons from The Crumbery had me in food heaven. I suspected the Urban Food Festival was a divinely orchestrated event. I was so happy!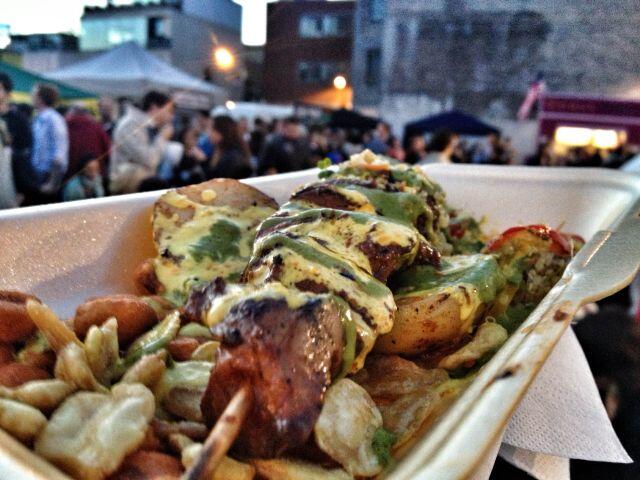 Much to the dismay of my over-burdened digestive system, I still wanted more. But you know what? It's open every Saturday until the 12th of October. You'll see me perched on the side of the table with a mountain of international food every Saturday until then. Just don't talk to me, because I'll be stuffing my face with food.
I agree with Time Out: "Tuck into the tastiest street food around. The Urban Food Fest's ever-evolving line-up ensures second and third visits are well worth the effort." Well said.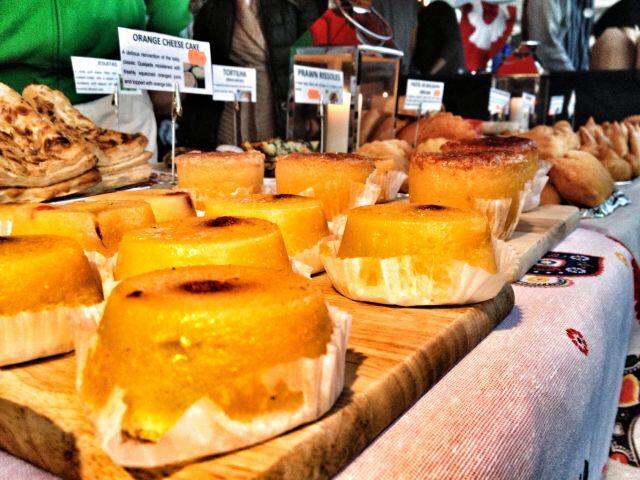 Meanwhile, maybe I can have one more dish before I go home.…Caribbean Jerk Chicken anybody?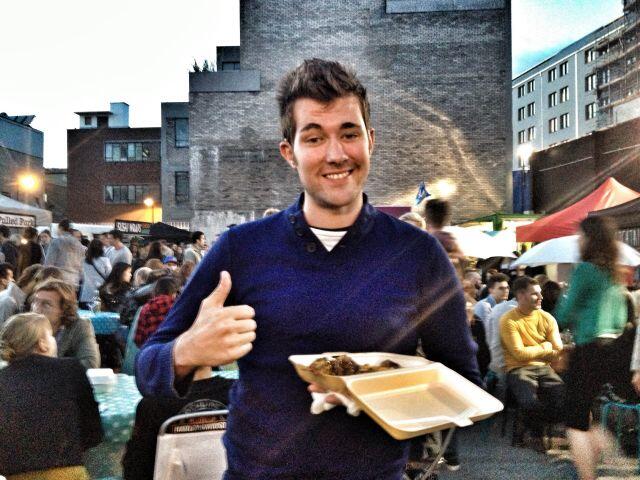 The Urban Food Festival is managed by City Lawyer Jessica Tucker, who founded this event to fill a gap in the market. It takes place in Shoreditch Euro Parks on 28 September, 5 October, and 12 October 2013.
Urban Food Festival
1630175 Shoreditch High Street, E1 6HU
www.urbanfoodfest.com
Also on Facebook and Twitter
* * *
Inspired to experience some of London's great eats? Join Eating London for a food tour of the diverse cultural and culinary offerings of the East End!