2353 Views
Amsterdam still has a way to go before it can call itself an oasis for vegetarians… But gripped by the trend towards seasonal, local, healthy fare, vegetarian-friendly food spots have started sprouting up. Join us for a vegetarian day out in Amsterdam.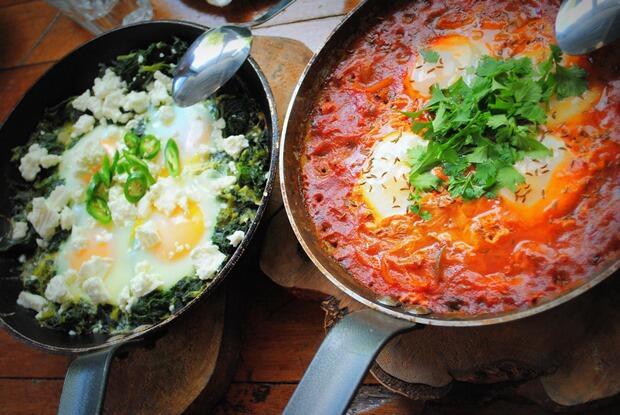 Breakfast at Paviljoen van Beuningen
Located in the West of Amsterdam, in an area just beyond the Jordaan neighborhood, this inconspicuous little café has become famed for its Shakshuka breakfast. A Middle Eastern/North African dish of eggs poached in a spiced tomato and pepper sauce (or a mixture of spinach, leeks and feta), it is the Shakshuka pan itself that forms the centerpiece of an extensive breakfast. A pile of pita breads is part of the package, and ideal to dip into the home-made hummus and labneh. Alternatively, you can stuff the little breads with the accompanying salad of meticulously finely chopped cucumbers, tomatoes, onions and herbs.You can choose between the Full Monty or individual dishes.Wash it down with one of the freshly made juices and you should be well set for a day of exploring Amsterdam.
The Shakshuka breakfast is served on weekends from 10 am until 3 pm.
Paviljoen van Beuningen
Van Beuningenplein 21
Open Tue–Fri 9 am–6 pm; Sat–Sun 10 am–6 pm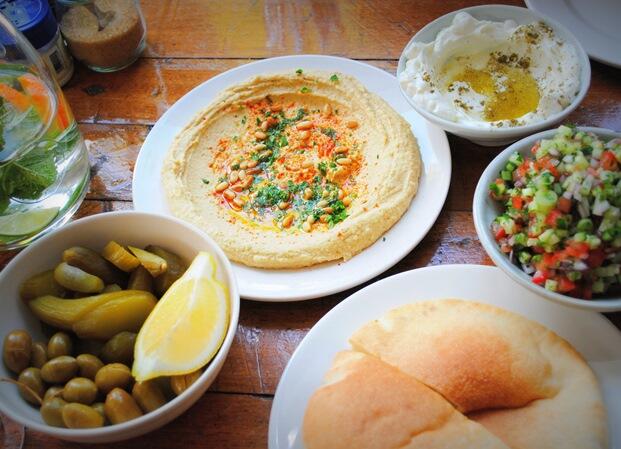 Lunch at DopHert
Following your hearty breakfast you might like to saunter through the nearby Westerpark and explore the former gas factory, Westergasfabriek, which was recently transformed into a set of cultural spaces – think art galleries, cafes, creative business, and all sorts of hipster goodness. Once you have worked up enough of an appetite for lunch, wander down to the Spaarndammerbuurt neighborhood, which lies to just north of the park. On the main street, you'll find vegan lunch spot DopHert. Proprietors Laura and Balda are used to catering to special dietary requirements such as gluten-free, nut-free and sugar-free, and all their dishes are vegan. How about pumpkin hummus with dates and hazelnuts? Or black bean soup with cumin, lime and coriander? Or if you'd rather satisfy your sweet tooth, try the cinnamon and star anise cake with orange cream.
DopHert
Spaarndammerstraat 49
Open Wed–Sat 10 am–8 pm; Sun 11 am–8 pm (from 5 pm takeaway only)
Borrel at Lavinia Good Food
After a stroll around the canals, it's borrel time. This early evening snack usually means a beer and bitterballen. But we have a healthier, vegetarian alternative for you. Head to Lavinia Good Food, located between the Prinsengracht and Keizersgracht and just a short walk away from the Rijksmuseum. Make yourself comfy on the vintage sofa and fuel up on one of Lavinia's non-alcoholic veggie cocktails. And since you're in Amsterdam, the cheeseboard is almost a must.
Lavinia Good Food
Kerkstraat 176
Open Wed–Sun 10 am–6 pm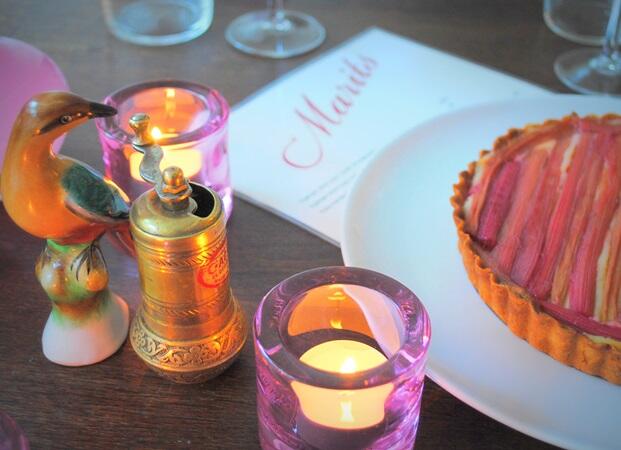 Dinner at Marit's Huiskamerrestaurant
We hope you still have room for dinner because we wouldn't want you to miss out on a visit to this unique "living room restaurant."Located in Amsterdam East, Marit's is a restaurant with a difference. Three nights a week, Marit turns her quirky living room into a vegetarian restaurant in Amsterdam. Guests can opt for a 3-course or 4-course meal with a choice of starters and desserts, plus a set main course. Made with passion and dedication, the monthly-changing menu is seasonal and prepared with ingredients from the local market. Friendly servers will delight you with dishes such as pearl couscous with cinnamon-roasted aubergine and harissa, fennel salad with mint, watercress, sundried tomatoes and mustard dressing, and lemon curd tart topped with rhubarb. Expect a warm welcome from residential poodle Tilly.
Marit's Huiskamerrestaurant
Andreas Bonnstraat 34H
Open Fri and Sat 6 pm–10 pm, reservation essential