2842 Views
Budget dining in London? Could such a thing be possible?
After all, on the cash spectrum, London is renowned for the exact opposite, and, for the most part, this reputation is spot on. Nonetheless, with a little bit of research, there are many ways to experience London on the cheap. From free admission to most of the city's museums to easy access to the beautiful parks and green spaces, there are many ways to save cash while exploring London.
Fortunately, there are also ways to save your pennies when it comes to the city's foodie scene. The obvious choice would to grab a bite to eat at one of London's many outdoor food markets, but there are many excellent restaurants offering delicious, but budget-friendly food. You just need to know where to find them!
Where to eat in London (on a budget)
Bibimbap, Soho
This little restaurant has become one of my absolute favourites in London. Named after the Korean national dish, Bibimbap is located in the heart of Soho.
Upon walking into the restaurant, the first things you'll notice are the colourful, lumo-bright seats and the walls covered in posters of K-Pop musicians and Polaroid shots. The menu has an array of Korean specialities, but the star of this establishment is the bibimbap.
Offered in different variations, including vegetarian options, bibimbap is a dish of rice and thinly sliced vegetables and meat, finished off with an egg served on top. The best part of the Bibimbap experience is that your meal will be brought to you in a piping-hot stone dish. The ingredients in the bibimbap will continue to cook as you consume your meal. It's a unique dining experience – and a great talking point for a first date!
The bibimbap costs around £7, depending on the protein you choose, with starters going for under £5. As all the portions are generous, Bibimbap Soho is great value for money.
There are two Bibimbap restaurants – one at 11 Greek Street, the other at 10 Charlotte Street. Reservations aren't taken at the Soho branch, so make sure to arrive early!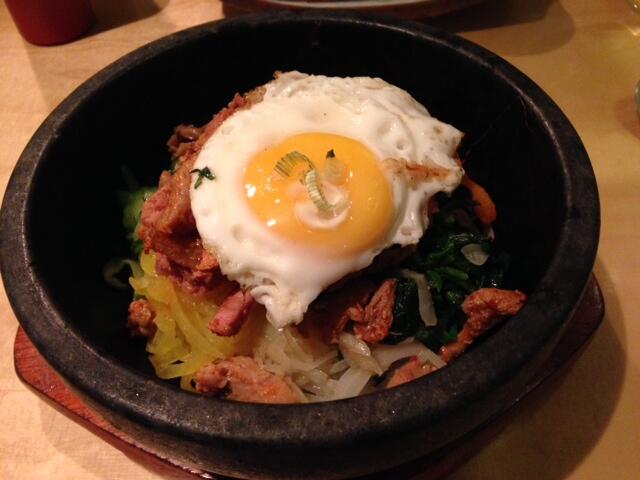 Hummus Bros, Citywide
Now, now, before you dismiss this as just another chain restaurant, trying the fare served at Hummus Bros will soon have you as converted as I am.
Levantine cuisine is the speciality here, and Hummus Bros has the best version of its namesake – hummus – that I've had anywhere in the city. The meal is simple: hummus will be the base, warm pita bread will be the accompaniment, and you can choose the rest. From slow-cooked chickpeas to vegetable salad to chunky pieces of chicken or beef, this filling but healthy meal goes for around £7.
There are other enticing dishes on offer at Hummus Bros, such as the falafel salad, barbecued aubergine and a range of traditional desserts.
Hummus Bros has branches in Soho, Holborn, Exmouth Market and St Paul's.
Mamuska, Elephant and Castle
I came across this gem of a restaurant when I was on the hunt for good Polish food in the city. With its communal tables, massive portions of authentic Polish dishes and affordable prices, I'll admit that I'm a frequent visitor to Mamuska.
Menus are printed in both Polish and English; you make your pick, order at the counter and then choose a table. Your order number will then be called out when the food is ready. It may not be particularly glamorous, but you can't beat the value-for-money factor at Mamuska. (The Polish beer and vodka are just another bonus.)
Most mains cost under £8, with popular items including potato pancakes, pork steak and, of course, pierogi (Polish dumplings). A full stomach is guaranteed.
Mamuska is located on the first floor of the Elephant and Castle shopping mall (right by the Tube station).
Pizza Pilgrims, Soho
I had heard that Pizza Pilgrims sold some of the best, and most authentic, pizzas in London and, since I'm a self-confessed pizza fiend, I had to check whether this was true.
Starting out as a food truck, Pizza Pilgrims now has permanent pizzeria on Dean Street. The setup at the restaurant is simple but cosy, with small tables located in the basement. I was excited to try the pizza, and I was not disappointed. Based on recipes from southern Italy, the pizzas here have thin, crispy bases, with tomato or 'bianca' variations, served with a wide range of tasty toppings. Since the pizzas are rather large, it's easy to share them between two people. My favourite pizza here is the Portobello mushroom and truffle pizza, which goes for £10.
You can find Pizza Pilgrims at 11 Dean Street.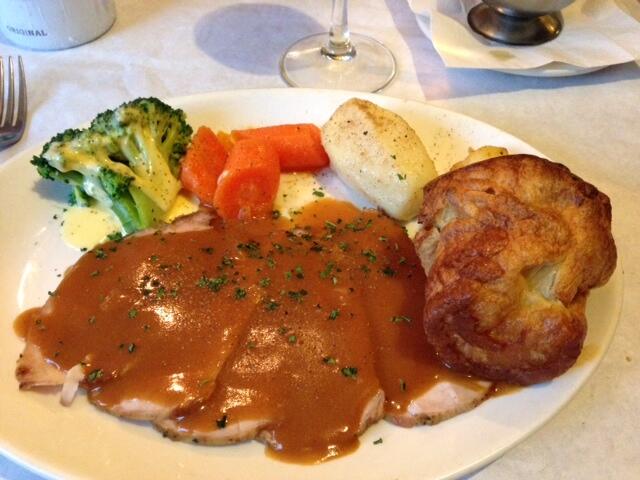 Fish in a Tie, Clapham
This one's slightly further afield, but you'll soon realise why I've decided to include it here.
As an expat in London, I was constantly told to try a British food staple: the traditional Sunday roast. While most pubs and restaurants in London offer this when Sunday rolls around, a roast can be on the pricey side. Word of mouth is a powerful thing, and when a friend told me about Fish in a Tie in Clapham, I was sold.
For a measly £5.95, you can get a chicken or beef traditional roast, served with all of the usual suspects – Yorkshire pudding, roast potatoes and assorted vegetables. The best part? Even though it's so cheap, it's absolutely delicious too and I would rate it as the best traditional roast I've had in London.
You can find Fish in a Tie at 105 Falcon Road; the roast is served all day on Sunday.
There you have it – five of my favourite budget restaurants in London. While 'cheap' usually implies something of lesser quality, this is definitely not the case for these five London dining gems.