4003 Views
Are you coming to Rome but couldn't ditch your kids with the grandparents? Don't fret! The Eternal City offers something for every family. From the parks on the Pincian Hill for the little ones, to the afternoon "discotecas" for the teens and tweens . . . kids are covered here in Roma.
One of the greatest things about travelling with children in Italy is this: When you arrive at a restaurant with children not one employee avoids eye contact. The maitre' d doesn't roll his eyes at you. And no wait staff utters under his breath, "Please don't give them to me!" Children are welcome in restaurants in Italy! In fact, they are encouraged to come and even praised if they have a buona forchetta (or good fork, slang for a healthy appetite).
So, don't be bashful! Kids need not hold you back from dining in the bel paese! Book your tables in advance and ask for a seggioloni (or high chair) if you need one. As parents, you can look forward to sitting down to long, sumptuous meals with the Romans.
Unless, of course, your children won't sit still for that long. That is your problem. And unfortunately (and fortunately for you), it is also my problem. My two boys are what Italians call vivaci, or vivacious. Which is a lovely spin on the fact that they are uber-active boys, and not the greatest dinner companions. Thus, I feel your fine-dining pain and am here to offer some sage advice.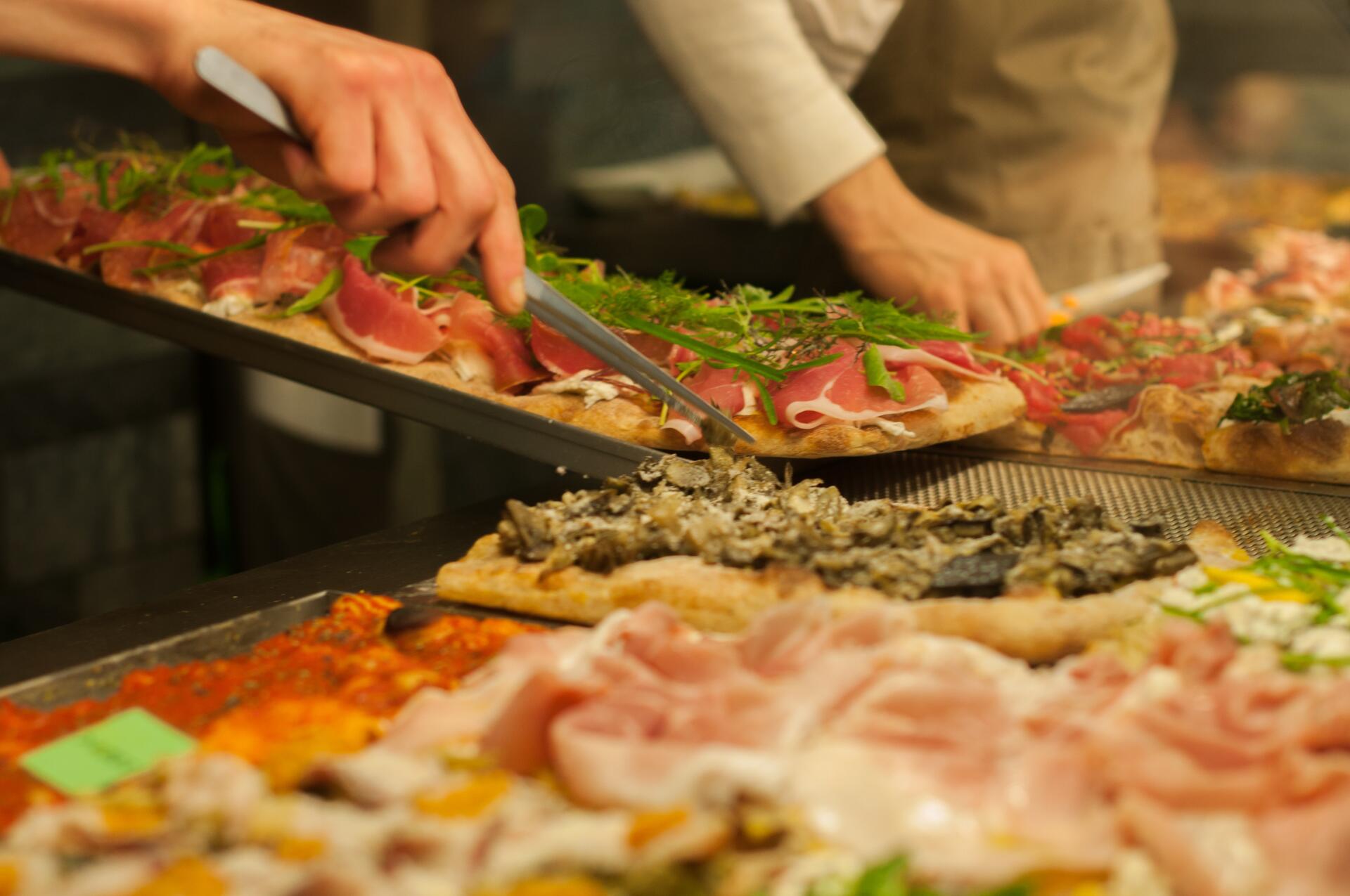 Eat Take-Away
You can eat and run in Rome. Pizza by the slice (or pizza al taglio) is always available, but to step it up a notch try Roscioli Bakery (Via dei Chiavari, 34). For my money, their pizza cannot be beat. They also have a tavola calda (an array of freshly prepared dishes for the choosing) that could put any Italian mamma's cooking to the test! And they also bake a variety of sweets. Roscioli's Bakery is one-stop shopping for the entire family's feast. Their sister restaurant, Roscioli (salumeriaroscioli.com), is just around the corner. I have dined there with other people's children, spent three times as much and enjoyed it as much as the bakery. The restaurant also has a deli from which you can take away great cheese, cured meats and wine to enjoy once the kiddies are snug in their beds.
If you feel like taking a stroll through Campo di Fiori with a paper-wrapped piece of fried fish, swing by Piazza Santa Barbara and Dar Filettaro (Largo dei Librari, 88). You can carry your goods away or sit and enjoy this bustling Roman hole in the wall. Either way, I encourage you to look at the back of the restaurant where the cooks tirelessly toil away frying fish in the tiny kitchen. It's quite an operation and full of working-class Roman charm.

Eat in the Jewish Ghetto
If you want to sit for a spell, the Jewish Ghetto has some great little haunts for traditional Roman cuisine. Part of the area is a zona pedonale, which means that no cars can pass and no children will be mowed down while you're eating. My suggestion is to tuck into a table placed in the alleyway at La Taverna del Ghetto (Via del Portico D'Ottavia, 8; latavernadelghetto.com) and to quickly order a bottle of Chianti or Frascati Superiore and some fritti.
Fritti are fried artichokes (carciofi alla guidia), fried zucchini flowers (fiori di zucca), fried salted cod (baccalà) and good old-fashioned fried potatoes (patate fritti). The kids can wander through the alley while chomping on french fries while you and your spouse get soused! All joking aside, you can sip your wine and enjoy your antipasti while keeping an eye on the little rascals. When it's time to order the pasta, I suggest carbonara a modo nostro, which is the Taverna's delectable, kosher spin on the traditional carbonara. Made "their way," it is a dairy-free dish with cured beef that is sure to please!
Don't bother asking how you can recreate this dish at home, because they won't tell you. Actually, do ask. And if they spill the beans (or as it were, the spices), please contact me, as I will gladly babysit in exchange for this information.
P.S. If you are a fan of liver do try the coratella with artichokes for a main course.