3042 Views
The final four matches of the 2014 FIFA World Cup are here and while Czech Republic's not part of this year's tournament, Prague still has a host of great places to get your game on. Oh, and since we are talking the Czech Republic, you should know we always cheer with one hand, the world's best beer in the other. Get excited folks. We've already donned our orange for our friends at EatingAmsterdam.
Just like every other European capital city, expect to find the game showing in nearly every pub. However, we've got local recommendations to share with you – complete with neighborhood tips of to-dos before and after the games!
La Loca in the Mosaic House
Music bar and swanky hostel housed in a cool historic building, La Loca's got the games on one of their various screens (if you're lucky, on the big screen). With awesome tapas and burgers, huge shareable cocktails and a host of seating options, it's an ideal spot for groups. Bonus points for the international vibes and fully non-smoking environment.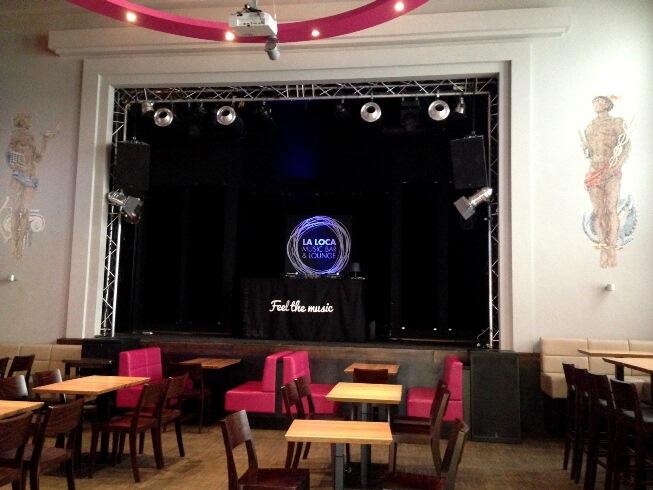 La Loca
Odborů 4
Prague 2
[email protected]
+420 221 595 364
Open daily: 11:30am-2am
Fully non-smoking
Location:  Tucked along a short street (Odborů) near Myslíkova street, around the corner from Karlovo náměstí. If you've reached the large mushrooms, you'll know you're there.
Bars in the hood:
Red Room
Myslíkova 28
Milá tchýně (Dear-Mother-in-Law)
Minská 11
Nebe Club
Křemencova 10
U Sudu
Vodičkova 10
Feeling beer-gardenish? From La Loca, head towards the Vltava River and then in the direction of Charles Bridge. Somewhere halfway between, find the garden down on your left. Live music (usually), beers (obviously) and grilled grub (yum).
WineFoodMarket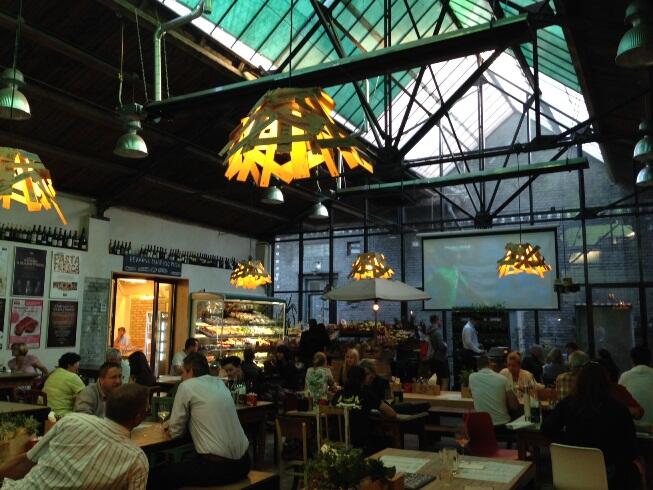 Probably the most unique (and dare we say classiest) place to catch the game. For those who like a well-prepared Italian meal, Aperol spritz and mature atmosphere with their football, this is your place. With a bar and several counters serving top notch homemade pasta, meats, seafood, salads, dessert and gelato, revel in multiple courses throughout the game. Caution for those who like a rowdy game: it's more restaurant than sports bar here. Tip: stock up on cheeses, olives and fresh Italian produce from the adjoining shops before heading home. Reservations recommended.
WineFoodMarket
Strakonická 1
Praha 5 Smíchov
+420 733 338 650
[email protected]
Monday-Saturday: 7am-9pm
Sunday: 9am-9pm
Fully non-smoking
Location: A little out of the center near the Smichov train station. Walk 10 minutes or take the tram to Plzenka from Anděl.
To-dos in the hood: 
Not the greatest area for bars – we'd recommend heading out of the 'hood…read on for our two tips.
You'll be within a stroll of two fantastic destinations: Na plavka (think outdoor boat bars and live music) and Vyšehrad (historical fort, beer gardens and absolutely killer views of Prague). To reach either, start by following Strakonická Street towards the Vltava River and head right after the road forks. Take the railroad bridge over the river and after crossing, swing a left to Na plavka or a right towards and up to Vyšehrad.
Riegrovy Sady's Beer Garden              


Ahhh, the Czech summer beer garden…nothing quite beats it. Coupled with sports (particularly the World Cup) it's a pretty glorious experience, especially for those who don't mind elbowing up to 1,300 fellow compadres. Be prepared to wait in line for your Czech beers and grilled grub (like klobasa-sausages and nakladny hermelin-pickled cheese). But it's all well worth it in our opinion because they serve beer in glasses (versus plastic) and it's easy on the pocketbook. Beloved by Czech locals, expats and tourists alike, Riegrovy fills up quickly so come early to stake out a spot.
Riegrovy sady
Praha 2
Daily 12pm-2am
April to October
Location: Tucked in the Vinohrady neighborhood, the park is about a 15-20 minute walk from Wenceslas Square. Any tram to Náměstí Míru or Jiřího z Poděbrad will also suit, as both are a pleasant stroll away. 
To-dos in the hood:  
Hang with the locals in the park, scoping out the view of the Prague Castle and grabbing beers at the Park Café, a more intimate version of the larger garden.
Hit up the Tavern for a really good burger, super friendly service and outdoor seating (if you're lucky).
Hit up Dish for a burger from the bistro named among the best 5 burger places in Europe. Order the fries with the smoked chili mayo and save room for dessert: their homemade ice cream by Tři kopečky is to die for.
Other places to watch the game:
Rocky O'Reily's
Štěpánská  32
Praha 1
+420 222 231 060 
[email protected]
Open daily: 10am 'till late
Non-smoking section                 
Restaurace Jáma
V Jámě 7
Praha 1
+420 222 967 081
Open daily: 11am–1am
Non-smoking section                 
JJMurphy's Irish Pub
Trziste 4
Prague 1
+420 257 535 575
[email protected]
Sunday-Wednesday: 10am-midnight
Thursday-Saturday: 10am-1am
Non-smoking section                 
Vodka Bar Propaganda Prague
Michálska 12
Prague 1
[email protected]
Sunday-Thursday: 6pm–3am
Friday-Saturday: 6pm–???
Non-smoking section