10171 Views
Venice is a magnet for tourists, so naturally there will be Venetians who will try to take advantage of the hapless traveller. Here are a few of our insider hacks to have an authentic experience without breaking the bank.
1. Walk instead of taking the vaporetto.
Venice is relatively small, which means you can walk from one end to the other in less than an hour. You also get to see the sights and mingle with locals. It's fun to just take off in a random direction and explore. Venetians do it all the time! The only case where we'd definitely recommend a vaporetto (water bus) ride is if you want to visit the surrounding islands: Murano, Burano, Chioggia or even the Lido!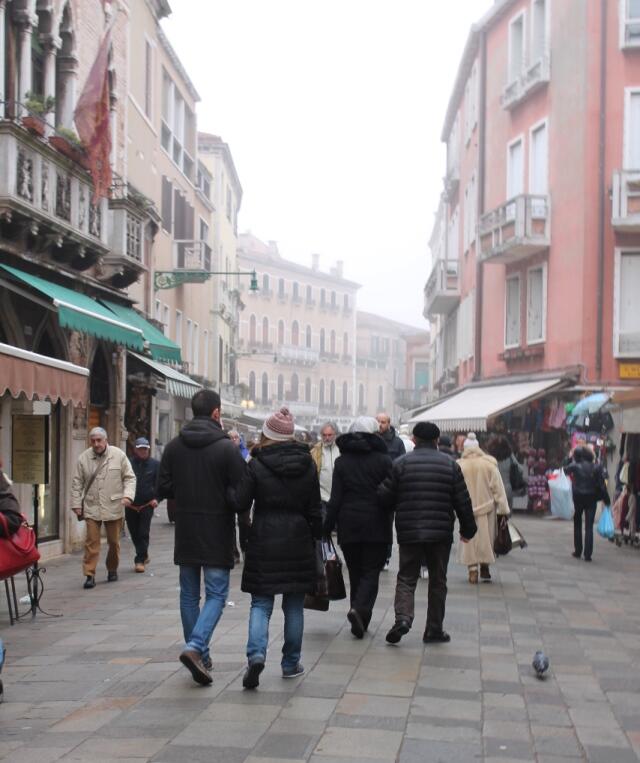 Let's be clear: a vaporetto is still a much better deal compared to water taxis – but don't forget to scan your ticket before you get on. It currently costs €8 for a 75-minute ticket, which could be better spent on a glass of wine and some bar snacks.
2. Speaking of bar snacks, try some cicchetti (chee-KE-tee) – the Venetian version of tapas.
You will find them on display in all the bars, so just point to what you want. A hard-boiled egg with an anchovy, marinated fish, a meatball… The choices are endless. These bites usually cost a couple of euros, and a little glass of house wine might be another €1 or €2. Locals eat standing up at the bar, and we think you should too!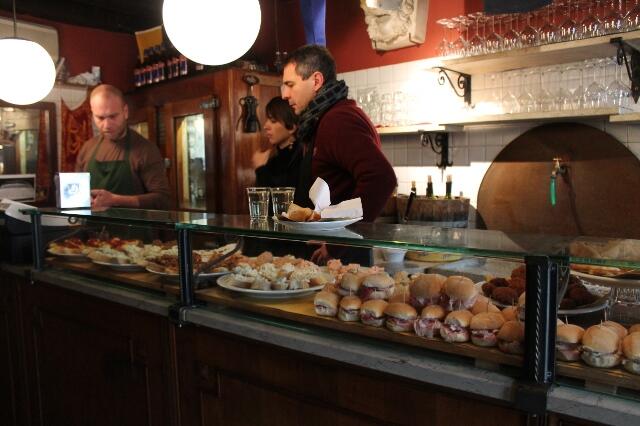 3. Beware of the free tours to Murano.
You will find many people trying to offer you a free boat ride to Murano Island and a tour to a glass factory. These trips are quite a hard-sell and you may or may not have the return trip included in your tour. Better to go by public transportation and choose the glass shop you want to visit with no pressure. The island is quite beautiful, and it's fairly easy to find an artisan shop where they are making the glass in front of you… And it's free to watch.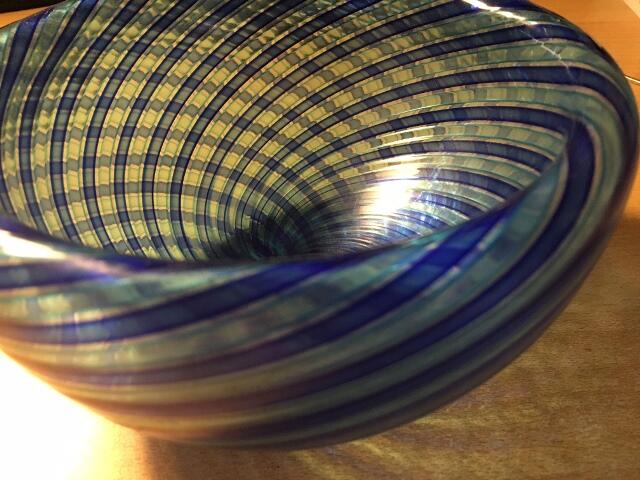 4. Taking a gondola ride is actually not a rip-off in our opinion.
It is a touristy thing to do, and it will cost a minimum of €80 for a half-hour trip, but this fare can be divided among 6 people. If you are not in a group, you can easily form one wherever you see gondolieri plying their trade. We suggest booking on the spot instead of reserving ahead, so you can pick the gondoliere that appeals to you. Besides, it usually is more expensive to reserve in advance. For more information, check out our Gondola Guide to Venice!
5. For a quick bite, instead of a slice of pizza, go to Rosticceria San Bartolomeo.
Also known as Rosticceria Gislon, this place is famous with Venetians, and you'll see why. You can have a delicious, filling mozzarella in carrozza (mozzarella sandwiched between two slices of bread with an anchovy or some ham, then deep fried) or baccalà fritto, which is battered and fried cod. They are constantly making it fresh all day long because they are always running out. Yes, it's THAT good. Here's a picture of where it is, on the San Marco side of the Rialto Bridge. It's a bit hard to find but well worth it. And we'll throw in a close-up of the fried cod, just because.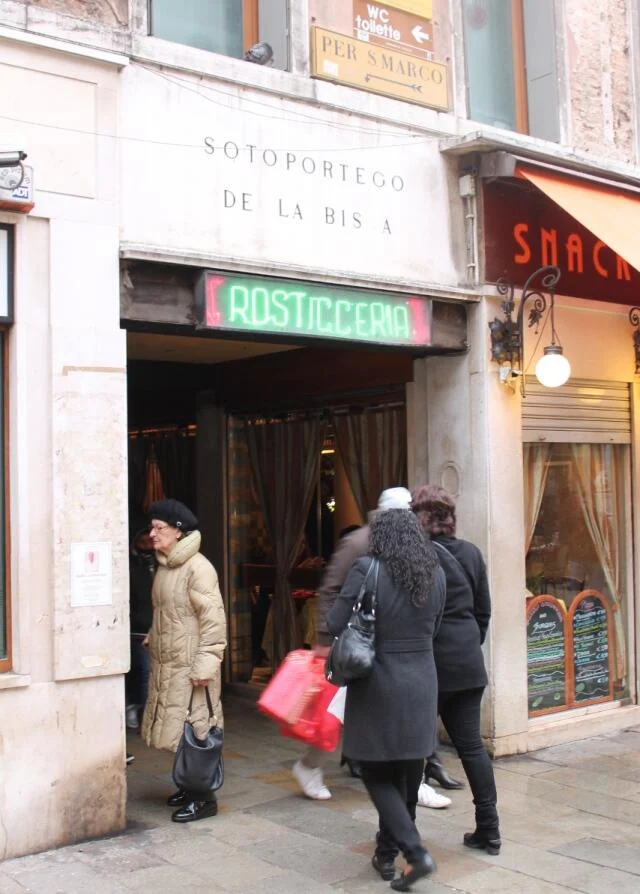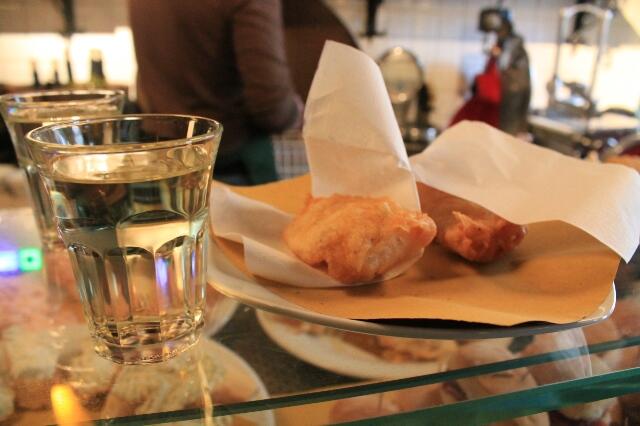 6. If you want a quick pasta, try the Bigoi shop in Calle Lunga San Pantalon.
Located near Campo Santa Margherita, the Bigoi shop freshly makes its own bigoli pasta, which is like thick spaghetti with your choice of sauces in a cup to go. Bigoli are a typical Venetian pasta shape and we know you'll love it as much as we do! Each portion is €5… what a steal!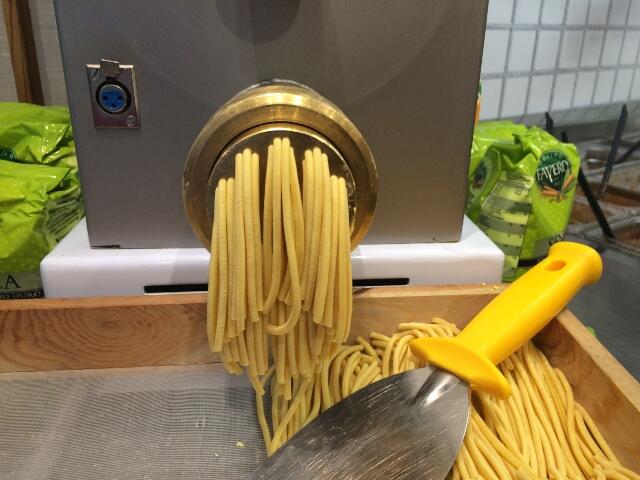 7. Beware of the advice from your concierge or hotel desk clerk.
Sometimes you can get genuinely good suggestions but often there are paybacks involved if they recommend certain places. You are better off looking at review sites, such as Yelp and TripAdvisor, and our local Venice restaurant recommendations.
8. Don't worry about booking a hotel near St. Mark's Square.
Venice is small and everything is pretty close. But if you want to stay right in Venice, be sure you are booking accommodation there, not in Mestre or other areas near Venice. Many of the places near Venice make you think they are right in Venice itself. Check the location on Google Maps to be sure. If the hotel is really cheap, it's probably not in the island of Venice. If you really want to save money, you can stay outside of Venice proper. But remember, there are trains from Venice only until 11 pm, so check Trenitalia.com for timetables if you're staying off the island.
However, make sure you choose wisely: the real beauty of Venice is in the evening, when the whole city is illuminated as if by magic. Check out our guide to the best hotels to stay in Venice.
9. Wander into the artisan shops.
Many craftsmen and women are working in the window and are happy to let you watch them. If you buy a souvenir from their shops, you support the local artists whose numbers are dwindling because of cheap mass-produced trinkets made elsewhere and sold on the streets. You will feel better about helping the local economy and you will have a great story because you met the person who made your gift!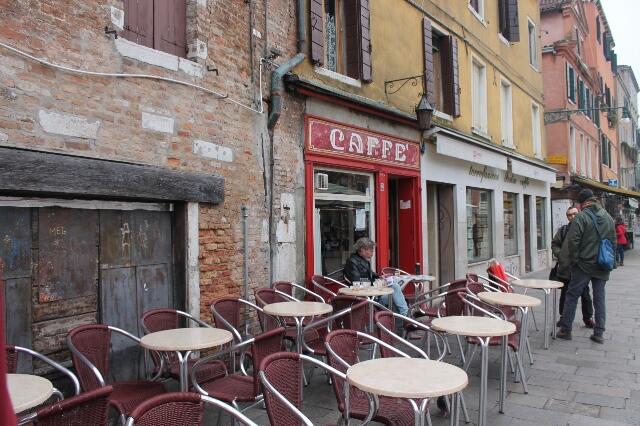 10. Remember, you're in Italy: enjoy the food!
The reason why we think that pizza slices from one of the many shops around town are a rip-off is because you will not have a taste of the real flavor of Venice. The city gets a bad rap for food because of all the tourist traps. But trust us, locals do not eat at the first place they find. Take a walk off the beaten path, meet a knowledgeable local, and take a food tour with us! You'll have fun going from bacaro to osteria (note: these are two names for "bar" in Venetian), we promise. Do it! You'll thank us later.