11730 Views
In a country where meat is on nearly every menu, it probably comes as no surprise that the French love charcuterie. Found in nearly every Paris bistro, une assiette de charcuterie (a charcuterie plate) is one one of the best ways to introduce yourself to this delicious French food, especially when accompanied with a glass of wine, bien sûr. But for the French, charcuterie means more than some slices of sausage.
In Paris charcuterie can range from pâté to pig's cheek, depending on how adventurous you're feeling! Whether you're looking to pick something up as a tasty souvenir or to tuck into during your trip, read on for our favourite five spots to try some of the best charcuterie in Paris.

Arnaud Nicolas
If you're looking for a restaurant to try this French speciality, then head to Arnaud Nicolas. Arnaud is a Meilleur Ouvrier de France (MOF for short) in charcuterie, which in English translates to Best Craftsmen (or women) of France. It's a prestigious competition which is held every three or four years with the title awarded to the best in his or her field. 
Here Arnaud has used his exceptional skill to serve what he calls "Gastronomic Charcuterie," such as foie gras and his signature pâté en croûte (pâté in a crust). Surprisingly, he also makes sure that there is always a delicious vegetarian dish on the menu, as well as some fish dishes. The deli at the front of the restaurant also serves charcuterie to take away, and it's so good that Alain Ducasse himself is a fan. 
Maison Verot
Originally founded in Saint-Étienne back in 1930, award-winning charcuterie Maison Verot draws upon generations of charcuterie craftsmanship to offer some of the best cured meats and pâtés in Paris. 
Gilles Verot makes his artisan products using family recipes – his father Pierre Verot was another Meilleur Ouvrier de France in charcuterie – and handpicks farmers himself to ensure only the highest quality meats are used.
There are a range of products to try, including simple ham off the bone, boudin noir (blood sausage), and pâté grand-mère (Grandmother's pate), which can be picked up from boutiques in the 3th, 6th and 15th arrondissements. The brand is also stocked at high-end department store Galeries Lafayette.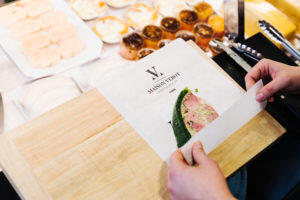 À la Ville de Rodez 
Located in the heart of the hip Le Marais district, À la Ville de Rodez has managed to retain its rustic charm in an area which is increasing flooded by high street stores and chains. 
Founded all the way back in 1920, the shop specialises in charcuterie from the Auvergne region of France, and offers a particularly good selection of saucisson (cured sausage) which you can smell as soon as you walk in the door! With its great selection of quality cheese and wine from regions all around France, it also has all the essentials for a picnic by the Seine, which is less than a 10-minute walk away. If you're interested in learning more about the different regions of France, then join our Hip Eats & Backstreets Tour to find out more about charcuterie from the Savoie region.
Caractère de Cochon
Translated as Pig's Character in English, Caractère de Cochon is famed for its jambon beurre (ham and butter) sandwiches which make a quick, cheap, and tasty lunch.
Owner Solo also serves ham to go and not just inside a baguette, from the simple and high quality boiled Prince de Paris ham, the only one still made in the city, to hams infused with flavours such as bergamot, rosemary, and truffle. Charcuterie ranges from terrines to pig's cheek and andouille (a sausage made from tripe which has a distinctly strong smell and taste!) so it's definitely an opportunity to try something different!
Traiteur Joly
Pascal Joly is another Meilleur Ouvrier de France with two boutiques located in the well-heeled 15th and 16th arrondissements. 
His artisan charcuterie is 100 percent natural, without nitrates or sulfites, allergens (such as eggs or milk), additives, or preservatives. His meat comes from farmers within Île-de-France, the region where Paris is located, and vegetables are sourced from local markets. He also uses traditional methods to preserve the French savoir-faire of making charcuterie.
If charcuterie isn't your thing and you're looking for more veggie friendly options, then check out our recommendations for the best vegetarian and vegan spots in Paris.