6191 Views
Thanks to a new wave of hip vegan and vegetarian restaurants popping up in Paris, it's now easier than ever to enjoy veggie-friendly dining in the French capital. Whether you're vegan or just want some healthier options, here are some of our favourite spots to enjoy vegetarian and vegan food in Paris.
Hank
Launched back in 2014, Hank Burger was one of the first restaurants to help kick off the Vegan Paris scene. It's been so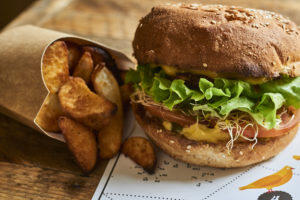 successful that the team has now branched out with a second burger joint as well as Hank Pizza to satisfy all your comfort food cravings. Describing themselves as a "fast good restaurant" rather than fast food, the idea at Hank is simple; just queue up, pick a menu, and then create your meal, starting with your sauce for your burger or how many slices you want for your pizza.
Hank has thought of everything else, from the vegan pizza base and burger buns to the vegan mayonnaise. There are also vegan desserts for those with a sweet tooth, and the option to swop Hank's own tofu-based burger patty for the vegan meat "Beyond Meat" for a couple of extra euros. The place is very casual but its shabby chic décor and friendly crowd makes it a great spot for a quick and affordable bite to eat and a beer.
Hank Burger
55 rue des Archives, 75003 Paris
8 rue de Rochechouart, 75009 Paris
Hank Pizza
8 rue des Gravilliers, 75003 Paris
Kapunka Vegan
In addition to its four veggie-friendly Thai restaurants, the Kapunka group also goes fully animal-free at Kapunka Vegan. With a slightly more expensive menu and just six tables this intimate little vegan restaurant is more for a date night or a special occasion, but worth splashing out on. Kapunka's small and talented team serve up flavourful Thai dishes with a focus on fresh, healthy vegetables, herbs, and a little kick of spice.
Expect Thai-style desserts – think mango, sticky rice and coconut milk – but there is also a very good vegan moelleux au chocolat for those who like to finish with something sweeter. The wine list is small but all organic and, even better, all vegan.
4 rue de Damiette, 75002 Paris
kapunkagroup.com
Cafe Pinson
Possibly the cutest vegan-friendly place in Paris, the original Café Pinson can be found tucked away on a quiet street in the fashionable Le Marais area, with a newer outpost located in the equally oh-so-cool 10th arrondissement (you can learn more about this area of Paris on our Hips Eats Backstreets tour).
Everything is home-made, right down to the bread, with a focus on seasonal ingredients, superfoods and raw foods such as spirulina and raw cacao. But there is also an indulgent side to Café Pinson, with comfort dishes such as risotto and vegan chocolate fondant also making an appearance on the menu. In addition to offering breakfast, lunch or a goûter – the French tradition of an afternoon slice of cake with tea or coffee – Café Pinson Marais is also open during the evening for a relaxed and healthy dinner, and on Sundays for a vegan-friendly brunch.
6 rue du Forez, 75003 Paris
58 rue du Faubourg Poissonniere, 75010 Paris
Sol Semilla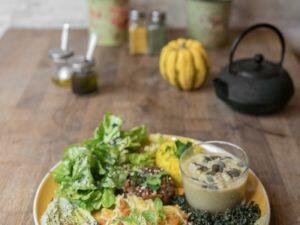 Located in the bobo area of Canal Saint-Martin (the term used to describe a group of fashionable young Parisians who, fittingly, also have a thing for organic food), Sol Semilla might be one of the healthiest places you can eat in Paris. As specialists in superfoods, everything here is organic, vegan, gluten-free and absolutely delicious.
It's so good at what it does that Sol Semilla even has its own brand of products, which you can buy to take home or find in organic shops around Paris. The specialty is the assiette du jour (plate of the day), which includes mini-portions of cereals, salad, lentils, beans, crudites, and seasonal veggies with a liberal helping of herbs and spices for a real pop of flavour. There is also a raw version for those who want to be extra virtuous, as well as plenty of supercharged juices and a selection of natural and organic wines.
23 rue des Vinaigriers, 75010 Paris
Janine Loves Sunday
A popular weekend brunch spot, Janine Loves Sunday is in the style of a traditional French brasserie, but without any of the meat-heavy traditional French dishes. In fact, it makes the bold claim of being the world's first vegan Parisian brasserie. The varied menu offers a little bit of everything – from pizzas to pad thai – that along with their generous portions makes it also popular with everyone – not just vegans!
It might be a go-to for a late breakfast but it's also open during the week for lunch and dinner, and gets extra points for having a large outdoor terrace on a car-free street.
49 Rue Montmartre, 75002 Paris
www.facebook.com/janinelovessunday
It's far from impossible to be vegetarian – or even vegan – in Paris! You just need to know where to go so you can still enjoy the fantastic food scene the city has to offer. If you're heading to Paris and currently planning your eating itinerary, then make sure you don't miss our recommendations on the 8 best bakeries in Paris.