4484 Views
What a day! On one of our Rome Food Tours, two couples, each one celebrating a birthday with us. Not only that one of them was a surprise birthday.
Tanya showed up at the meeting point in Testaccio having no idea what she was doing there. See her amazing remarkable and tasteful husband, Mikkel, had decided that a Rome food tour was the perfect present. Let me stop here by saying how incredibly honored I was to be entrusted to play a major part in his wife's 30th birthday surprise because I know what it's like. See every year for my own wife's birthday I call upon every creative cell I have in my body to try and come up with a surprise that will top the previous year. Usually these grand plans involve a lot of faith being placed in people I don't know such as restaurants owners, tour guides, a man dressed in a pink elephant costume (that's her favorite animal and color)j. So I was both touched and poised to make this the best birthday surprise Tanya has received.
Meanwhile our other couple Alix and JD had come all the way from Sydney, Australia to celebrate Alix's birthday. So the pressure was on to make this the Rome tour of tours- one worthy of two birthday celebrations. The pressure increased even more when I learned that Alix was the editor of Feast Magazine, a culinary magazine that not only showcases fabulous recipes but also features wonderful stories about the lives and foods of many different ethnicities that call Sydney home. I am hoping to get my hands of a copy because what they are doing is truly unique. Well back to the tour and the mountain of pressure I was facing.
We spent the next 3.5 hours eating and laughing our way through Testaccio. Another surprise was how wacky and hilarious JD was. The entire day he entertained us with his antics and along with everything else we ate them up too.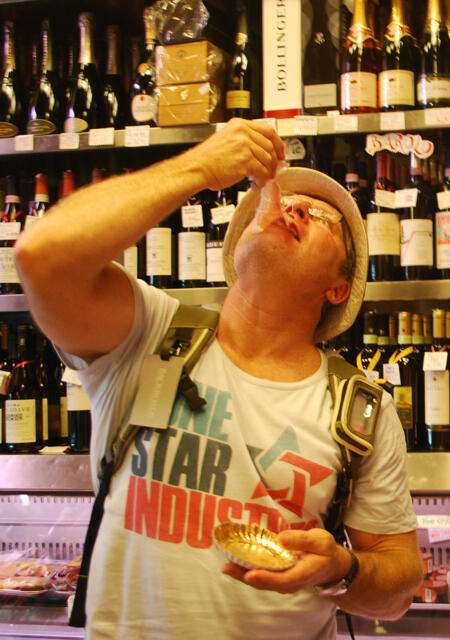 The highlight of the day probably came at Da Bucatino, one of the best restaurants in Rome. Paulo, the owner, brought out the birthday cake or their own version of torta alla nonna so that Tanya and Alix could blow out the candles at the same time. While it made for a very special moment I am a little worried about the old "birthday wish mix-up". Some scientists say that if two people make a birthday wish at the exact same moment in the exact same place while blowing out the exact same candle then the two wished may get switched. I once heard that one man wound up with another man's new puppy instead of the hunting rifle he had wished for. Anyways lets hope both Tanya and Alix get whatever thing they wished for.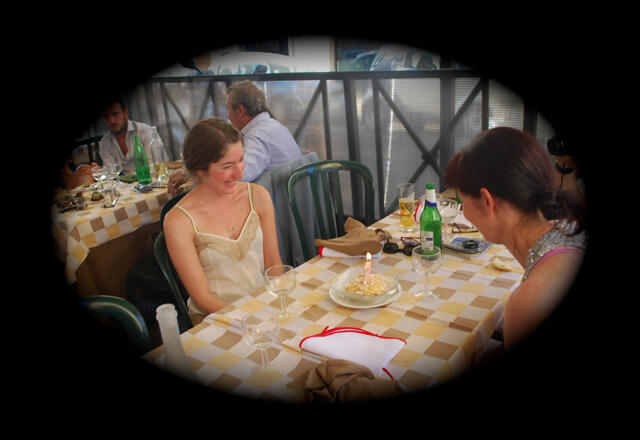 As for me I got one of the most fun days I have had and a chance to share in two very special peoples big day.
So now we might have to promote our Real Taste of Rome Tour as one of the best things to do in Rome if you are celebrating a birthday or two.