2651 Views
Although a trip down south may be tempting in the colder months, a vacation north can be pleasantly surprising despite it's colder temperatures. Year round, Venice mesmerizes its visitors with its unusual means of transportation and entirely picturesque city. Despite the season, Venezia always has plenty to offer those vacationing there and is more than worth a visit, it's a must-see! Although the warmer temperatures may leave, the romance never dies.
How to get to Venice
The easiest means of transportation to reach Venice is by train. The Treni Italia website is easy to navigate and the tickets there can be purchased from about €20 up to €100. The price all depends on how fast you want to get there, the season, and how last minute your trip may be. In Rome, all the trains leaving for Venice do so from Termini station, located in the centre of Rome. Termini may be reached by bus, metro, taxi, etc.
For those interested in flying, it is possible to fly! However, Venice's airport is located on the mainland and not on the island of Venice. Trains, ferries and private water taxi services are then available to take travelers from there to Venice.
Once you have settled in Venice, you will come to the quick realisation that there are no cars.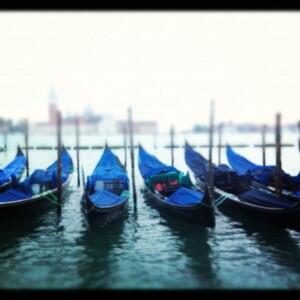 Transportation in Venice
Transportation in Venice is done strictly by foot or boat. The ferry busses cost about €20 for a day pass. Water taxi's are also an option, but can be quite costly. The famous gondola rides are a popular alternative and vary in cost. Some can be talked down a bit in the fare if you try, but don't count on it! If you are on a budget, walking is your best bet. The city of Venice is small and can be easily covered on foot. This is a great way to see more of the city!
What to see in Venice
Piazza San Marco
This is probably the most famous area of the city. All of the life stems from this point as it is the largest square in Venice. Many high-end shops and restaurants fill this area, along with the beautiful San Marco's basilica. The basilica is truly breath taking. Its entirety is decorated with gold, along with mosaics bursting with color. Even if religion doesn't spark your interest, it is a true work of art. A climb up the bell tower in St Marks Square will afford you the most breathtaking views of Venice and surrounding islands.
Rialto Bridge
The Rialto Bridge is one of four large bridges that connect the two main sections of Venice, across the Grand Canal. This bridge was built in the 16th century and was designed with two aisles of shops, which still exist today. If you are looking to get luxurious, the shops on the Rialto Bridge, as well as in the surrounding area, are quite upscale. If you would like to stay more "wallet friendly" there are also some of those shops in this area as well! Aside from shopping, this bridge is a great lookout point over the Grand Canal.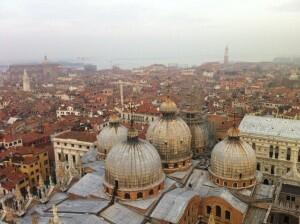 Our Suggestions:
Poke around! Venice is a wonderful place to explore. There are endless amounts of shops, and they all offer something very unique! Whether you are looking to do some serious spending, or just souvenirs, it is worth it to just pop in and take a look around.
Wake up early! Venice doesn't wait for you! All of the locals are out and about very early. Markets will open as early as 6 a.m. If you love fish, head to the fish quarter in the morning to see a wide array of exotic fish. See the locals in their own environment. It's all a part of the experience!
Get lost! The most rewarding time I had in Venice, was the time I spent lost. There is just no better way to see all of Venice than to get lost in it. Seeing all of the beautiful winding streets and canals is only achieved through putting the map down and just exploring. If you want to see the real Venice, get comfortable, trust that you may or may not find your way again, and get lost.
Eat! Venice is famous for cicchetti – bite size food kind of like tapas style snacks ranging from fried mozzarella balls to calamari to roasted vegetable dishes.  Traditionally you would stop for cicchetti and a glass of wine before dinner like you do for aperitivo in Rome or Milan.