5018 Views
FOOD, WINE, UNFORGETTABLE CHARM – THE AMALFI COAST
Our guest post this month is by Carol Ketelson – the owner of Delectable Destinations, a full-service culinary travel company that specializes in food travel tours and Italian cooking vacations. She has itineraries ready for 2013 for culinary trips to the Amalfi Coast, Tuscany, and other delightful destinations.
We love the Amalfi Coast and know you'll enjoy reading about her Carol's recent Amalfi Coast food vacation there.
Great ingredients, passion and love—the perfect recipe for delicious food.
Growing up in a home with an amazing cook for a mother, I could always count on enjoying a delicious homemade meal and for as long as I can remember, delicious food has been a true love of mine.
Cooking, however, wasn't an activity I understood or appreciated until many years later. In fact, it wasn't until my first Italian culinary vacation that I came to the realisation that preparing a meal was an enjoyable and beautiful experience. After all, aside from the ingredients, every recipe has a story behind it.
From the canals of Venice, to the rolling hills of Tuscany, all the way south to the colourful, picturesque mountains and sea of the Amalfi Coast, Italy is renowned for great food and great wine. And when you experience the stories behind each dish, the love and delight that goes into the preparation of a meal, you'll forever understand the meaning of la dolce vita. This love of life and great food is what brings me back to Italy year after year.
This past month, I made my way back to one of my favourite places, Ravello and the Amalfi Coast, with a wonderful group for a culinary adventure.  During this trip, we cooked, visited beautiful vineyards and took pleasure in dining at some of my favourite trattorias. We also ventured to some new places I had yet to experience. During these excursions, we soaked up everything that southern Italian cuisine has to offer. It is a pleasure to share with you some of the most memorable experiences.
Mamma Agata Cooking School
For more than a decade, Mamma Agata, her daughter, Chiara, and their loving family, have been running their famous cooking school right in their family kitchen in the heart of Ravello. In the family for over 250 years, it's the home in which they live, the land and terraces on which they grow their food and a place that hold many wonders and stories.
Today, their Amalfi Coast cooking school is booked solid with visits made annually by people from around the world. I have been fortunate to have the pleasure of introducing many guests to the Agata family home and a wonderful day preparing, cooking, and eating some of the best & freshest dishes you can imagine. From the moment Chiara opens her front door with a welcoming hug, the time spent with the Agata family is priceless and unforgettable.
Our cooking class started with a slice of Mamma Agata's famous lemon cake made with lemons grown just beyond her terrace. With undeniable true love, Mamma Agata bakes her cakes effortlessly each day, creating a most delicious treat with a flavour that I can only describe as intoxicating.
Mamma's Eggplant Parmigiana, or as they say in Italian, Parmigiana di Melanzane, is one of the best I have ever tasted. Using fresh herbs and vegetables from her garden and fresh mozzarella cheese made at 4:00am that same morning and delivered right to her door, Mamma Agata showed us how to prepare this traditional dish. At the end of the cooking class, we spent hours enjoying the many dishes we prepared and everyone without exception devoured their helping of the Parmigiana! It was definitely a crowd pleaser and fan favorite every single time.
A day at Mamma Agata's is not just about the food but the total experience that stays with you long after you leave.
Vineyards in Tremonti
Another must on the Amalfi Coast is a visit to a private vineyard in Tremonti. Truly off the beaten path and surrounded by the beautiful Lattari Mountains, this was another highlight and outstanding experience.
The terrain is rich in beauty, with lush green valleys and with little villages dotting the spectacular scenery. Walking through the vineyards, surrounded by vines as old as 500 years, we experienced a wine tastings intertwined with a historical adventure. During the tasting, wine was gently poured by the owner, who lovingly recounts visitors with stories that includes the history of the vineyard, and explanations of the origins of each wine. While we enjoyed this, his wife cooked a wonderful lunch for us in the kitchen. The warmth of the family, the great food and sipping delicious wines in this picturesque setting is one of the main reasons I look forward to returning year after year.
Sorrento – Olive Oils, Mozzarella & a typical Italian lunch
Dean Martin loved Sorrento and so will you. Not to be missed, Sorrento is a beautiful seaside town in the Gulf of Naples, right near the Amalfi Coast. Whether you choose to visit the city or the countryside, this beautiful destination has enough to offer just about anyone interested in a culinary excursion. During our recent visit, our group travelled to local olive groves where we visited an olive oil production mill set amidst lemon and orange trees, perched high on a panoramic hilltop. This producer is one of the most respected in the area and a place that creates some of the best olive oils in the country. The best part is sitting together after our tour and tasting these wonderful aromatic oils. My favourites? The lemon olive oil and white truffle olive oil of course!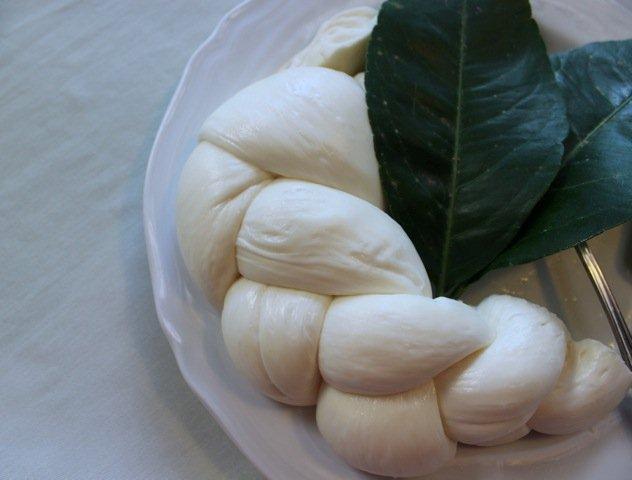 Our next stop of the day was the Frattoria Terranova, a farmhouse holiday spot in the Amalfi Coast's Sorrento situated near the Le Tore nature reserve. It is here where fresh mozzarella is made daily and while visiting this exceptional farmhouse, not a minute was wasted. The highlight of this visit of course, was the mozzarella making experience. During this culinary experience, we were each given a hat and apron and took a turn learning how to braid fresh mozzarella. The mozzarella is out of this world! This traditional way of preparing cheese is amazing to watch and everyone got a chance to play and make mozzarella braids! We met Maria, a delightful young woman, who learnt the trade of mozzarella making from her mom, grandmother and great grandmother… a true gift! She had plenty of patience for all of us novices! Great fun!
Later, in the most beautiful gardens and lasting all afternoon, an amazing, fresh and delicious Italian lunch was served – a true gastronomic feast and the perfect end to our day.
Ravello—Lemons and Trattorias
Many towns along the Amalfi Coast are hidden gems.
Ravello however, perched 1000 ft. high atop a cliff overlooking the sparkling blue Mediterranean, remains the shining diamond.
Lemons the size of softballs grow here, permeate the air and blanket this magnificent landscape. Some of the best limoncello in Italy is produced right in Ravello and proves to be the perfect little digestif after every meal. The best way is served ice cold…delicious!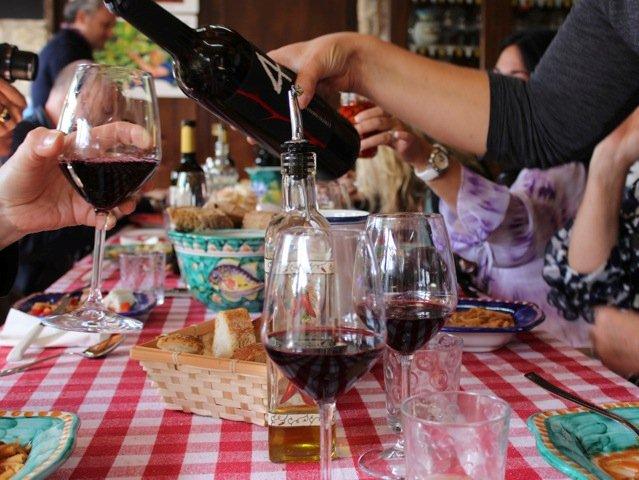 Ravello also boasts wonderful local trattorias that are off the beaten path. The amazing seafood, fresh fish & pasta dishes lovingly served in these small, family owned restaurants are incredible. Some of my favourites are spaghetti alle vongole (clams) and homemade gnocchi with fresh tomato sauce and basil.
Italy offers it all – food, wine, culture… an unforgettable experience. It doesn't get more delicious than the foods of Italy, and the cuisine of the Amalfi Coast hits the mark every single time.
Buon Appetito!
——
To learn more about some of the Amalfi Coast vacations written about in Carol's post, visit Delectable Destinations' Amalfi Coast Culinary Lessons page.
Voted one of the best things to do in Rome, Eating Italy Food Tours offer a Rome walking food tour through one of Rome's oldest and most characteristic neighborhoods, showing visitors some of the best places where to eat in Rome.