6392 Views
In most countries around the world you stop by a bar or a pub and have a drink with friends on the weekend or after work. Well in Italy, this concept is known as aperitivo (aperitif time) and it's not just a stop for a drink — it's an event!
While the Milanese can claim the origins of the aperitivo in Italy, the Romans have certainly adopted this quasi happy hour and made it their own.
Aperitivo is taken anywhere between 6:00pm and 9:00pm at any number of places across Rome. Given nobody in Italy eats dinner before 8:30pm-9:00pm, it leaves this convenient 2-3 hour window in the evening for a drink and snack. Because, yes – aperitivo – also means food (mind you, you can order an alcoholic drink at any time of day across Italy and it won't be served without some peanuts or potato chips!). But during aperitivo time, many venues offer you a plate of light snacks (ranging from trammezzini – sandwiches – to pizza) but many offer an aperitivo buffet and in most cases it's an all-you-can-eat type affair! Think hot or cold pasta, finger food, vegetables and salads along with your wine or cocktails.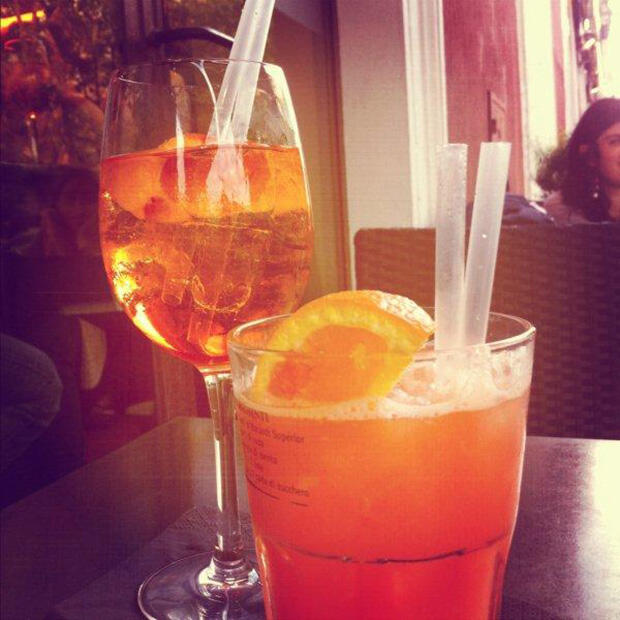 The selection of course varies from venue to venue. Some places charge a set price per plate but most venues include the aperitif buffet on consumption of your first drink (so it can cost you anywhere from €8-€12).
Not only is it fun, it's also economic. In fact, you might not even want dinner after an aperitivo at some places!
So if you're visiting Rome – or any city in Italy for that matter – you must do as the locals do. Sit, drink, eat and people-watch. There is nothing more Italian than stopping to take an aperitivo. 
Enjoy some of our recommendations for where to get an aperitivo in Rome.
ROOFTOP GLAM
Hotel de la Minerve
Piazza della Minerva 69, Rome
12:00pm – 1:00am daily
This rooftop bar in Rome (La Minerve Roof Garden) right near the Pantheon will set you back quite a bit, but the view of Rome rooftops is breathtaking. With your cocktail (prices range from €12-€18) you will be served at your table with various canapés, mini sandwiches and olives.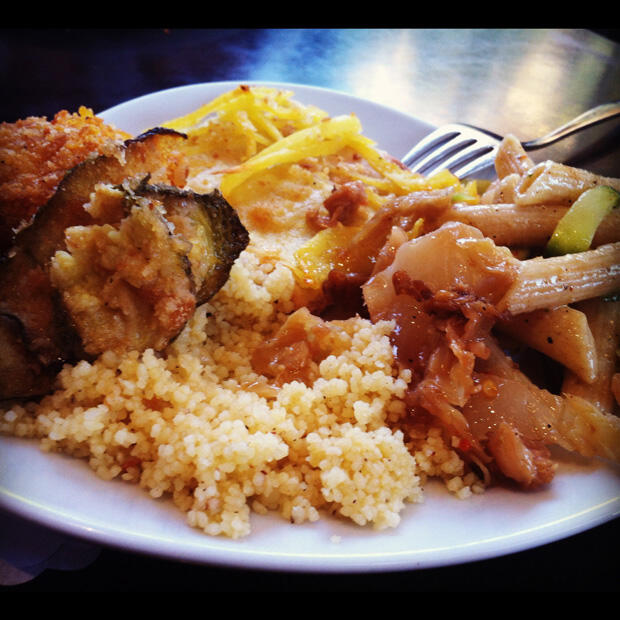 ABUNDANCE & MORE
Doppiozeroo, Ostiense
Via Ostiense 68, Rome
6:00pm – 9:00pm daily
Double zero in English, the venue name refers to the type of flour used for pizza—and they know how to make pizza here! Renowned for offering one of the most abundant aperitivo buffets, you will love this place.  Drinks range from €7-€10 and you will not have trouble finding something that you like at this buffet (which unusually includes some sweets also!)  There are always 3-4 types of pizza, foccaccias, pasta salad, cous cous, vegetarian and non-vegetarian dishes, platters of various roasted vegetables and suppli (fried rice balls).
GREAT VIEW
Oppio Cafe, Centre
Via delle Terme di Tito 72, Rome
6:00pm – 9:00pm daily
Oppio Cafe is positioned perfectly for a great view of none other than the Colosseum. You can sit indoors or out and if you're looking for a vantage point to photograph one of Rome's most popular and spectacular monuments, this is where you need to be. Here the deal is €10 for a cocktail and a plate at the buffet. It's not an all-you-can-eat but you can purchase another plate for €5. On offer are your fritti (fried snacks like riceballs, crumbed olives and mozzarella balls), pizza, rice salad, pasta, mixed vegetables and more.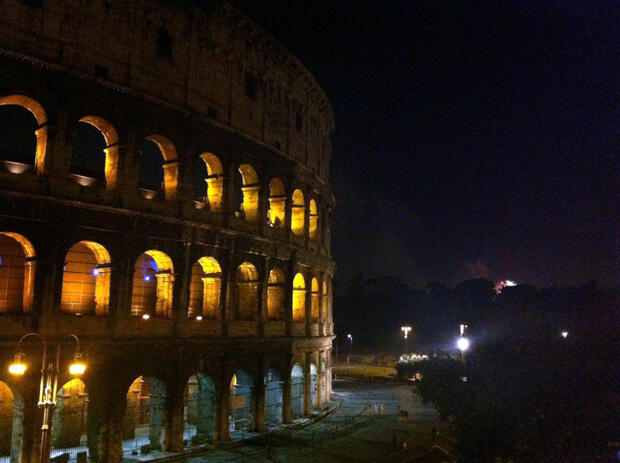 HIP AND HISTORIC
Freni e Frizione, Trastevere
Via del Politeama 4, Rome
7:00pm – 10:00pm daily
Set in an old mechanic shop (hence the name, Brakes and Clutch) this bar is a Trastevere institution, popular with young locals, but open to all. They serve up a huge vegetarian buffet which changes daily but staples always include rice and pasta dishes, cous cous and dips like yoghurt and mint and hummus.  Your first drink ranging from €8-€12 allows all-you-can-eat access.
TO BE SEEN
Hotel Locarno
Via della Penna 22, Rome
Step back into 1920s for the plushest art deco feel here at the Hotel Locarno Lounge Bar. This is the place to be seen – not necessarily where you save on a cocktail or be exposed to an abundant food buffet – think more a fancy cocktail (like an Australian granny smith apple martini for €15 euro) served with a mini burger slider and a prawn on a skewer. You won't leave full but it's certainly the place to be for a stylish night out!
WANNA BE COOL
Necci, Pigneto
Via Fanfulla da Lodi 68, Rome
19:00 – 22:00 daily
Necci in Pigneto (a really cool and artsy district of Rome) has been serving up sweet and salty treats since 1924! Here, €10 includes your drink of choice and one large plate from the buffet (you make your selections and then the staff make your plate) which includes items such as mini pizza, quiche, sandwiches and cous cous.
HEART OF TRASTEVERE
La Parolaccia & Sons
Vicolo de Cinque 3, Rome
18:00 – 22:00 daily
This is the offspring of the famous Roman restaurant La Parolaccia – a theatre type restaurant where staff break out into Roman folk songs. Situated next door, here €8 euro includes your drink of choice and unlimited buffet with thinks like roast vegetables, potato bake, roast chicken, stuffed eggplants and crumbed zucchini.
Buon Aperitivo!!
—
Contact [email protected] with Blog Enquiry in the subject title for any feedback or requests for a topic you want us to cover. Voted one of the best things to do in Rome, Eating Italy Food Tours offer a Rome walking food tour through one of Rome's oldest and most characteristic neighborhoods.