6444 Views
For the quintessential Roman experience, look no further than the enoteca. Part bar, part restaurant (a wine bar with food if you like), the formula of the modern enoteca is quite simple: choose from a wide selection of wines (which the Italians do extremely well) and delectable food (which, if you haven't heard, the Italians do extremely well) and you have yourself the perfect evening. Best of all, if you feel particularly transformed by that bottle of Amarone you sampled at dinner near the Spanish Steps, you can buy it and bring it home with you. While the concept of the enoteca may sound a bit pretentious, Rome's wine bars range from extremely upscale to low key and casual, a relief for my wallet and social life. Below, five of my favorite enotecas in Rome – enjoy and have a glass of Prosecco for me!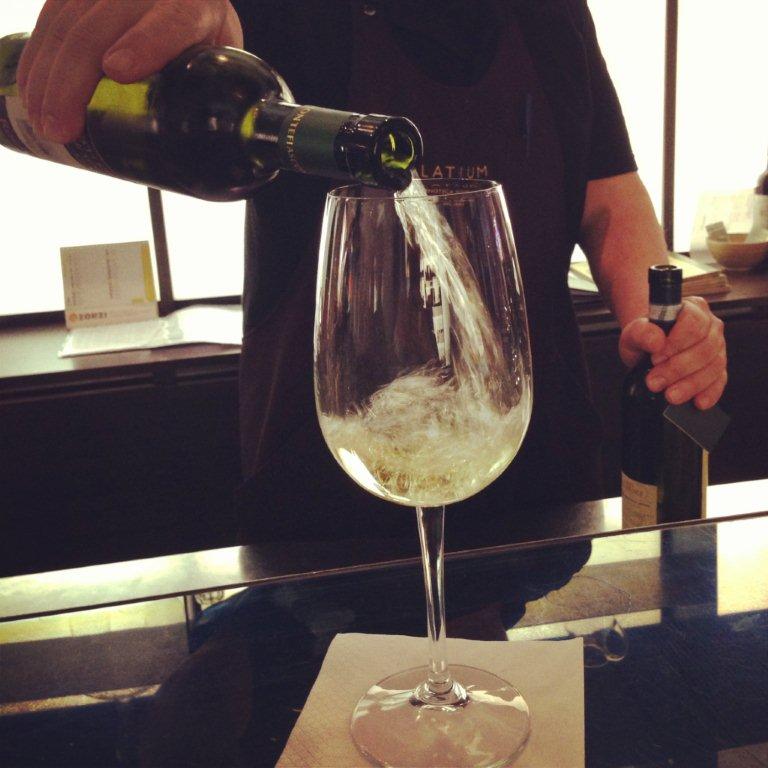 Il Goccetto
My affinity for Il Goccetto may have something to do with the fact that it's housed in an ancient building dating back to 1527. Or it could be its staggering wine selection that stretches from floor to ceiling. Perhaps its their menu of delicious appetizers served by an extremely accomodating staff. But I think it's mostly the fact that a glass of wine starts at the surprisingly humble price of €3.50. Not to be missed!
Via dei Banchi Vecchi 14
Tel 066864268
Open 11:30 – 2:30 pm, 6:30 pm – midnight
Closed Sundays and Monday mornings
http://www.ilgoccetto.com/en/
Mimi e Coco
Small and cozy, (I counted about ten tables) Mimi e Coco's bar features Italian wines prominently and serves up a variety of hearty fare – split a cheese and salumi slate with a friend or order up a filling bowl of carbonara for dinner. A lovely place to unwind after the work week.
Via del Governo Vecchio 72
Tel 0668210845
Open Monday – Sunday 9:00 am – 2:00 am
http://www.mimiecoco.com/
Casa Bleve
Extremely pricey and very upscale, Casa Bleve has come a long way since its humble beginning as a tiny wine shop in the Jewish Ghetto. Run by married couple Anacleto and Tina Bleve (he does the wine, she does the food) they've moved their enoteca to part of a fifteenth century palazzo. With a range of fabulous dishes and rare wines, Casa Bleve is a once in a lifetime experience.
Via del Teatro Valle 48
Tel 066865970
Open 12:30 – 3:00, 7:00 – 11:00, closed Monday at lunch and Sundays
http://www.casableve.com/
Ai Tre Scalini
Located in the up and coming Monti neighborhood, Ai Tre Scalini is an eclectic boho hangout with a welcoming atmosphere and great wine list. On a weekend it's not uncommon to see locals spilling out of the restaurant and socializing outdoors. Arrive before 7:00 if you want a table as it fills up quickly – and make sure to try the truffle salami!
Via Panisperna 251
Tel 0648907495
Open Monday – Sunday 12:30 pm – 1:00 am
http://colosseoorg.wix.com/aitrescalini/home
Trimani
Don't let the tables of tourists fool you – Trimani is the real deal. Founded in 1821, it's considered one of Rome's oldest enotecas and is renowned for its extensive selection of French and Italian wines. Located around the corner (Via Goita 20) is Trimani's wine store where you can purchase by the bottle. Wine by the glass ranges from three to ten euro.
Via Cernaia 37
Tel 064469630
Open 11:30 am – 3:00 pm, 5:30 pm – 12:00 am
Closed Sunday
* * *
Looking for more foodie tips for Rome? Follow us on our Eating Italy Facebook page for more tips on the best wine bars, restaurants and more in Rome!