26820 Views
When you think of Italian food, you probably picture pizza, pasta, and maybe gelato. But there's so much more to Italian cuisine! One of the many reasons why travelling in Italy is so great is that all 20 regions offer their own unique culinary delights. From pizza napoletana in Naples to pane toscana in Florence, you'll never go hungry in this country.
And in beautiful Roma, there are many foods that you can't find anywhere else in the country, or when you do find them they just don't taste as good. The list is long, but we managed to narrow it down to five can't-miss foods that you must try on your next visit to the Eternal City.
Whether you have a sweet tooth or prefer all things savoury, Rome has something for everyone. Here are our favourites and where to find them.
Cacio e Pepe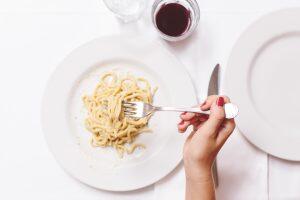 This pasta dish, which seems deceptively simple, is fantastically delicious when prepared correctly. Hand-rolled tonnarelli noodles are doused in salty pecorino cheese and lots of black pepper, then mixed with starchy pasta water to make a spicy, cheesy sauce. Some restaurants toss the pasta right at your table, and other eateries actually serve the dish in a parmesan cheese bowl.
– Da Felice, Via Mastro Giorgio 29, Rome, Italy
– Flavio al Velavevodetto, Via di Monte Testaccio 97, Rome, Italy
– Roma Sparita, Piazza di Santa Cecilia 24, Rome, Italy
Roman artichokes
Roman artichokes are truly something you must eat in Rome, since they are never the same anywhere else. They're prepared two ways in Rome: alla giudia (the Jewish style) deep fries the entire artichoke, and you can pick off each leaf like a potato chip. Alla Romana style stuffs the artichoke with garlic and wild mint, then braises it in olive oil and white wine. They develop a buttery texture and melt in your mouth. Roman artichokes are only in season in the spring and fall – anywhere else or any other time of year, they won't be fresh and just won't taste as good.
– Hosteria Romana, Via del Boccaccio, 1, 00187 Roma RM, Italy
– Piperno, Via Monte dè Cenci, 9, 00186 Roma RM, Italy
– Sora Margherita, 30 Piazza delle Cinque Scole
Supplì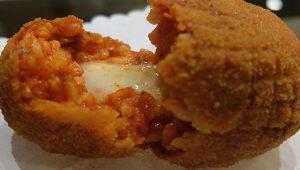 This popular street food is similar to Sicilian arancini. It's a fried rice ball, usually filled with some combination of meat, tomato sauce, and cheese. Some eateries have gotten creative with supplì, and offer variations like cacio e pepe!
– 00100 Pizza, Via Giovanni Branca, 88, 00153 Roma RM, Italy
– La Casa del Supplì, Piazza dei Re di Roma 20, 00183 Roma Italia
Pizza Romana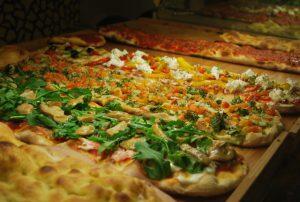 Pizza Romana isn't your typical pizza — it's usually shaped like a rectangle, and they use a different type of flour and let the dough rise for several days. The process is very different from Neapolitan-style pie, though Roman pizza is also usually thin-crusted. Pizza in Rome is often sold by weight, too, so don't add too many toppings!
–  La Renella Forno Antico Trastevere, Via del Moro, 15 00153 Roma RM, Italy
– Antico Forno Roscioli, Via dei Chiavari, 34, 00186 Roma RM, Italy
– Pizzeria A Taglio Angelo E Simonetta, Via Nomentana, 581, 00141 Roma RM, Italy
Maritozzo
Breakfast or dessert? That's up to you! Though most Italians prefer this subtly sweet pastry with their morning coffee. A maritozzo is a sweet yeast roll that's cut open and filled to the brim with fresh whipped cream. It's sometimes flavoured with raisins, pine nuts, or citrus…but it's always delicious.
– Pasticceria Regoli, in Via dello Statuto 60.
– Bar il Maritozzaro, Via Ettore Rolli 50, Rome, Italy
Looking for some guidance when seeking out the best food in Rome? Let our tour guides help you! Voted one of the best things to do in Rome, Eating Europe offers both food tours and culinary activities in the Eternal City, where you'll get to try plenty of things on the list above.