9386 Views
This post was originally published on March 11, 2014 and was updated on October 18, 2016.
If you're visiting Amsterdam and want to balance the price of your stay with some free activities, don't worry! There are plenty things in the city to keep you busy. From visiting parks to admiring architecture, it might be easier than you think to get a real taste of Amsterdam on a budget. Plus, if you want to save money on a city walking tour, a canal boat ride AND a 7-course lunch, don't forget to book our Jordaan Food & Canals Tour – it might not be free, but you certainly get a lot of bang for your buck!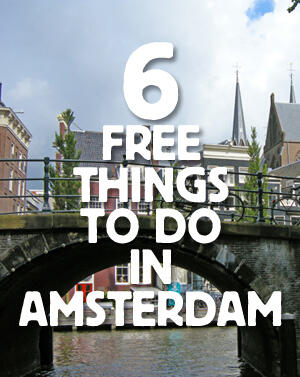 Admire the Amazing Architecture
Amsterdam has some of the most stunning modern architecture in Northern Europe. Take full advantage of it while you're visiting, especially because it doesn't cost anything to take a look. The EYE Film Institute, in Amsterdam Noord, is an almost bird-like structure hovering near the IJ (which you can cross on a ferry for free, leaving from behind Central Station). Or check out NEMO, a science museum in Oosterdok, which looks like a docked boat at the end of the winding white bridge. NEMO was designed by the Italian architect Renzo Piano. The Van Gogh Museum exhibition wing is another great design, this time by the Japanese architect Kisho Kurokawa. Its round shape in the Museumplein makes for a striking contrast with the old Rijksmuseum's building. For more on Amsterdam's museums, read our blog post.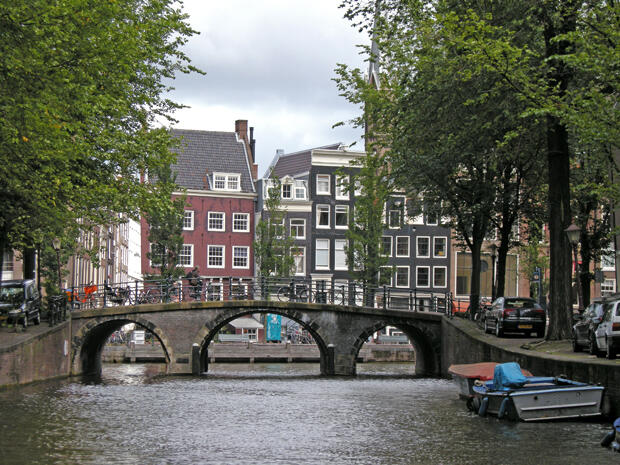 Walk Along the Canals
Wandering along the canals is perhaps the most quintessential Dutch experience and shouldn't be passed up, not only because it's free. The canals run through some great neighbourhoods, like De Pijp, the Jordaan, and the Negen Straatjes (Nine Little Streets). While you're walking around, go bridge spotting. Stand at the odd-numbered corner of Reguliersgracht and Herengracht Canal to see 7 bridges at one time (Tip! You'll also see this from a canal boat on our Jordaan Food & Canals Tour!). Also fun while walking the canals is spotting the narrowest houses in Amsterdam (and the world!). Among the many narrow houses, you might think you've found the narrowest until you get to Singel 7, which is only a meter wide!
Taste the Scrumptious Markets
The markets of Amsterdam are a great way to get to know the city, even if you're not shopping for anything. The largest and most famous outdoor market in the Netherlands is the Albert Cuypmarkt located in De Pijp neighborhood in Amsterdam. You won't have a hard time finding something interesting to see or eat from among the 260 stands. Another popular (and free!) Amsterdam market is the Flower Market located on the Singel Canal. Tulips are considered the Dutchest flower, so there are plenty of beauties here to choose from or admire.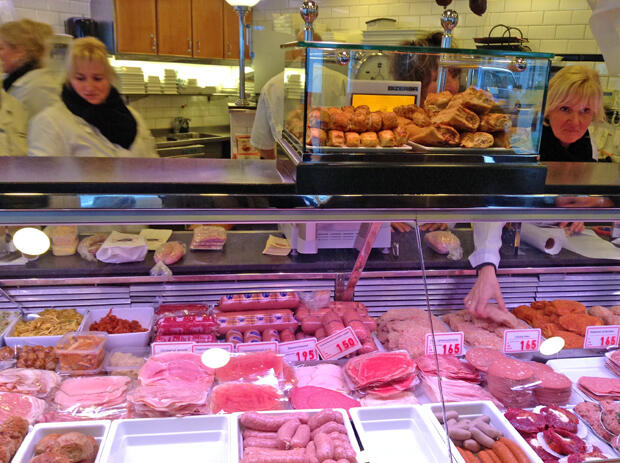 Enjoy the Open Spaces
One of my favorite things to do in any city in the summer is to head to the parks or other outdoor spaces. The biggest, most centrally located park in Amsterdam is the Vondelpark. If it's a rare sunny day you can be sure that this place will be full of Dutch eager to soak up some of the fleeting sun. During the summer the open air theatre hosts musical and theatrical performances with a free entrance. There's also a rose garden to wander through when the weather's warm. If you're looking for an even bigger open space, head south of Amsterdam to Amsterdamse Bos (or the Amsterdam Forest). This enormous park is crossed with walking and cycling paths and perfect spots for picnics. There's also a petting zoo for the kids. Check out their website for an updated list of events.
**********************
Like this? Check out Eating Europe on social media!
With Dutch foodie ideas, mouthwatering pics and much more, we're on…
Facebook | Twitter | Pinterest | Instagram
**********************
Find a Secret Courtyard
Step into the Begijnhof to enjoy the tranquility of Amsterdam's secret courtyard. Located near Spui, this enchanting place was once a Béguinage, a collection of houses used by Beguines, Catholic women who lived in semi-monastic conditions but did not take religious vows. Now the courtyard is one of the top free things to do in Amsterdam. Here you can walk around the quiet courtyard looking at the quaint houses where the women used to live. Especially interesting is number 34, a beautiful wooden house from about 1528.
Take in the Stunning Views
After walking, my favourite free activity in any city is taking in the views. In Amsterdam you can head to the public library, OBA, near the Central Station and up the stairs to the cozy cafe. You don't need to buy a coffee to take in the view over the center of the city. At the library another free activity is curling up with an international newspaper on a comfortable chair.
* * *
Planning your trip to Amsterdam? Explore the city's culture, history, and food by taking our food and canals tour or our walking-only food tour in the stunning Jordaan neighborhood!