20338 Views
If you love fresh fruits and vegetables, cheeses, meats, herbs, and spices – but also vintage clothing, art, books, prints, and furniture – you'll love Rome's markets. Every neighborhood has its own local version, but there are a few you really can't miss when you visit the Eternal City. These are seven of the best markets in Rome.
Porta Portese Market
Porta Portese is Rome's biggest and most famous market, taking place every Sunday between 7am and 2pm on the southern end of the Trastevere neighborhood. Porta Portese owes its name to the city gate of the same name, but has become a synonym for a gigantic market with a never-ending stream of visitors where the full seven hours wouldn't be enough to see everything.
You'll find everything here: from second-hand clothes and accessories to bikes, antiques, art, electronics and much, much more. Although more and more of the stalls are selling the same, cheap, new clothing and souvenirs, Porta Portese is a Roman institution and deserves a visit – just look out for the true second-hand gems and be sure to watch your purse and wallet.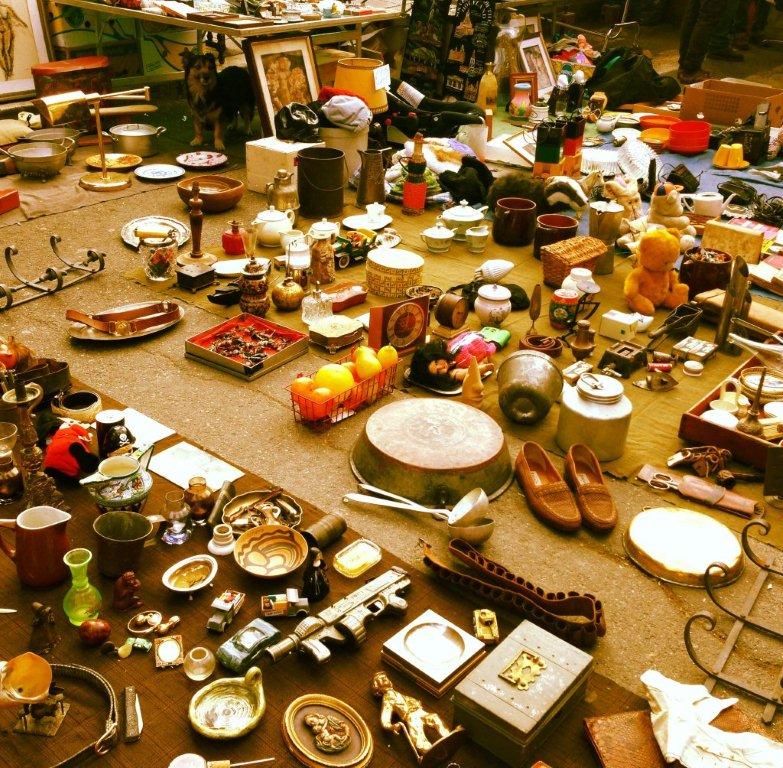 Campo de Fiori Market
Another famous Roman market is held daily (except on Sundays) right in the heart of the historic city center, on the beautiful square of Campo de Fiori. It's probably also the oldest market in Rome: since 1869, vendors of fruit, vegetables, meat, poultry, fresh fish, herbs, spices, dried fruit, nuts, and flowers turn the square into an explosion of colors and scents.
An unmissable Roman classic are the artichokes: you'll find them from October to June. Close to the fountain, you'll find several florist stands where you can pick up a beautiful bouquet. Surrounding the square, you'll also find plenty of local food shops and bakeries selling Roman specialties, making it the perfect place to get some food for a nice outdoor picnic at Villa Borghese or one of Rome's other beautiful parks.
Borghetto Flaminio Market
Where the two above-mentioned markets are very well-known to tourists, and therefore usually boast huge crowds, this one is more of an insider's tip: the Borghetto Flaminio Market, just an eight-minute walk from Piazza del Popolo, is mostly visited by locals looking for some vintage treasures and antique collectibles. The objects and clothes are generally of high quality and you're likely to leave with a few second-hand gems. You might just find some cool Gucci shades, a Fendi bag, an Armani tie or a fur coat for a reasonable price. Borghetto Flaminio Market is held in Piazza della Marina (tram 2 from Piazza del Popolo stops in front of the square) and open every Sunday from 10am to 7pm and they ask a small entrance fee of €1,60.
Fontanella Borghese Market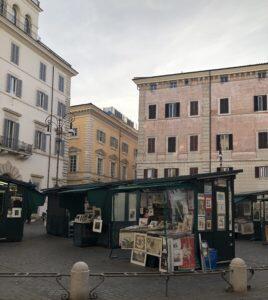 The charming Fontanella Borghese market, located in front of the beautiful Palazzo Borghese in the middle of the historical city center, boasts a handful of permanent stands that open daily (except on Sunday) between 9am and 7pm to sell a selection of ancient etchings, antique maps, vintage posters, used cameras, old magazines and prints as well as second-hand books.
Most vendors are real experts and can tell you a story or two about the origins of your purchase. It's an unmissable stop for art and literature lovers, but even if you're not planning on buying anything, it's a great experience to just stroll around the market stalls and enjoy the beautiful setting.
Mercato Monti
This one is for lovers of vintage, small local brands and independent designers: the charming indoor Mercato Monti, held every Saturday and Sunday from 10am to 8pm. You'll find everything from unique, hand-crafted jewelry to unique shoes, vintage designer coats, leather jackets, and funky second-hand sunglasses, but also cool illustrated prints, collectibles, and furniture. Everything has been selected with care, so the prices may be a bit higher than your average flea market, but you'll be sure to find some unique, high-quality pieces. Entrance is free and you'll find the market in Via Leonina 46, about 100 meters from metro stop Cavour.
Nuovo Mercato Esquilino
Of course, you've come to Rome to sample some typical Italian specialties, but in case you're looking for spices, herbs, vegetables and more from all parts of the world, then you can't miss Nuovo Mercato Esquilino. Situated in one of the most multi-ethnic neighborhoods of the city, this indoor market is a true feast for your eyes: it's a loud, colorful, fragrant and chaotic mix of people and products. You'll probably discover some exotic fruits and vegetables you've never seen or tried before. The vendors will be happy to tell you how to prepare them. Nuovo Mercato Esquilino is held every day except Sunday from 5am to 3pm (and to 5pm on Tuesday, Friday and Saturday). It's located about 10 minutes walking from Termini station.
Testaccio Market
The market in Testaccio is another must for foodies visiting Rome. Though the location has moved from the old covered stalls in Piazza Testaccio to a new bright building near to the MACRO Museum, the energetic atmosphere has remained. At the Testaccio Market you can find anything from handmade house furnishings to local produce and meat. We love getting a freshly made bruschetta with local tomatoes and mozzarella.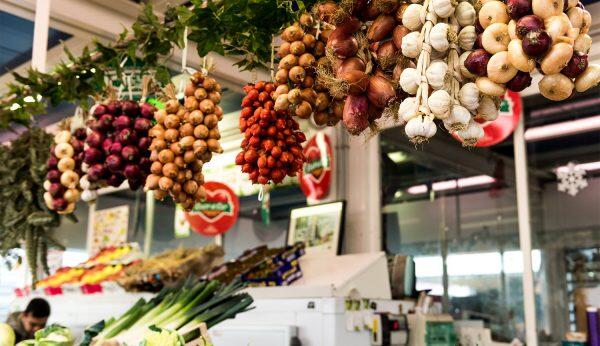 Join our Taste of Testaccio Food Tour and meet our favorite local vendors at the Testaccio Market!