4373 Views
It's safe to say that Londoners like things a little out of the ordinary. We like quirky hostels, quirky hotels, and we definitely love quirky cafes. But which quirky cafes in London are the best? Well, we took it upon ourselves to find out…
The best quirky cafes in London
Ziferblat
Usually when you visit a cafe it's the barista who makes your coffee right? Well, not a Ziferblat, London's first pay-as-you-go cafe. Here, the coffee, tea, and biscuits (which you help yourself to) are free and, perhaps most importantly, completely unlimited. The only thing you pay for is the time you spend there, currently priced at 5 pence per minute. Bearing in mind that a large coffee in London will set you back about 3.00 – an hour at Ziferblat in which you could definitely drink more than one coffee and raid the biscuit tin a couple of times—and that's a pretty good deal.
So what's the idea behind the concept? Ivan, the cafe's founder, says he wanted it to be like social networking, but in real life. You can use the old record player, have a tinkle on the old Joanna (that's a piano, in case you're not down with East London lingo), browse their book collection, or play old school board games. And, even though the idea is to socialise with each other (whether that's friends or strangers) there's still complimentary wifi if you fancy getting some work done, or just watching a movie.
Ziferblat, 388 Old Street, Shoreditch, London, EC1V 9LT, Mon – Sunday, 10am – 11pm
The Legal Cafe
Here's your situation: you have a legal question. One that's best answered by a lawyer and not, you know, Google. But, you kind of want a sandwich too, and a good cup of coffee. Enter: The Legal Cafe where as well as offering the usual cafe fare; sandwiches, soups, bagels, salads, cakes, teas and coffees, you can also have a consultation with a fully-qualified lawyer.
Marshall Levine, 49, who opened the cafe after retiring from a successful legal career in the city, explains the concept as "an upmarket citizens advice bureau" where members of the local community can come for advice on issues including wills, commercial property, divorce, and insolvency. It's basically legal advice for people who don't want the bells and whistles of a traditional law firm.
So even if you don't need any legal advice, we'd definitely recommend a coffee in this legal-themed cafe.
The Legal Cafe, 81 Haverstock Hill, London, NW3 4SL, open 7 days a week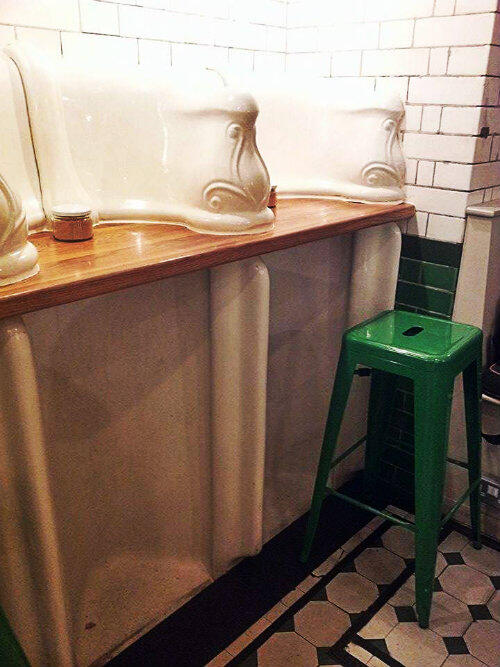 Attendant
If I invited you for a coffee in the nearest toilet you probably wouldn't take me up on my offer. And rightly so; nobody in their right mind would relish the idea of sipping a latte in a loo. Except, that is, if you're at Attendant Cafe on Foley Street, a former Victoria toilet which was built around 1890 but, after two years of planning and restoration, is now home to one of London's quirkiest cafes where a line of porcelain urinals have been turned into a unique coffee bench with seats that match the original green Victorian tiles.
Open for breakfast, brunch, and lunch 6 days a week, Attendant is now so much more than a Victorian toilet; it's one of Europe's most unique cafes, and definitely worth a visit if you're in the area.
Now you're rethinking my offer for coffee, right?
Attendant, downstairs, 27a Foley Street, London, W1W 6DY